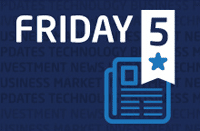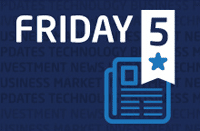 Research is here to prove mobile is big and getting bigger! We also look at some research about loyalty programs gaining more clients but dropping in engagement; why you might be wishing you hadn't gotten rid of your parents' record player 5 years ago; customer relationship management (CRM) tools are expected to grow big this year; and GRIT Consumer Participation in Research CPR Report is here! That's this week's #FridayFive.

Mobile Internet Usage Skyrockets in Past 4 Years – ComScore Blog
We've talked about this in the past, but the data is now bearing out – mobile is overtaking desktop. What does that mean for the consumer insights and market research industry? We'd better be using mobile already to interact with our respondents. Sadly, research also shows we're not consistently creating surveys that are mobile-friendly either in length or form.
Loyalty Program Membership Rises, but Participation Falls – eMarketer
This snippet just begs for more information to be shared about the study conducted. The highlights here, though: there are more members of loyalty programs, but not even 50% of any program's loyalty members reported that a loyalty program was meeting their needs. With what seems like every company offering a loyalty program, I'm curious to see a breakdown of types of programs and what's faring better than others, not to mention finding ways to learn what customers's needs are that aren't being fulfilled by any loyalty program available.
Thanks to strong sales, vinyl albums are off and spinning – Nielsen
I want a record player. It seems like all my friends have one, or are planning on purchasing one. It turns out it isn't just to play "Find the oddest record at the thrift store possible," either.
CRM Analytics Market Driven by Exponential Growth in Data Generation – MarketsandMarkets Blog
Here's the tl;dr version: CRM is expecting to grow fast. However, there are some possible impediments to that growth, including concerns about data security and privacy. Either way, CRM analytics are big. (Oh, hey, by the way – check out our own Salesforce.com integration!)
2nd Edition of the GRIT Consumer Participation in Research CPR Report is Available – GreenBook Blog
I'm excited about diving into this report about market research respondents. Learn what their research says about "fresh" versus "frequent" survey respondents, and what kind of mix is best for your projects.