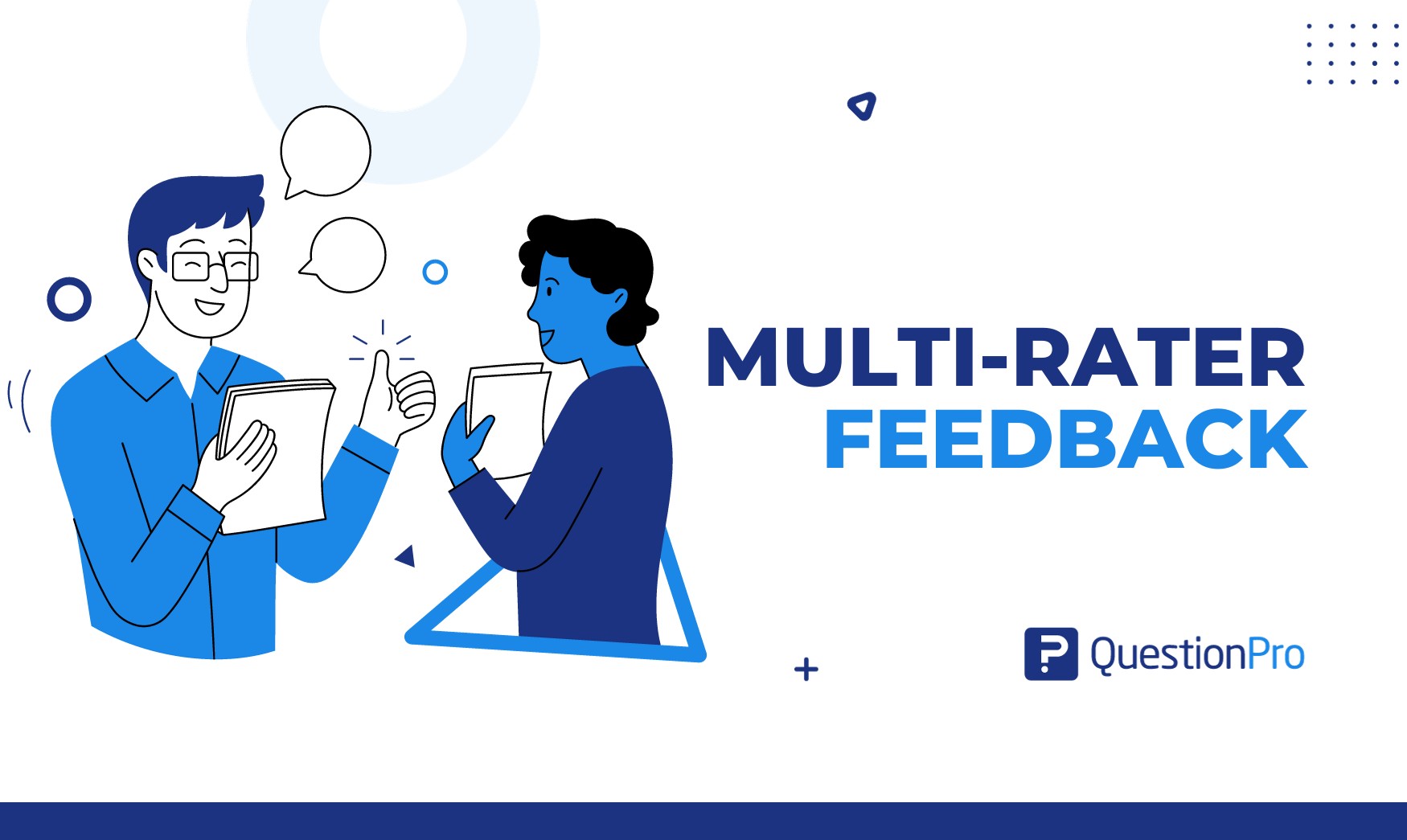 Feedback is like a mirror reflecting how we perform in our workplace. Just as we glance in a mirror to fix our appearance, feedback helps us improve our work performance. But what if this feedback came from our boss and everyone we work with? That's where multi-rater feedback comes in.
This feedback helps us understand what we're doing well and where to grow. In this blog, we'll explore multi-rater feedback, its different types, and the pros and cons associated with this approach. 
What is Multi-rater Feedback?
Multi-rater feedback, also called 360-degree feedback, means getting actionable feedback on your performance from various people. These people could include colleagues, supervisors, those you manage, and sometimes even customers or other important individuals connected to your job.
The key aspects and purposes of multi-rater feedback can be categorized into two primary functions:
For job evaluation: It helps determine how well you do your job. This can impact things like getting a bonus or a promotion. To make it work well, it should do three things:
Clear up what your job involves because job descriptions can get old.
Set goals for you that match what the company wants, and make it clear how to measure your success.
Create a plan for you to reach those goals.
For personal growth: This feedback helps you better understand your strengths and weaknesses. Your manager might know what you do, but your colleagues can give different insights. It's not just about giving you a score; it's about giving detailed feedback to help you improve.
So, this feedback is a helpful tool for understanding how you're doing at work, and it can be used for evaluations or personal development, depending on your goals.
Importance of Multi-rater Feedback
Feedback isn't just about what your boss thinks. It's about hearing from different people around you. This feedback is important for your career. Let's explore some key importance of this feedback:
It gives you the full picture of your career.
Instead of just one person's opinion, you get insights from various folks. Your boss might see one thing, your coworkers another, and those you manage yet another. Putting all this together helps you see where you shine and where you can improve.
At times, we might not see our own areas of improvement. It's a bit like not realizing there's a hidden treasure in your work that you haven't found. Multi-rater feedback acts as a treasure map, which shows you the way to uncover those hidden gems of self-improvement in your job. It's like having a guidebook highlighting where you can grow and improve.
It helps you grow all around.
The multi-rater feedback process doesn't only focus on fixing what's wrong. It's also about making things better, which is already great. This feedback acts like a coach. It cheers you on to improve in every way possible at your job. It's like having someone on your team who points out where you're shining and helps you shine even brighter.
When you welcome honest feedback from all corners, it shows your team that you value their feedback. This also creates an environment where people feel safe sharing their thoughts and trusting one another more. It's like building a strong foundation of trust that helps your team work together even better.
It helps to turn feedback into action.
The feedback you get isn't just about scores or marks. It's more like a roadmap. It helps you understand where you stand and shows you the way forward. It's like a set of directions guiding you to create clear goals and make real plans to improve your work.
Types of Multi-rater Feedback Surveys
Multi-rater feedback surveys offer a holistic view by collecting input from peers, supervisors, subordinates, and even customers or clients. Let's dive into the different types of multi-rater feedback surveys and how they can be beneficial in different contexts.
01. 360-Degree Feedback
360-degree feedback is like getting feedback from everyone around you at work. This means feedback from your bosses, your team, and sometimes even customers. It's like seeing yourself from all different viewpoints. It helps you to understand where you're doing well and where you can improve.
Example of 360-degree feedback survey questions:
How would you rate the ability to communicate clearly and effectively with your teammates?
How well does the individual collaborate with team members?
Does the person provide clear direction and guidance to the team?
02. 270-Degree Feedback
270-degree feedback is a bit like 360-degree feedback but with feedback from bosses, coworkers, and sometimes the people you manage. It's a shorter version that doesn't include feedback from people outside your workplace. It gives you a good view, but not from as many angles as 360-degree feedback.
Example of 270-degree feedback survey questions:
How would you describe the individual's leadership style?
Is the person supportive of helping the team achieve its goals?
03. Customer Pulse Surveys
Customer pulse surveys gather customer feedback to understand their experiences with a product or service. These surveys often consist of quick, targeted questions to get feedback on customer satisfaction, preferences, and areas for improvement. You can use this feedback to enhance your products or services.
Example of customer pulse survey questions:
On a scale of 1 to 10, how engaged do you feel in your work?
How would you rate the current work environment on a scale from 1 to 5?
How well do you feel supported while working remotely?
04. Employee engagement surveys
You can collect insights from employees about their experiences within the organization using employee engagement surveys. These surveys cover various aspects like job satisfaction, workplace environment, communication, and growth opportunities. Understanding your employees' sentiments helps your company improve work culture, increase productivity, and boost overall employee satisfaction.
Example of Employee engagement survey questions:
What motivates you to give your best effort at work?
How satisfied are you with your current role and responsibilities?
On a scale of 1 to 5, how would you rate the overall work environment?
How to Collect Multi-rater Feedback?
For a successful HR initiative, keeping things simple is key. When you collect multi-rater feedback straightforwardly, you are more likely to involve more people and keep yourself and other employees satisfied. Here are the steps to make it easy:
Step 1: Communicate the program
Start by letting everyone know about the feedback program. Share details such as when it will happen, why it's important, and how it works. Your clear communication sets the stage for your active participation.
Step 2: Train employees on giving feedback
Your team must know how to give and receive feedback constructively to get valuable feedback. Provide simple training sessions to create a common language around feedback. It will make the process more comfortable and effective for everyone.
Step 3: Select rater and perspectives in multi-rater feedback
Decide who will give feedback to each employee and why. Should new employees take part? Should higher-up managers provide feedback?
It also depends on how you use ratings, how often you collect them, and your organization's unique features. Let's break down who can be in your rater selection:
Supervisor feedback: Supervisor feedback is like getting advice from the team captain at work. They tell you what you're doing well and how it fits into the company's big plan.
Peer feedback: Peer feedback is when teammates share their thoughts about how you're doing. They see your daily moves and can give you friendly tips to help you score better at work.
Subordinate feedback: Subordinate feedback is like hearing thoughts from your teammates on your team. It's when the people you manage share their ideas about how you lead the group, helping you be the best captain they want to follow.
Client or customer feedback: This helps collect customer feedback about your products and services. It tells you if they're happy with your work and if you're meeting their needs.
Choose a user-friendly multi-rater assessment tool, whether it's a digital platform or a simple form. Make sure the tool helps you gather quality feedback and, if necessary, keeps the responses anonymous. Share the selected tool with your team and remind them where to locate it.
Step 5: Feedback delivery and discussion
After collecting feedback, share it with your employees. This step involves talking about feedback, where supervisors or mentors play a helpful role in making these discussions positive.
Conducting feedback sessions: These sessions are like team meetings where you talk about the feedback. It's a safe space for sharing thoughts on what's going well and what you can work on.
Role of supervisors or mentors: Supervisors or mentors can help you to understand the feedback better. It's like having a buddy on the journey, giving you tips and encouragement to improve.
Handling feedback discussions: In these discussions, you can address concerns, celebrate victories, and plan together how to do even better next time.
Step 6: Follow up
Remind yourself and your colleagues to review and discuss the performance feedback one-on-one. Following up ensures that the effort you put into collecting feedback pays off by promoting understanding and implementation.
These follow-up questions will help you fine-tune and make your feedback journey even more effective:
For Managers: How did the feedback session go with your team?
For Employees: Do you have any suggestions on how we can make the feedback process even better next time?
For Supervisors or Mentors: How are you supporting your team members in implementing the feedback?
Gathering feedback doesn't have to be complicated. By following these easy steps, you can create a positive feedback culture within your team, fostering employee development and collaboration. Start implementing multi-rater feedback collection strategies today to unlock the full potential of your organization.
Pros and Cons of Multi-rater Feedback
You can use a multi-rater feedback system to assess performance at work by gathering feedback from various people in the company. This approach provides a more comprehensive understanding of how your employees are doing.
However, like any system, there are both positive and not-so-positive aspects to using multi-rater feedback. Here, we'll break down the pros and cons of multi-rater feedback to help you make informed decisions for your team:
Pros of multi-rater feedback
Comprehensive insights: Multi-rater feedback involves feedback from various sources – not just your boss but also colleagues, subordinates, and even yourself. This provides a more complete picture of your performance.
Holistic view: It's like having a personal development team. Each person provides feedback based on their unique experiences working with you. This allows you to focus on various skills, from communication to teamwork, contributing to your overall growth.
Increase self-awareness: This feedback reflects different aspects of your work. It helps you understand your strengths and areas for improvement. It boosts self-awareness, which is crucial for your professional development.
Fairness and objectivity: Instead of relying on just one person's opinion, multi-rater feedback helps minimize biases. It provides a more balanced and objective view of your performance.
Team collaboration: When everyone in the team is involved in giving feedback, it builds a culture of collaboration. It encourages open communication and mutual support, strengthening team dynamics.
Cons of multi-rater feedback
Conflicting feedback: One of the challenges with multi-rater feedback is that different people may have different opinions. Sometimes, the feedback can be conflicting. It makes analysis challenging to determine the best course of action for improvement.
Possibility of misunderstanding: Miscommunication can happen. Someone might misunderstand your actions or intentions, leading to feedback that doesn't accurately reflect your performance. Clear communication is crucial to avoid such issues.
Time-consuming: Gathering feedback from multiple sources takes time. It might slow down the feedback process. In a fast-paced work environment, this delay can be a drawback.
Anonymity issues: Some feedback systems offer anonymity, which can encourage honesty. Some members might misuse this and give feedback that's not helpful. And since it's anonymous, they don't have to take responsibility for it.
QuestionPro as a Successful Multi-rater Feedback Tool
QuestionPro is a versatile and robust platform and feedback collection tool for multiple raters. Check out these key features that make QuestionPro stand out as an effective tool for collecting multi-rater feedback:
Check out these key features that make QuestionPro stand out as an effective tool for collecting multi-rater feedback:
QuestionPro employs a 360-degree feedback approach, gathering insights from all facets of your work life – peers, subordinates, supervisors, and even yourself. This comprehensive method ensures a well-rounded view of your performance.
The QuestionPro platform makes it easy to create surveys. The platform offers a variety of question types, from multiple-choice to rating scales. It allows you to tailor surveys that capture constructive feedback for a thorough understanding of your strengths and areas for improvement.
Versatile survey distribution
Reach participants wherever they are. QuestionPro supports various survey distribution methods, including email, social media, and embedded surveys on websites.
Anonymous feedback option
People often hesitate to share their true thoughts when their identity is revealed. QuestionPro helps with that because it lets people give feedback with an anonymous survey. This makes it easier to be open and honest when sharing feedback.
Pre-made feedback templates
Don't want to start from scratch? QuestionPro has you covered with ready-made templates specifically designed for multi-rater feedback. These templates ensure that your surveys align with best practices, saving time and effort in the survey creation process.
Conclusion
Multi-rater feedback can really help you grow personally and professionally. It's like looking at yourself from different angles. But it's important to deal with the challenges that come with it and make sure everyone is giving feedback fairly and helpfully.
In the world of getting better at your job, multi-rater feedback is like a handy tool that helps you become the best professional version of yourself.
When you want to use multi-rater feedback, tools like QuestionPro are super helpful. It makes gathering feedback from different people simple. It has cool features that make the whole feedback collection process easy and organized.
360-degree feedback is a helpful tool for evaluating different aspects of your performance or your manager's. It operates like a system that fosters openness and reduces conflicts, making it a widely adopted tool in many organizations.
When you explore 360 feedback software, you'll see that it goes beyond simply sharing opinions on behaviors. In fact, it can potentially transform how you lead a company.
Discover more about our 360 feedback platform and start using feedback to impact your work positively.