QuestionPro Mobile provides end-to-end mobile solutions, enabling you to take surveys on mobile devices, including iPad's, iPhones, Android tablets and other smartphones. A mobile-optimized survey is a survey that's easy to read and respond to using a small touchscreen device. The text is larger and the buttons easier to click. QuestionPro Mobile even has the capability to take surveys offline, and sync information when brought into WiFi. We have been slowly updating the product over the past couple of months and we are able to say now that we have made Mobile far more advanced and flexible for our customers. Check out what we have done!
Mobile: Branching Offline Surveys based on Scoring
The QuestionPro Mobile has always been able to apply offline survey question branching and skip logic that is extremely relevant to users conducting advanced surveys. We have now enhanced this functionality, now with the capability to branch questions based on scoring logic. The scoring logic can be based on your Question's Score or the Total Score calculated in the Survey. This is configured in our Logic Configuration screen as seen below.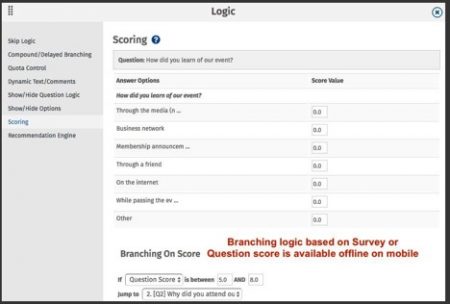 To learn more about how to properly implement Logic/ Scoring on QuestionPro Mobile, check out our Related Help Center & Knowledgebase Articles:
Know more about scoring logic 
Got an idea on how we can we make this feature even better? Post it on QuestionPro Ideas!
Share your ideas
Mobile: Making Corrections to Responses
We have made it easier for Mobile Field Administrators, giving them the flexibility to make corrections in the field. Sometimes during field surveys, responses were not relevant based on external changes. This makes it possible for users in the field to make corrections on-the-go, without negatively affecting the quality.
Got an idea on how we can we make this feature even better? Post it here at QuestionPro Ideas!