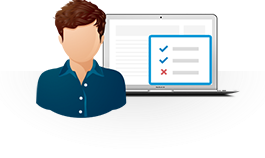 The times of the old popup surveys are at an end, browsers now are intelligent enough to block HTML pop ups and other plugins, website now need to find new ways to engage and interact with their visitors. The solution should be seamless so that the Marketing and management team should not have to go back to their IT team and have them change code on their website for each little tweak or for trying different things on the feedback form.

QuestionPro has innovated the perfect Intercept website feedback solutions for this, something that works out of the box with simple copy/paste in to your current website code and most importantly it does not interfere with other elements of the live website.
Intercept surveys wasn't an overnight idea, it was innovated and developed when we needed answers to questions such as:
 How did they hear about our website?
 Why are visitors dropping out at similar time intervals?
 Is the website informative and intuitive enough?
 How can I convert my visitors into potential leads?
The simple way to get answers to questions is: Ask them. We looked at ways to get feedback from website visitors but at the same time we did not want to break their flow in anyway. Intercept surveys was developed to get feedback but most importantly without directing your website visitor to a pop up or an external website for feedback.
After months of research and development bring to you "Intercept surveys" A quick and simple solution to website feedback surveys.
---