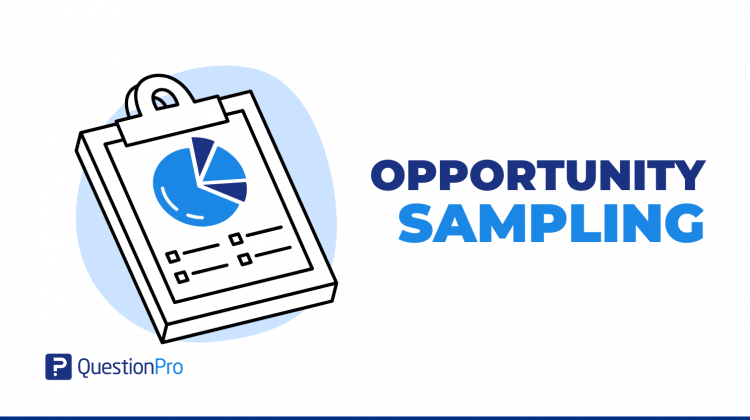 It is critical to properly identify the people who will be included in the study when doing research. Researchers can use a variety of sampling methods, each with its own set of advantages and disadvantages. It, often known as convenience sampling, is a popular strategy.
LEARN ABOUT: Causal Research
In this blog, we will look at the definition of opportunity sampling and explain how it is used in research.
What is opportunity sampling?
Opportunity sampling, also called convenience sampling, is a non-probability sampling method used in research to choose subjects based on their availability and ease of access. Unlike random sampling methods, which try to get a sample that is representative of a larger community, this type of sampling involves choosing people who are easy for the researcher to reach.
In this type of sampling, people are chosen to take part in a study based on how close they are to the researcher or how willing they are to participate. Researchers often use this method when they don't have enough time, money, or other tools to make it easy to get a random or representative sample.
Opportunity sampling in research
Opportunity sampling is often used when researchers need more time, money, or other tools to reach a certain population or when they can't reach that population for different reasons.
Researchers can quickly get data and move on with their study if they choose people who are easy to reach. This sampling method works well for exploratory research, pilot studies, and gathering primary data before a larger-scale study.
When to use opportunity sampling
This type of sampling is best used when there isn't much time or money and data needs to be gathered quickly. It can be used for preliminary studies, exploratory research, or research in places where it's hard to get access to a particular community.
It is easy and helpful, but researchers should know its limits and consider how it could lead to bias. By being aware of the research's unique setting, goals, and limitations, researchers can make smart decisions about using chance sampling and how to interpret the results.
Advantages of opportunity sampling in research
It has a lot of advantages for research, especially when other sampling methods are hard or not possible to use. Here are some good things about chance sampling:
One of the key benefits of this type of sampling is its ease of use. Participants who are readily available and accessible within their immediate surroundings or community can be easily recruited by researchers. This makes it a time-efficient and cost-effective strategy, especially when the research needs to be completed quickly or with limited resources.
Due to the fact that this sampling selects participants based on convenience, it uses fewer resources and lowers the associated costs of conducting the research.
To quickly gather data, researchers can use this type of sampling. Researchers can effectively obtain the necessary data and proceed with their analysis and interpretation by choosing participants based on availability.
Opportunity sampling can improve the external validity or generalizability of the findings by selecting people from real-life settings. This sampling strategy allows researchers to explore phenomena in their natural context, which can lead to more practical discoveries in real-world contexts.
Limitations of opportunity sampling in Research
While opportunity sampling has certain advantages, it is vital to understand its limitations. The following are some drawbacks of employing this type of sampling in research:
The possibility of sample bias is one of the basic drawbacks of this type of sampling. Because participants were chosen for convenience, the sample may not represent the intended population. The findings from a small sample may not be generalizable to the larger population.
Lack of representativeness
The sample generated by this type of sampling may not be representative of the greater population due to the non-random selection of participants. This lack of representativeness may restrict the research findings' external validity.
Limited control over sample characteristics
Researchers have little control over the sample's characteristics when using opportunity sampling. This lack of control can impair one's capacity to make conclusions or create causal linkages between variables.
There is a chance of volunteer bias when participants self-select to participate in the study. Individuals who volunteer may have different traits than those who do not, which may influence the research results.
Examples of opportunity sampling
Here are a few examples of this type of sampling in various research scenarios:
The survey in a shopping mall
Consider a researcher surveying customer preferences for a new product. They set up a kiosk in a shopping mall and approach shoppers who are conveniently available and willing to participate in the survey. Using this method, the researcher picks participants based on their presence in the mall at that particular time.
Interviews at a workplace
A researcher who wants to find out how happy employees are with their jobs decides to do interviews at a certain company. They talk to employees while at work and ask those who are available and willing to participate in the interviews. The researcher chooses subjects based on how easy it is to reach them at work. This is called "opportunity sampling."
Online surveys via social media
Researchers often do surveys on social media sites. They post a poll or questionnaire link on their social media profiles and ask their followers or connections to participate. Participants who freely fill out the survey are a convenience sample because they can be reached through the online platform.
Conclusion
Opportunity sampling, also called convenience sampling, is a helpful research method when random sampling isn't possible or practical. It is easy to use, accessible, and useful, which makes it a good method for exploring research or studies with limited resources.
However, researchers must be aware of the limitations, such as sampling bias and a lack of representativeness, and understand the results accordingly. When used wisely and with other sampling methods, this type of sampling can help answer important research questions and improve knowledge in many fields.
QuestionPro has many options to help researchers do this sampling. The platform facilitates survey development, distribution, data analysis, and participant management, allowing researchers to acquire data from convenient individuals rapidly. So, contact QuestionPro if you need help with your opportunity sampling process!\