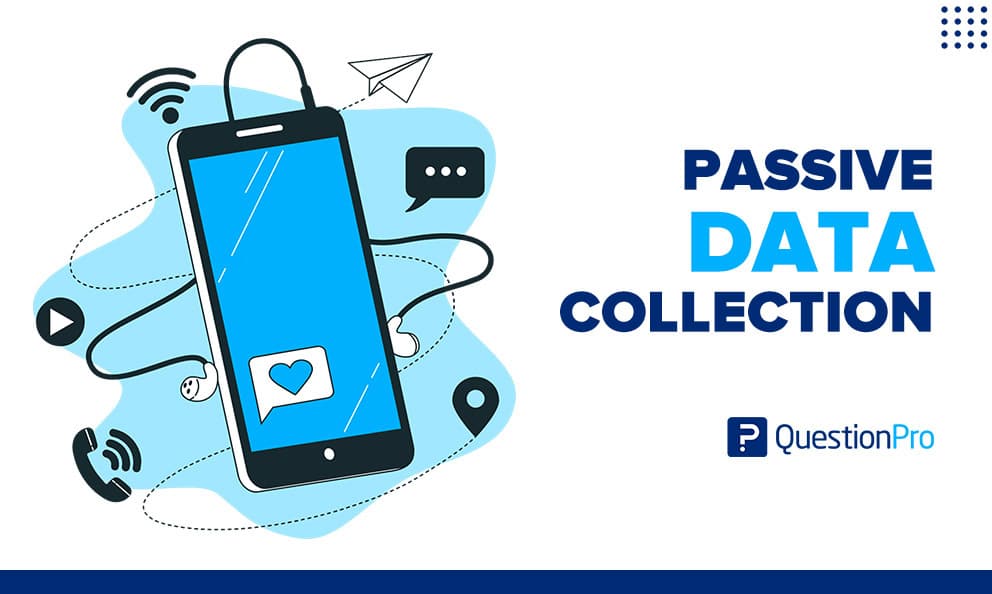 With 6.6 billion smartphone users, the entire world relies on big data for day-to-day activity. Moreover it can be either used for building a new product, installing a street light, or even getting food delivered from one location to another. Let's talk about using passive data collection.
What is Passive Data Collection?
Passive data collection is used for competitive analysis along with pre and post-operative assessment. That being said, few countries or states have their own specific set of laws which gives the users the ability to opt from providing their sensitive data with a complete picture.
In such scenarios, passive data collection plays an important role. Using passive data, the customers are able to gather information multiple times about their customers/users using different methods to collect information such as:
Internet browsers

Mobile device data

IP Address

Region

Country code

Longitude & Latitude
Passive Data Vs Active Data
Passive data and active data represent two distinct approaches to collect data, each with its characteristics and applications for better representation. Here are the critical differences between passive data and active data:
| | | |
| --- | --- | --- |
| Aspect | Passive Data | Active Data |
| Data Collection Process | Information is gathered without requiring active participation. | Involves direct engagement and participation from individuals. |
| Intrusiveness | Non-intrusive; collected without disrupting people's activities. | Intrusive as it involves interaction with participants. |
| Bias and Authenticity | Tends to produce less biased and more authentic data. | May be subject to various biases due to respondent interaction. |
| Data Volume and Frequency | Generates large volumes of data continuously. | Tends to result in smaller datasets based on participant engagement. |
| Use Cases | IoT, user experience analysis, and marketing analytics. | Research studies, surveys, clinical trials, and experiments. |
Passive data involves gathering data without active participant involvement and is well-suited for continuous, objective data. Active data collection relies on participants actively providing data and is used for subjective information and specific insights. Both approaches have their strengths and limitations, and the choice between them depends on the research or analysis objectives and the nature of the data needed.
Advantages of Passive Data Collection
Passive data collection holds significant importance in today's data-driven society for several compelling reasons:
One of the primary advantages of passive data is its non-intrusive nature. It allows researchers, businesses, and organizations to gain insights into individuals' behaviors and preferences without requiring active participation or intrusion into their privacy. It is precious in scenarios where traditional data collection methods might be impractical, or participants may alter their behavior when actively observed.
Passive data collection facilitates continuous, real-time monitoring of various aspects of life, including health, consumer behavior, and environmental conditions. This constant data stream enables early detection of trends, anomalies, or issues, allowing for timely interventions. For example, passive data collection through wearable devices in healthcare can help monitor chronic conditions and actively provide immediate alerts in emergencies.
Enhanced Decision-Making:
By providing a constant data flow, passive data collection empowers businesses, policymakers, and researchers to make more informed and timely decisions. It can mean optimizing product designs, marketing strategies, and business supply chain management. In healthcare, it can lead to personalized treatment plans and improved patient outcomes. In government and public policy, it can support evidence-based decision-making processes for the benefit of society.
Passive data minimizes survey responses and social desirability bias, which are common pitfalls in active data collection methods like surveys and interviews. People tend to provide more accurate and authentic data when unaware of being observed or when external factors do not influence their actions. This reduction in bias can lead to more reliable and actionable insights.
Large-Scale Data Analysis:
Passive data collection often results in large datasets, which are invaluable for various data analysis processes, including machine learning and artificial intelligence. These extensive datasets can fuel the development of predictive models, recommendation systems, and data-driven innovations. The more actionable data available, the better these systems can perform, improving user experiences and outcomes.
Passive data collection is well-suited for longitudinal studies, where data is collected over an extended period. It allows researchers to track changes and trends over multiple times, providing a deeper understanding of the subject matter. For example, passive data collection in education can help assess the long-term impact of teaching methods on student performance.
Passive data collection is paramount because it enables non-intrusive, continuous monitoring, reduces bias, supports evidence-based decision-making, facilitates large-scale data analysis, and is ideal for longitudinal studies. However, it's crucial to address privacy and ethical considerations when implementing passive data collection methods to ensure that data is collected and used responsibly and in compliance with legal and ethical standards.
Passive Data Collection with Example
Let's take a real-life scenario, A company has launched its application worldwide and would like to track the overall performance of the application using the below metrics.
Users

a) Type of Audience

b) Types of Mobile Devices

c) Region and Country

Application feature performance

Gathering specific data multiple times
In such cases, the passive data helps to objectively measure user experience which can be further used to either improve the performance, upgrade a new feature, remove an existing feature, and vice versa.
How to Collect Passive Data?
There are multiple software & hardware available in the market few being:
Google Analytics

Hubspot

RFID

NFC

Geo-tracking

NFC Wearables

Camera
The above software/hardware is used extensively by almost every product or company available worldwide. Moreover this data then helps them in tapping the different sectors.
A passive data collection strategy is mainly used for the collection of actionable data which helps in decision making that can be further used to generate revenue. Passive data can also help in defining the customer journey.
LEARN ABOUT: Best Data Collection Tools
Universities, the Medical industry, Aviation, and Government entities are a few sectors that have gained an upper hand by relying on Passive data.
How can QuestionPro help with getting Passive data?
In QuestionPro, we collect data while answering the survey. Once the user starts responding to the survey we collect the passive data and store it in our system. This survey data can be further downloaded into various formats such as Excel, CSV, SPSS, etc.
QuestionPro product uses cookies to track the user's digital behavior. The way this works is, that as soon as the user clicks on the live survey link, the cookies get stored in the internet browsers data and remain active till the response is submitted. 
The cookies used at QuestionPro record the user browser details such as type of browser, and version, along with the location (latitude & longitude), IP address, country, and region. 
QuestionPro is a data provider that provides the ability to integrate with Google Analytics using which the customers can have the survey data linked with their Google Analytics account. It provides current data insight into your website traffic and marketing effectiveness. 
Conclusion
Passive data collection represents a powerful and increasingly prevalent methodology for acquiring valuable insights in various fields. Moreover its advantages, such as minimal user involvement, reduced biases, and the potential for continuous data streams, make it an indispensable tool for modern data-driven endeavors. Passive data collection has revolutionized how organizations understand consumer behavior, optimize products and services, and make informed decisions. It has also contributed to advancements in healthcare, enabling real-time patient monitoring and early disease detection. However, it is crucial to navigate the ethical and privacy challenges of passive data collection, ensuring that data is gathered and utilized responsibly and transparently.
Passive data collection has ushered in a new era of data-driven decision-making, offering many opportunities for businesses, researchers, and society. Embracing this methodology while upholding ethical standards is essential to harness its full potential and ensure a future where passive data collection enhances our lives while respecting privacy and individual rights.
Authors: Prakash Patil, Andrews Sekar