American voters are heading to the polls in November to determine for the 58th time their country's president for the next 4 years. While presidential elections are known to provide good theatre, the 2016 Presidential Election has been filled with some interesting twists and turns and is undoubtedly one for the ages. The Republican nominee, Donald Trump, whose loose cannon speaking style has created a firestorm even among his own party, is viewed as a social media scandal machine. On the other side, we have Hillary Clinton, a former First Lady, Senator of New York and most recently Secretary of State, who simply can't seem to shake some of her old ghosts – email issues, wall street, and even issues with her own foundation. With less than a month before the general election, these two candidates are keeping voters on the edge of their seats. We were curious about what voters actually think, so we did a presidential election survey.
Presidential Election Survey
A new poll conducted by qSample and powered by QuestionPro Polls shows that among likely voters Hillary Clinton is maintaining a slight lead (40% to 37%) in the presidential race. While this is good news for Secretary Clinton, the data also shows that Donald Trump is closing the gap and gaining momentum in key battleground states like Florida.
More than 400 respondents participated in the survey between the end of August and September. Respondents are registered members of qSample's likely voter panel. The sample consists of an even split of republicans and democrats. Respondents were asked a series of questions, ranging from the economy, the direction of the country, healthcare, immigration and other important topics dominating this election.
In this presidential election survey, respondents were asked to write one word that comes to mind when thinking about Hillary Clinton or Donald Trump. The results are illustrated in the WordCloud below. To avoid compromising the integrity of the data, we elected to keep the original, unedited version of each word. As a disclaimer, the below report may contain words that may be offensive to some readers.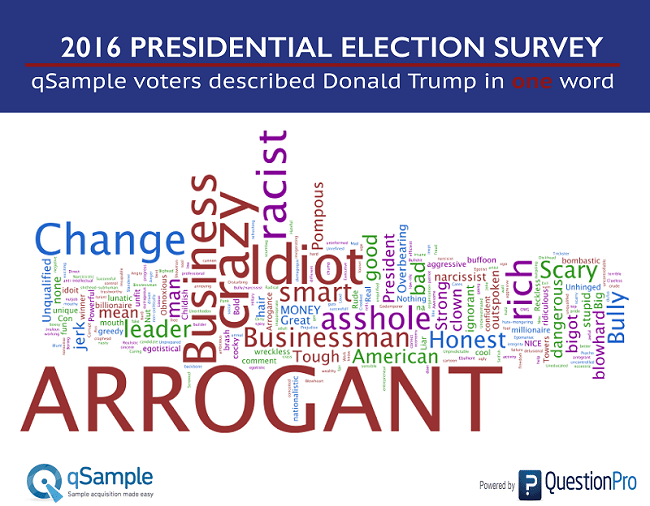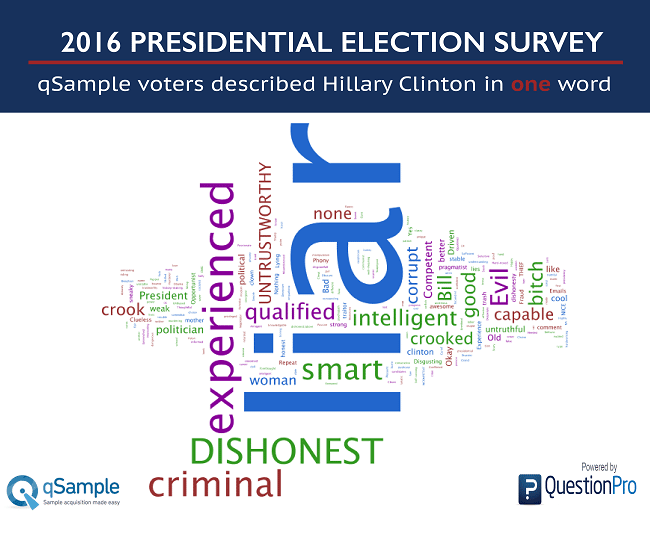 Online polls and surveys can help you collect and understand current trends on important topics or can help you to conduct surveys and polls simply for fun. Setting up online polls using QuestionPro is very easy and requires no technical knowledge. Various customization options are available and the code for the voting polls is automatically generated. You can copy and paste the code to publish the online polls wherever required. Online polls can also be shared to social networking sites like Facebook and Twitter. Data collection is done in real time and reports can be displayed instantaneously.