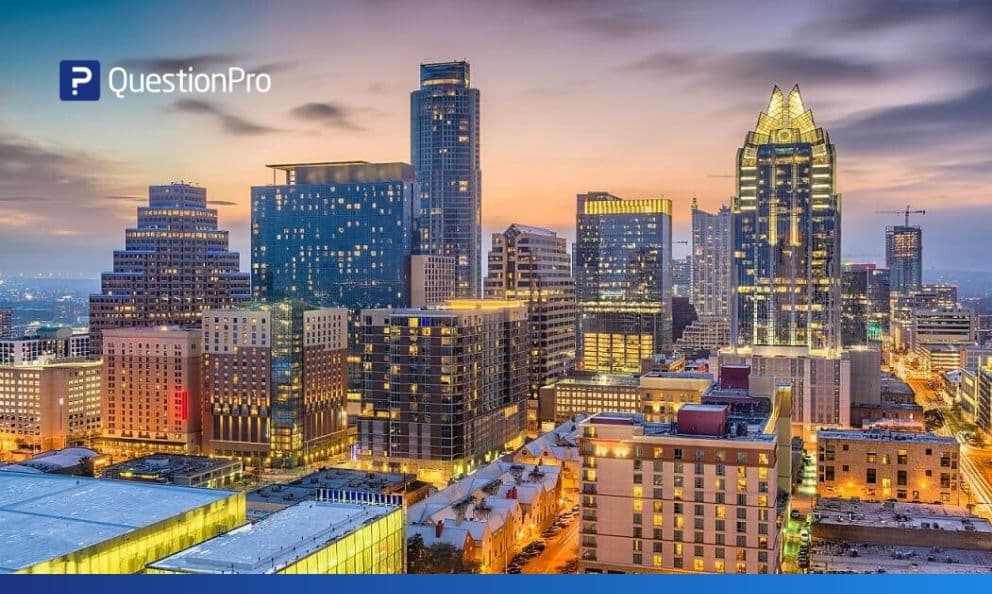 QuestionPro recently relocated its global headquarters to Austin, TX, to support our business growth and attract the best talent. We believe this shift is a positive shift for creating transformational experiences for our customers and particularly expanding our presence in the Austin tech scene.
Founded in 2005 with simple beginnings in Seattle, QuestionPro has grown to over 200 people across all its offices in the US, India, Mexico, UAE, and Germany. We are sure that moving to Austin will help us bring the best talent on board and network with thriving communities.
Why Austin?
Austin is an awesome city with excellent people and great weather. It has been chosen as the #1 to live and work in the US for 3 years in a row by U.S. News & World Report's 125 Best Places to Live in the USA. For its high quality of outdoor activities, affordable living, and desirable housing costs, Austin attracts top talent from all over the world. And so, it makes Austin an attractive hub for tech companies like us.
"Austin is the perfect tech-friendly city for QuestionPro to place our roots and to drive our business to the next level," says Vivek Bhaskaran, Founder of QuestionPro. "It offers a mix of vibrant startups, incubators, and classic technology corporations that we're excited to be a part of."
With all the benefits that Austin offers, it was a natural choice for us. We see ourselves cultivating a great company culture here while also bringing our years of bootstrapping expertise to the local community. QuestionPro strives to provide its clients with an end-to-end solution for all their research needs with a wide range of products such as Workforce, CX, Audience, and Communities. Our products and services help them collect data needed to make the right business decisions.
Having been helping the world's biggest brands for the past 15 years, we continue to serve companies of all sizes and sectors. In 2020, we launched a disruptive pricing strategy to ensure they have the best research solutions at the most competitive rates. This makes us the only survey software that offers the highest number of features for free.
Want to know more about how we help Fortune 100 companies gain insights from their customers and employee experience data? Check out our case studies.