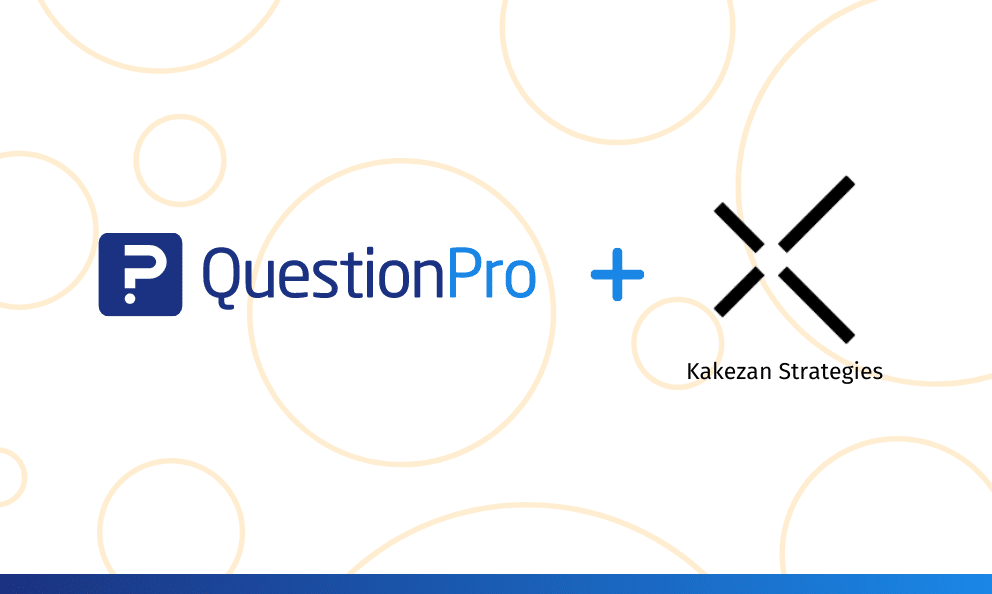 QuestionPro is committed to providing an industry-leading research and insights management platform suite to customers globally through online surveys and research services that help companies make better decisions through data. We have always believed that we want to be accessible to our customers to help them make actionable decisions faster and better. To this effect, we are proud to announce that we have signed on with Kakezan Strategies as our partner and reseller in Japan to work with and service customers in the area.
QuestionPro's partnership with Kakezan Strategies
With a deep-rooted commitment to experience transformation and the proliferation of research technology (ResTech) in the insights management industry, QuestionPro has always believed in a hyperlocal strategy that makes us accessible to our customers 24*7. This partnership with Kakezan Strategies allows us to serve better and work with our customers in APAC. Kakezan has offices in Tokyo and Singapore, which gives us a better reach to our customers. Led by Fumiya Nakajima, Kasuga Daishi & Hiroshi Ikemoto, the team brings in multiple years experience of in market research, data mining / statistical analysis and customer service-oriented behaviour that makes them a perfect fit as a partner.
Kakezan means 'multiplication' in Japanese. The underlying theme is using the power of multiplication with market research consultancy and marketing technology to resolve issues that keep you up at night!
Data privacy and security is of utmost importance to us. With this partnership, we ensure that customers receive the value they need and expect while their data is hyper-local. With data centres in the APAC region in India and Australia, support, onboarding, and implementing systems and programs for customers is easier and faster. Local language support will also help customers leverage the QuestionPro product suite better as a do-it-yourself (DIY) or a do-it-together (DIT) model.
Aditya Bhat, Managing Director of QuestionPro APAC opined, "It has been a brilliant experience onboarding Kakezan Strategies and the team into our ecosystem of partners that allow us the ability to offer better experiences to our customers hyper-locally while still maintaining a global presence. They bring multiple years of experience in the market research technology and consulting field and tie into our ethos of advancing research and experience transformation for all of our customers! We are ecstatic to see their commitment to our vision and look forward to working closely with the team to deliver more successes and see happy customers in the Japan and APAC region on the whole."
This partnership between QuestionPro and Kakezan Strategies is active from Feb 2022 and accessible to existing and prospective customers in the region. If you want to learn more about this partnership, need some immediate support or help or want to come on board as a partner with QuestionPro, reach out to us at [email protected].
The above information for our native readers in Japan!
QuestionProは、企業のデータを活用したより良い意思決定に向け、オンライン調査やリサーチサービスを通じて、業界をリードするリサーチおよびインサイトマネジメントのプラットフォームを世界中で提供できるよう、事業・サービスを拡充していきています。今回QuestionProは、日本におけるサービス提供体制の拡充を目的として、Kakezan Strategiesと日本におけるパートナー及びリセラー契約を締結しました。
インサイトマネジメント業界における顧客体験マネジメントの変革とリサーチテクノロジー(ResTech)の普及に深く関わってきたQuestionProは、お客様に24時間365日アクセス可能なハイパーローカル戦略を展開してきています。今回のKakezan Strategiesとのパートナーシップにより、APACのお客様により良いサービスを提供していくことが可能となります。東京とシンガポールに拠点を構えるKakezan Strategiesは、市場調査、データマイニング/統計分析、それらをもとにしたマーケティング・コミュニケーション等領域でのビジネス展開を通じ、顧客の課題解決に取り組んできています。中嶋 史哉、春日 大史、池元 大が率いるこのチームは、QuestionProの日本を始めとしたAPAC地域の強力なパートナーです。
Kakezanとは、日本語で「掛け算」を意味します。市場調査のコンサルティングとマーケティング・テクノロジーの「掛け算」を通じお客様が持つ、数多くの課題解決に寄与していきます。
データのプライバシーとセキュリティは、最も重要なものと認識するなか、お客様のデータがハイパーローカルでありつつ、お客様が期待する価値を確実に提供できる体制を整えています。APAC地域では、インドとオーストラリアにデータセンターを配備することで、お客様へのサポート、オンボーディング、システムやプログラムの導入がより簡単かつ迅速に可能となります。また、現地語でのサポートにより、お客様がDIYやDITモデルとしてQuestionPro製品群をより有効に活用することができます。
QuestionPro APACのマネージングディレクター、Aditya Bhat氏は「Kakezan Strategiesをパートナーのエコシステムに迎え入れたことを非常に嬉しく思います。彼らは、市場調査のテクノロジーとコンサルティングの分野で複数年の経験を持っており、当社のすべてのお客様のために調査と顧客体験の変革を推進するという理念と一致しています。QuestionProのビジョンに共鳴したKakezan Strategiesが、チームと密接に協力してより多くの成功を収め、日本とAPAC地域全体でお客様を課題解決に導いていってくれることを楽しみにしています」。
本パートナーシップについて詳しい情報をお求めの方、サポートや支援が必要な方さらに、QuestionProのパートナーとして参加したい方は、[email protected]までご連絡ください。