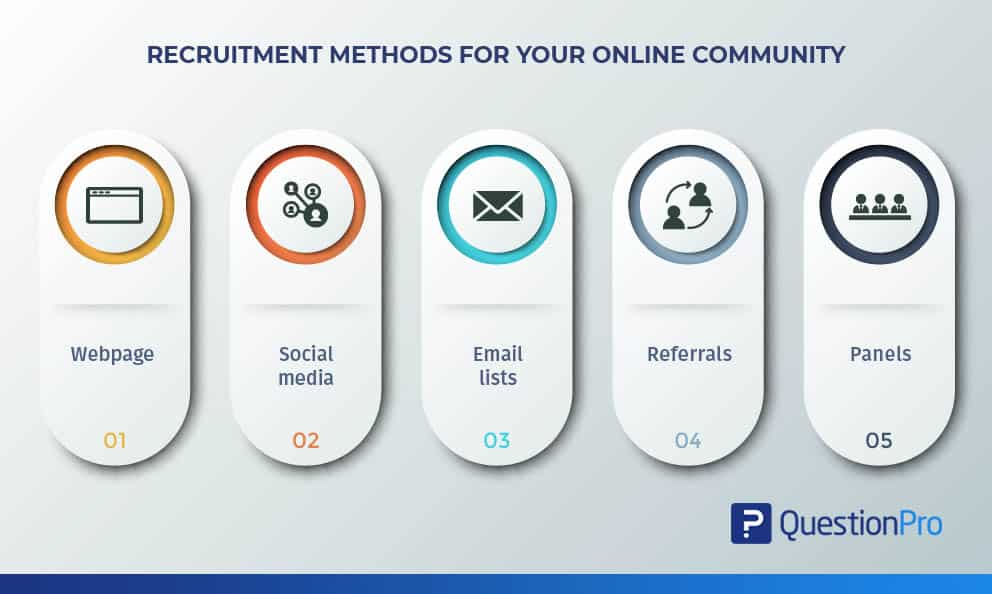 Recruiting for your online community panel may seem like a daunting task.  However, there are many different avenues you can use for adding participants to your research panel.  While there are internal channels (like your company's social media, webpage, general email lists, and referral campaigns), there are also external methods, like lead generation through a third party.  Start with internal resources since they are relatively inexpensive and easier to recruit. Check out the list below to learn more about how to fill your QuestionPro community panel.
Company Webpage
Your company's website is a great starting point to recruit people who are already interested in your company. Create a 'Join Now' button on the website landing page to promote membership. Once clicked, keep the form short, just their name and email, then follow up with a formal demographic survey after.
Social Media
Social media groups can be a goldmine for finding participants for your community panel.  You have individuals who know your company and brand, plus are interested in keeping up with what's happening with your company.  Those who post comments, 'Like' your articles, or 'Share' your posts would be a perfect fit for a panel member!
Email Lists
Do customers regularly sign up to receive alerts, get discounts, or request to learn more about your company? Sounds like a great avenue to use for recruiting new members. Using an email list is one of the best resources for recruiting into your community panel.  
Learn more: Community survey software & tool
Referral Campaigns
Do you already have a decent size panel, but want it to continue to grow?  A referral program can bring in new participants. Using our refer-a-friend option, members can earn points for referring their friends, family, and colleagues. It's up to you whether you will reward current members who refer new members or send an appreciative thank you message. If choosing to offer compensation, QuestionPro Communities can even send out gift cards!
3rd Party Panel Services
Using a third party panel service like QuestionPro Audience, can also be an effective route to both recruit and refresh your community. We have large databases of interested consumers that are ok with completing your surveys and online qualitative research. They can be recruited into your community using screeners to drive the participants that best fit into your community.
Based on these options, what is the best recruitment method(s) for your company?  Once you have your email addresses, QuestionPro can send recruitment, welcome and survey invite emails to new and prospective participants.
Learn more about communities and create your own at www.questionpro.com/communities.