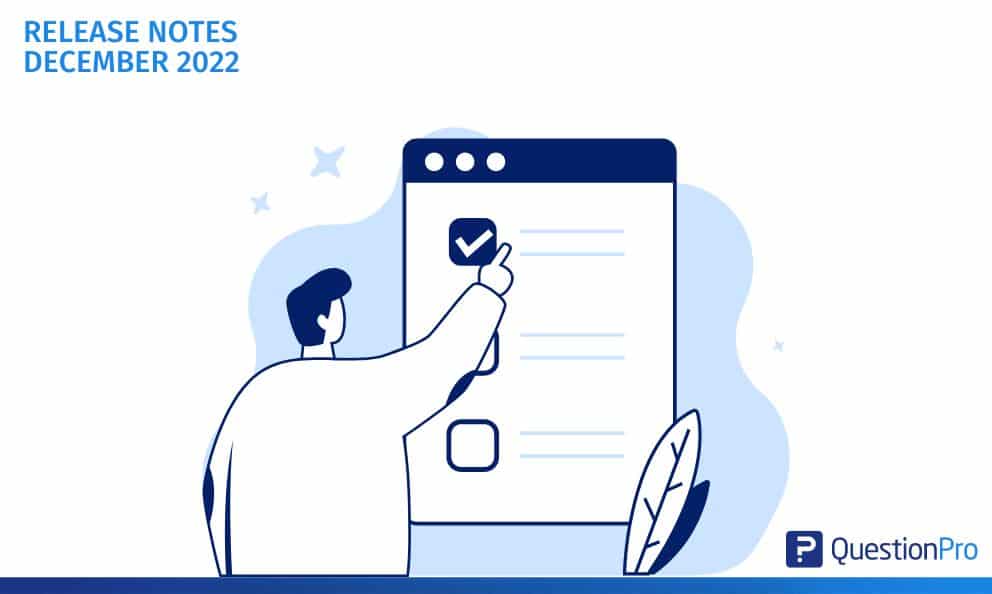 At QuestionPro, we believe in continuous improvement and innovation to offer products that cater to the evolving needs of the world of research. Our team is constantly striving to ensure you get the insights you need to provide the best products and services, here we are with a list of all the new features and enhancements released this month.
Research & Insights
Surveys:
Enhancements
Bugs and other enhancements
SA-10554: Fixed problem with Extraction question: When the extracted "question type to" is Matrix (single or multiple), the question text is not saved and the text is not displayed while taking the survey.
SA-10609: Fixed issue with Workspace showing blank when the question type for a lookup table is changed from the settings to 'Multichoice' lookup.
EC-1607: Fixed answer values checkbox getting disappear issue with MS Dynamics integration
EC-1622: Fixed issue with shared survey Edit Workspace load blank workspace for few seconds.
EC-1624: Fixed issue with extraction logic cache not getting updated.
EC-1628: Fixed broken validation for a multi-select question type.


Communities
Enhancements
Bugs and other enhancements
CM-2884: Members will now have the ability to log in to the community portal and view the reward details. My Account >> Reward history for rewards.
CM-2919: Updated the upper limit to 30 characters on the username.
CM-2684: Fixed issues with export functionality for member shipment.


Workforce
Enhancements
Bugs and other enhancements:
WF-2945: Updated the auth token & refresh token expiry to enhance security.
WF-2966: Added the ability to download the 360 participants' information in bulk.
WF-2958: Fixed populate dummy data issues for 360.
WF-2951: Added Workforce folders need to be shown in copy survey in the global search.

Customer Experience
Enhancements
Bugs and other enhancements
CX-2367: Added the CX API for the import responses.
CX-2380: Fixed the issue of a response count mismatch on the dashboard due to the timezone.
CX-2375: Fixed the API where the ResponseID parameter was missing in the response.
CX-2348: Fixed the UI/UX of the NPS+ widget
CX-2210: Fixed the issue where custom variable data was not present on the dashboard when the survey was copied from one feedback to another.


CX Reputation
Enhancements
Bugs and other Enhancements
Navigation bar redesign.
Add a replied timestamp to the responded reviews.
Introduction of sentiment trend filter in additional filters.
API to limit the number of locations.
Overall rating charts and total reviews charts display an incorrect number of total reviews.


Hope these features and enhancements will help you advance your research while ensuring the best experience for your audience, customers, and employees.
If you have any ideas, questions, or feedback, please send them to us at feedback@questionpro.com