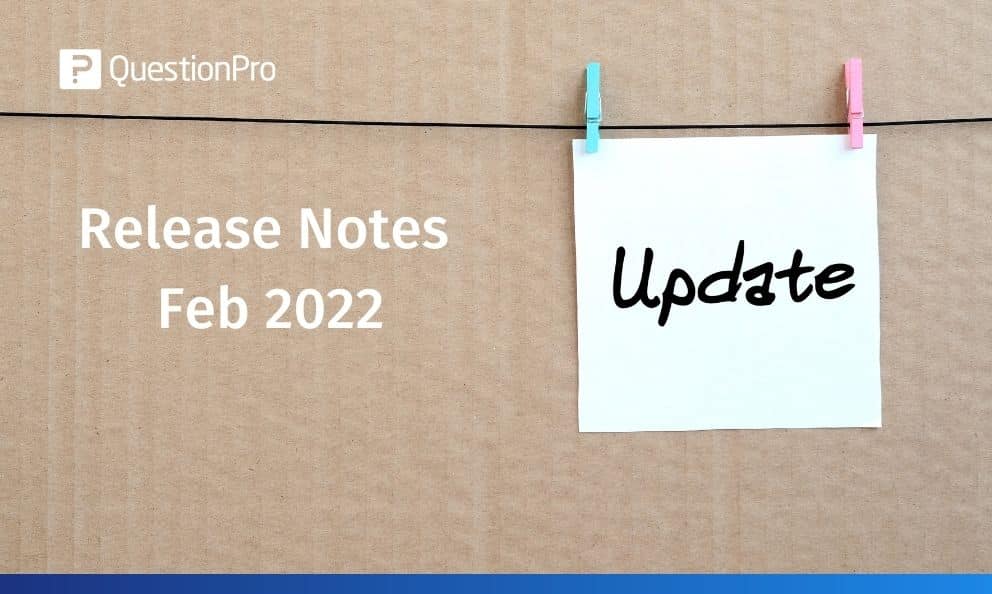 At QuestionPro, we believe in continuous improvement and innovation to offer products that cater to the evolving needs of the world of research. Our team is constantly striving to make sure you get the insights you need to offer the best products and services, here we are with a list of all the new features and enhancements released in February 2022.
Research & Insights
Surveys
Enhancements 
Bugs and other enhancements
SA-9543: Fixed redemption issue with Amazon gift card rewards

SA-9647: Fixed issue with constant sum question type when if sum value was piped and the question from where the piping was set was deleted, the questions were throwing an error.

SA-9634: Fixed issue with media files where if deleted, they were still available to use within a session and needed a logout and login to refresh.

SA-9671: Fixed error where timer question was getting validated if default validation on the account was turned on.

SA-9555: Fixed issue with the reply to email address when SMTP is used.

SA-9533: Fixed issue with alignment for thank you notification email for respondents in outlook.

MR-627: Fixed issue with multiple extraction from multiple-choice questions.

MR-641: Updated and fixed translations for MaxDiff anchored text.

EC – 1376: Fixed issue with high custom variables values not created using create response API call

EC – 1382: Fixed issue with two Re-post data buttons in response details and one repost to Salesforce button not working

EC – 1398: Fixed issue with after question webhooks getting triggered twice for one response
Communities:
Enhancements
Bugs and other enhancements
CM – 2645: Fixed issues with deleting multiple topics in the community.

CM – 2647: Fixed the issue of members not seeing surveys in the portal.

CM – 2626: Fixed the reminder template issues.
Workforce
Bugs and other enhancements
:
WF – 2628: Ability to search participants using email id in the portal.

WF – 2615: Add a nomination button

WF – 2611: Ability to set default email address on folder level

WF – 2635: 360 admin side report anonymity issues, enhancements, and requirements on Individual reports for chart added.

WF – 2617: If the subject adds another relationship prior to adding the manager the nominations are triggered by default, this issue is fixed. 
CX
Bugs and other enhancements
CX-2090: Fixed the issue where the title was not displayed for the CSAT question in the Push Metrics email

CX-2113: Fixed the issue where all emails for CX product were landing in the spam folder.

CX-2162: Fixed the issue where the unsubscribe feature on emails stopped working.

CX-2096: Fixed the issue where data in custom variables were not reflecting on dashboards
Hope these features and enhancements will help you advance research while ensuring the best experience for your audience, customers, and employees.
If you have any ideas, questions, or feedback, please send them to us at feedback@questionpro.com.