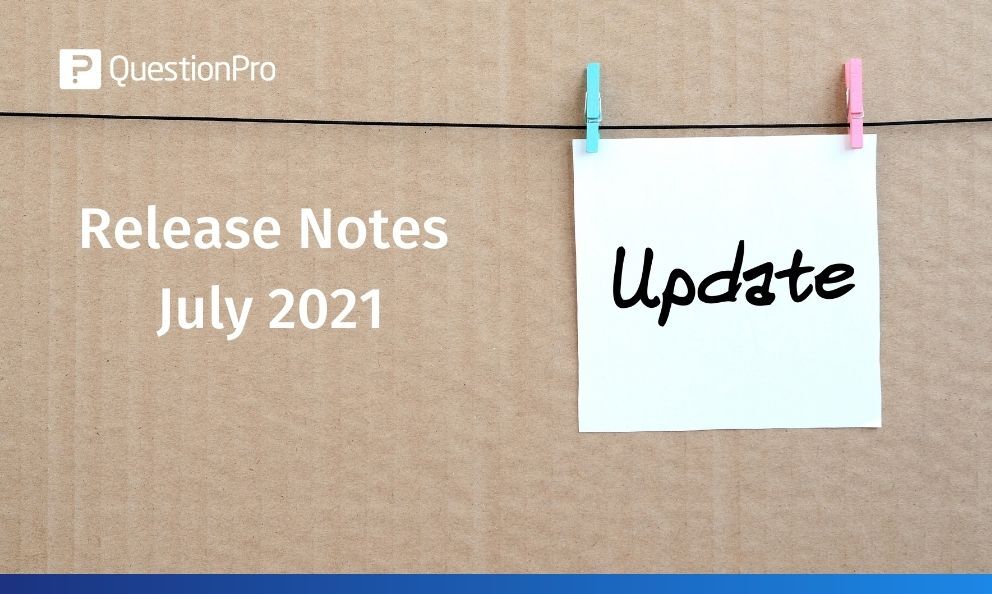 At QuestionPro, we believe in continuous improvement and innovation to offer products that cater to the evolving needs of the world of research. Our team is constantly striving to make sure you get the insights you need to offer the best products and services
We promised you there's a lot coming up in July, and here we are with a list of all the new features and enhancements released this month.
Research & Insights
Surveys: 
Enhancements
Bugs and other enhancements
SA-9072 – Fixed bug with extraction to matrix questions when scale for a matrix was edited.

SA-8977 – Fixed issues with verified signature questions not storing data properly and PDF not generating.

SA-9069 – Changed behavior on the respondent experience where hitting enter key anywhere on the survey was submitting the response.

SA-8979 – Fixed completion URLs for multilingual surveys and now the survey will open in the language selected for the response.

SA-9021 – Fixed issue with text getting cropped on the shared dashboard if the last single ease question was a presentation text type question.

SA-9018 – Added missing postal(zip) codes for Canada on Reference Data question type.

SA-8968 – Fixed issue with selecting the original scale for the NPS question if the scale was changed.

SA-8156 – Fixed issue where drag and drop for uploading images weren't working.

SA-9064 – Survey URLs for export batch were exported with HTTP(unsecured URLs) now changed to HTTPS

SA-9044 – Fixed pager for the from name/email popup.

SA-8911 – Fixed issue with Forms not loading after answering the first question

SA-8855 – Add responses under the Response Viewer should use the new Preview Window
Communities:
Enhancements
Bug Fixes
CM-2465 – Fixed issue with upload/update members when excel sheet had empty(null) values.

CM-2467 – Fixed issue with expanding details for specific member IDs

CM-2470 – Fixed issue with Google login button disappearing on login/signup page

CM-2477 – Fixed issue with Renaming "Points" in customize system

CM-2481 – Fixed caching issue with points assigned completing profile

CM-2489 – Fixed issue with Document Module Docs not opening on Safari on iOS.
Workforce
Enhancements
Bug Fixes
WF-2479- BiWorldwide Portal side issues (Driver analysis calculations)

WF-2405- NA is calculated in the raw data reports

WF-2478- Survey Comparison: Mappings are not dynamically saved

WF-2451- Remove Presentation text in criteria dropdown for Skip logic or Show/Hide section logic and add translations for Question text

WF-2462- Discrepancy with heatmap widget when applying the demographic filter.
Customer Experience
Enhancements
Bug Fixes
CX-1835 The emails are not responsive and have an old interface. 

CX-1865 NPS+ question's root cause and comment box not available in other languages.

CX-1874 CX: Export Segment column format

CX-1845 On the overall Dashboard, the custom variable graphic only loads 445 responses when the overall responses were 691 when no filter is active.

CX-1866 Labels are still not translating in CSAT with other languages. 

CX-1857 Default template from name and email is not working.

CX-1860 Mapped codes for custom variables don't work in CX email invites.

CX-1817 Existing issues in CX custom variable mapping.

CX-1868 Auto Translation Issue for NPS Plus subtype question.

CX-1851 Existing issue with manual upload section for languages.

CX-1869 CX deployment issue 
Hope these features and enhancements will help you advance research while ensuring the best experience for your audience, customers, and employees.
If you have any ideas, questions, or feedback, please send them to us at feedback@questionpro.com