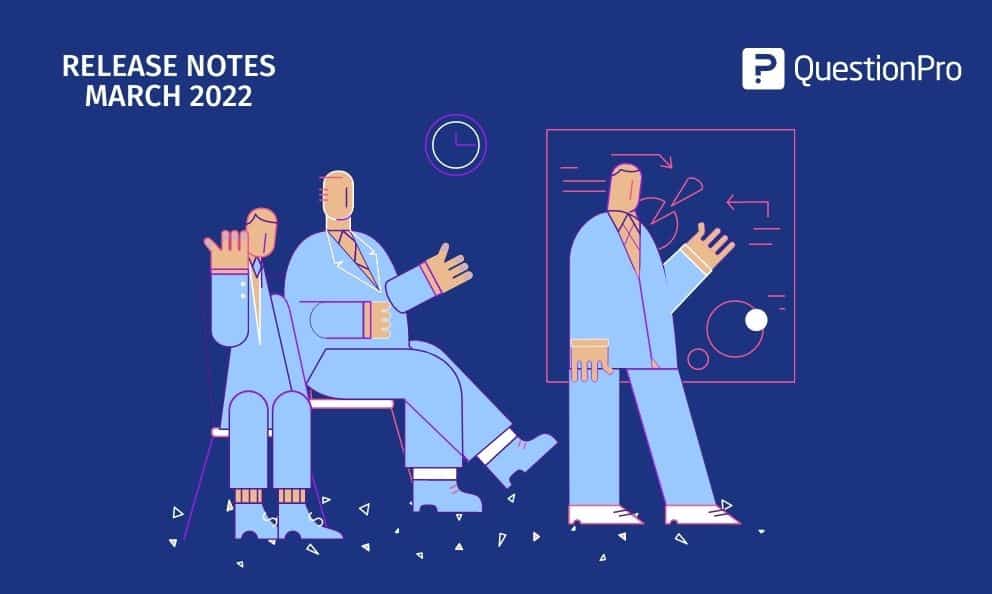 At QuestionPro, we believe in continuous improvement and innovation to offer products that cater to the evolving needs of the world of research. Our team is constantly striving to make sure you get the insights you need to offer the best products and services, here we are with a list of all the new features and enhancements released this month.
Research & Insights
Surveys
Enhancements 
Bugs and other enhancements
SA9700: Fixed processing error when downloading raw data in Excel or CSV format.

SA-9602: Fixed issue with Auto-focus not working on mobile devices if mobile rendering is enabled.

SA-9626: Fixed issue with Address line 2 validation when it should be optional for a contact info type question.

SA-9565: Fixed issue with constant sum displaying negative values and 0 percent.

SA-9646: Regex validation removed for numeric input type question.

SA-9637: Fixed issue with other option comments not recorded or displayed in block looping.

MR-662: Fixed error on extraction with questions not displayed when they should be.

MR-559: Added support for NA and Other options with locked extraction.

MR-639: Added currency input format support for comma as decimal separator.

EC-1403: Fixed issue with raw data for the numeric slider question showing stacked data in a single column

EC-1408: Added error messages on API access for Inactive users
Communities
Enhancements
Bugs and other enhancements
CM – 2704: Fixed the issue with sending third-party surveys in the community. 

CM – 2699: Fixed the processing error issue with the export in the analytics section.

CM – 2705: Fixed the memory issue on the OnePoll servers.
Workforce
Enhancements 
Bugs and other enhancements

:
WF – 2653: Added an option to set up nominations and view nominations of a subject on Manager login to the portal

WF – 2616: Updated workflow for viewing Direct report's nominations on the portal

WF – 2684: Added the deployment name with the navigation arrow to go back to the Deployment Tab

WF – 2687: Added the ability to delete participants from Employee Roster

WF – 2692: Added an option to remove the Subject's report generation on the portal 
Customer Experience
Enhancements
Bugs and other enhancements
CX- 2073: Fixed the issue where the response index of the downloaded data does not correctly start at "1". 

CX- 2158: Fixed the issue where files were getting processed multiple times on the FTP

CX- 2188: Fixed the issue where Schedulers were failing and suspending themselves. 

CX-2144: Fixed the issue where all Scheduled Reminders and Invitations were not getting displayed. 
Hope these features and enhancements will help you advance research while ensuring the best experience for your audience, customers, and employees.
If you have any ideas, questions, or feedback, please send them to us at [email protected]