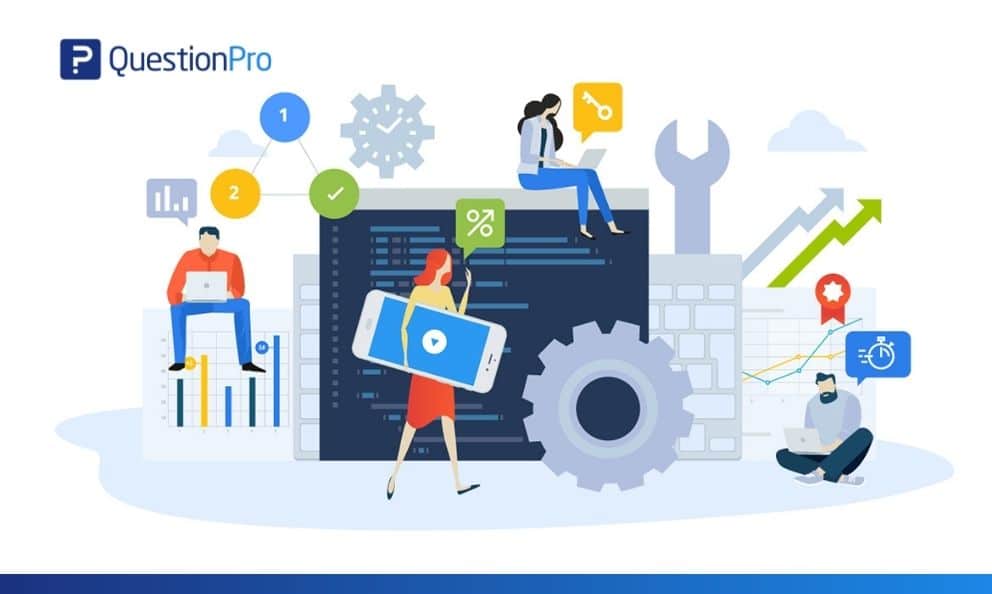 At QuestionPro, we believe in continuous improvement and innovation to offer products that cater to the evolving needs of the world of research. Our team is constantly striving to make sure you get the insights you need to offer the best products and services, here we are with a list of all the new features and enhancements released this month.
Research & Insights
Surveys: 
Enhancements
Bugs and other enhancements
SA-9352 – Printing of the answer code in question texts does not bring us a unique text.

SA-9411 – Issue with answering a survey with multiple languages on Internet Explorer.

SA-9274 – Answer options for multi-tier look up tables do not have a consistent pattern.

SA-9406 – Issue with setting up 'Advanced Randomization' when adding all the questions to the 'Random Order' section.

SA-9332 – Unable to add separate custom validation for some questions.

SA-9413 – Statements for the answer options are getting trimmed in a PDF report.

SA-9278 – Image of answer option not displaying on the thank you notification email.

SA-9397 – 'Unsubscribe' option not working in certain scenarios for default email list.

EC-1178 – Fixed issue with the Forms preview not showing 

EC-1322 – Added detailed logging for integration errors with Microsoft dynamics

EC-1328 – Fixed issue with Salesforce mapping while copying the survey from one account to another

EC-1337 – Fixed issue with users unable to select the role for another user on SA DC
Communities
Enhancements
Bugs and other enhancements
CM-2605 – Added Spanish, French and Italian translations for multiple system messages.

CM-2566 – Performance improvement of the Member portal.

CM-2581 – Import data inconsistencies resolved to provide an enhanced consumer experience on downloading data from the system.

CM-2599 – Member sign up webhook fixed for recruitment surveys.

CM-2595 – Fixed issue with password reset page, was causing  major annoyance to members when they tried to change the language. 
Workforce
Enhancements:
Bugs and other enhancements:

WF-2541 – 360 Distribute tab functionality and UI issues

WF-2543 – Take feedback UI issues for 360 surveys

WF-2539 – 360 Bugs and improvements on portal

WF-2545 – 360 Portal UI issues

WF-2544 – Incorrect Labels under Participants
CX
Enhancements
Bugs and other enhancements
CX-2036 – Fixed the count on the Transactions screen.  

CX-2049- Fixed the issue where the email list field was displaying incorrect data. 

CX-2027- Fixed the issue where managers were not getting the same number of emails as the number of segments linked to.

CX-2022- Fixed the issue where Push Metrics said there are 0 responses but the dashboard displayed values.
Hope these features and enhancements will help you advance research while ensuring the best experience for your audience, customers, and employees.
If you have any ideas, questions, or feedback, please send them to us at feedback@questionpro.com