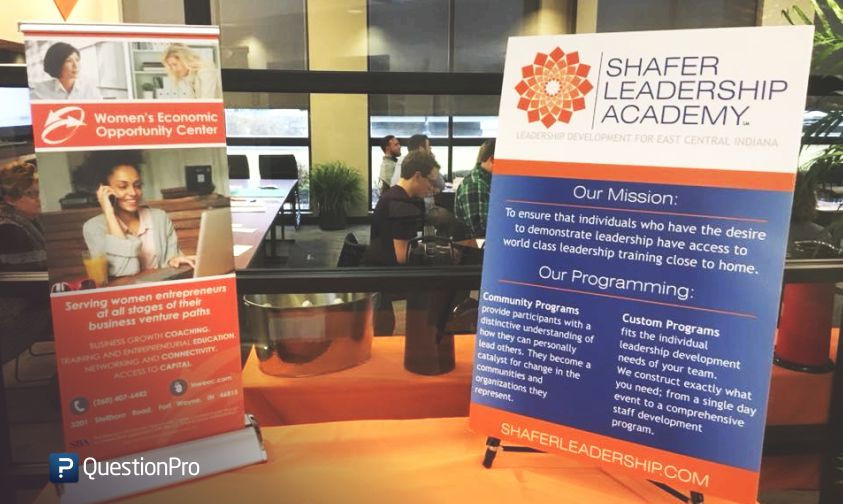 Shafer Leadership Academy is a nonprofit organization that provides people of all ages, backgrounds, and interests access to the tools necessary to develop and enhance their leadership skills. Their aim is to provide contemporary leadership training that meets the needs of communities, businesses, nonprofit organizations and private individuals. The academy helps people learn to lead, through a variety of workshops ranging from 90-minute lunch and learns, to two-hour programs, one-day programs, and their eight-week signature course.
Survey Goals – Measuring Their Mission and Board Development
The mission statement for Shafer Leadership Academy is "to ensure that individuals who have the desire to demonstrate leadership have access to world-class leadership training close to home." In order to track and ensure their programs and student experiences met their mission statement and engage with potential, current, and leaving board members, Shafer Leadership Academy partnered with QuestionPro to create a standardized feedback and student satisfaction program to measure the success and community impact of their academy over time. They implemented pre and posttest analysis to track student and alumni activities, and assessed behavioral impressions. The feedback program ensured they were gathering data that mattered to the academy funders while recruiting and engaging board members who were passionate about the various programs and mission of the academy.
Satisfaction Measurements Are Longitudinal For Funders
Funders with a vested interest in the results of Shafer Leadership Academy were pleased to see program participates highly rated many of the programs and confirmed these courses helped shape and grow their leadership skills. The overall rating score average for the All Aboard Program: 3.9 / 4.0 by participants. The percentage of survey respondents who rated their experience as "exceptional" for each core program in 2016:

Fusion – 93%
Emergence – 98%
Ingenuity – 82%
Allegiance – 94%

Shafer Leadership Academy intends to track and run a trend analysis over time for funders to review historical data while using the results to identify curriculum improvements and opportunities for future expansion.
Pre and Post Test Behavioral Results Show True Community Impact
Pre and post testing program participates allows Shafer Leadership Academy to tell a story filled with real success and impact within a community. By demonstrating how their programs have opened up new opportunities for those developing their leadership skills, facilitators and board members can measure how well their programs meet their organization's mission. The information is also useful for prospective students and funders to view the cognitive growth over time. To gather survey results, Shafer contacts graduates 1, 3, and 5 years after completing the signature program. Of those who completed the signature Emergence program :
75% of graduates have taken a leadership role in the community.
63% have volunteered on committees/taken on extra assignments at work.
39% have had a job advancement.
50% have served on nonprofit boards.
Using Surveys For Board Development
Like most nonprofits, engaging board members is a challenge. To help stay engaged with their board members, Shafer Leadership Academy uses QuestionPro to give the board quick and efficient tools for identifying board needs, empowering them to assess the board's performance, and their own participation on the board. The evaluation is simple. This allows them to identify gaps that must be addressed. Exiting board members are also given a survey prior to an exit interview with the vice president in order to quantify their feedback and assist with board recruiting efforts.
With the partnership with QuestionPro, Shafer Leadership Academy created a successful feedback program that enables them to build and grow key areas of their organization. We at QuestionPro are incredibly proud of Shafer Leadership Academy's story and look forward to continue to support them as they continue to grow in the future.