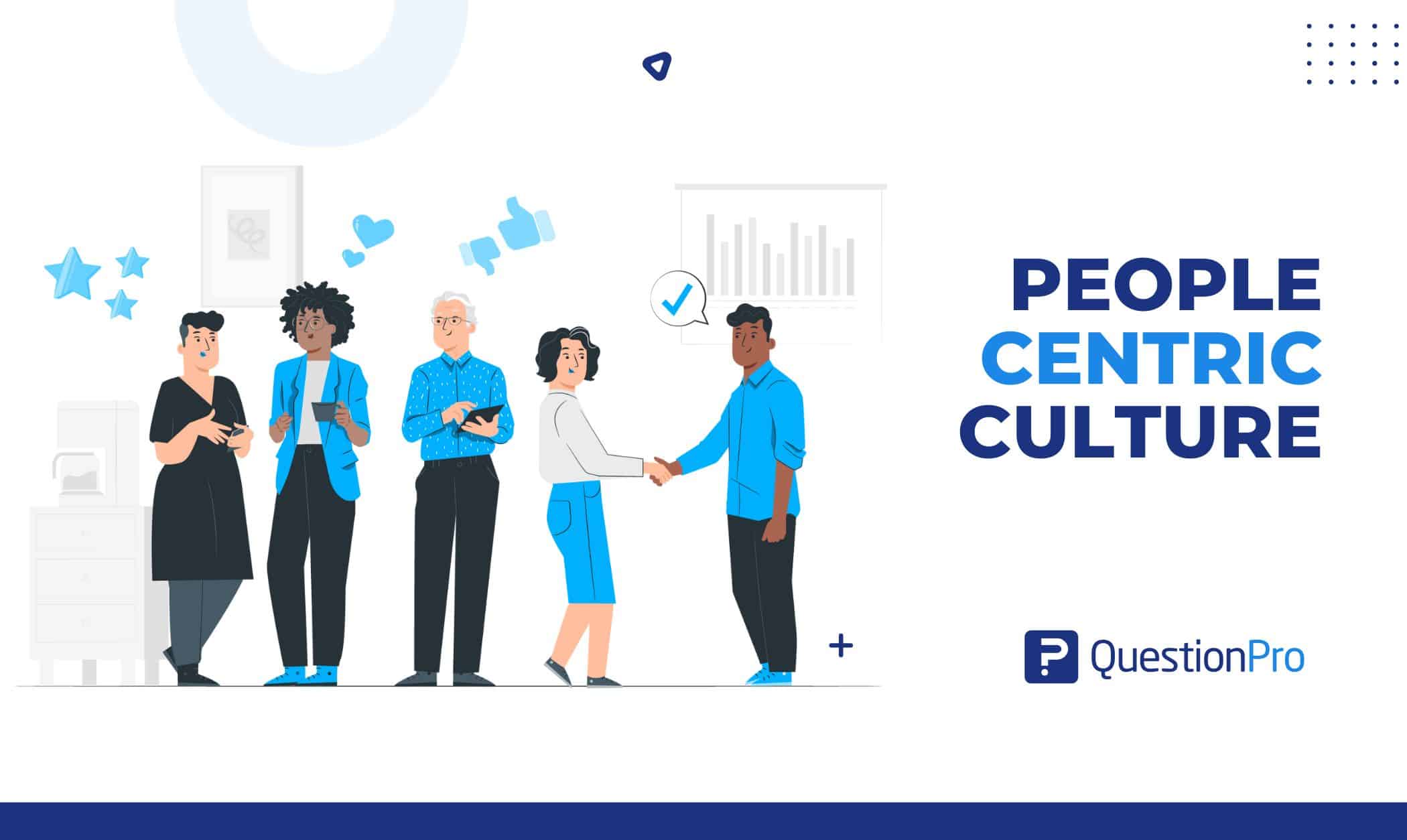 Claiming to be a "people-centric" organization earns brownie points with potential employees, business partners, customers, and even within the HR community. It explains why many businesses and HR executives promote themselves and their culture as "people-centric culture."
Being people-centric means always putting your people at the center of your actions. It restores the "human" element to human resources. Unfortunately, many of these organizations need to be even more people-centric and, in some cases, they need help understanding what it means to be so.
This blog will describe people-centric culture, its importance, and how to build it in the workplace.
LEARN ABOUT: Work culture
What is a People-Centric Culture?
A people-centric culture means that the people in charge deeply understand what their team members need, find out what they need to do their best work, and have a happy workplace culture.
Building connections with your team members will help you proactively identify any obstacles your team may encounter. This type of interaction between team leaders and employees fosters openness and transparency, allowing everyone to contribute to finding answers to problems and ultimately improve results.
Creating a people-centric culture at the organizational level takes effort, but the rewards will be felt for years. To foster a people-centric culture, a variety of tactics might be used.
LEARN ABOUT: Employee Rewards Ideas for Employee Engagement
Importance of people-centric culture
A people-centric culture considers how your employees would like to work and how to motivate them to perform their jobs well.
Studies show that people-centered organizations have many benefits, such as
Focusing on achieving revenue goals will only optimize your employee's productivity. Leaders should step back and distinguish between their business and people drivers.
Instead, growth opportunities can encourage employees to work at their highest productivity levels while also assisting in their long-term retention. A LinkedIn analysis found that organizations with high internal hiring experience 41% longer employee lifetime than organizations with low internal hiring.
The employee experience is enhanced by a people-centric culture that fosters development, learning, and a feeling of purpose. Your business will be more successful if you put your employees at the heart of it.
How to build a people-centric culture
Working to create a more people-centric culture is a never-ending effort that necessitates regular communication between management, HR, and the workforce at your company.
The well-being and experience of your employees within your firm must serve as the focal point of your maturity transition.
LEARN ABOUT: Employee Centricity
Consider how and why your people are feeling
From onboarding to leaving, being people-centric means caring about how and why your employees feel. It's also about hearing your people's sentiments and needs before making decisions, implementing change, and hearing from them again afterward.
Emotional employee engagement surveys work best for this. You'll get people-centric data to make decisions, manage change, and understand your people's emotional journey.
Establish a People-Centric Culture
If you and your company want to be people-centric and realize its benefits, everyone from the top down should grasp what this means and support and participate in it.
People should lead every process, decision, and business function. Employees must know they are the company. They must realize their voice is respected and necessary.
To workplace stress the employee voice and create a completely people-centric organization, you must first establish communication channels that employees can utilize and trust.
LEARN ABOUT: Employee Trust
Boost inclusion and diversity
Putting your employees at the center of all you do means more than empowering and appreciating their voice—it means establishing a workplace that helps them succeed.
Inclusion and diversity must be prioritized to achieve this. Your people will thrive if they feel involved, respected, and supported.
Inclusion and diversity foster different talents, viewpoints, ideas, and innovation. Research shows that 75% of top executives would quit for a diverse organization.
Encourage work with a purpose
Financial goals are crucial to leaders and management rather than to employees. For people to flourish, leaders must set purpose-driven goals and encourage purpose-driven labor. Employees are motivated by purpose, not money.
Being people-centric means considering how and why your employees operate. Leaders and management must distinguish their drivers from those of their employees.
Prioritize learning management
Make staff learning a strategic goal to start. Training boosts productivity and skill sets and improves your worker's engagement by satisfying a fundamental human urge to develop, learn, and take on new challenges.
In just 9 to 12 months and for one-sixth the price of hiring externally, internal hires may develop the same capabilities that external hires might bring to the table, according to recent data from Deloitte.
Performance analysis feedback
Create a performance analysis feedback loop for employee development and emphasize learning.
Compared to employees with an annual performance evaluation that remains untouched in an HR system, individuals who receive performance analysis feedback can gauge their progress more frequently.
Including performance analysis feedback in the everyday work experience assists your organization in achieving the following:

You can foster growth by highlighting employees' accomplishments and inspiring them to advance within your company.
Create a coaching culture by making your workplace people-focused and showing your staff that you care about their success in the long run.
Utilize data to guide your decisions, and recognize employee growth by providing timely, reliable information about each person's learning path.
Conclusion
Organizations with a more people-centric culture are more appealing. Through growth opportunities that boost productivity, retention, and well-being, you may improve talent retention by making your employees the focal point of your company culture.
People who work for a people-centered company feel more like they own the business, are more willing to help others, communicate and share openly, and form stronger bonds with their teams.
Companies can conduct surveys to find out what their employees think and what they should change to improve the workplace culture. QuestionPro is an idea survey software that can be used to collect information in many different ways.
QuestionPro Workforce will help you run a culture that puts people first. It explains your data, your employee's demographics, and habits. With QuestionPro, you can learn how to get regular employee feedback and improve your business.