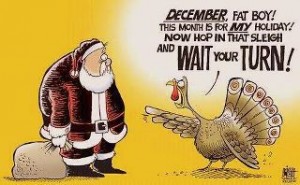 It seems as though we had just barely gotten past Halloween and the ghostie and ghoulie decorations were slowly coming down from the neighborhood, but in their place there are Santas and icicle lights, rather than Thanksgiving decorations.  It's not just the neighborhoods.  Even with the holiday shopping season starting a week early, retailers have gone ALL OUT pitching Black Friday and decking their halls for the Christmas holidays.
All of them except for Nordstrom.  Every year, Nordstrom hangs a sign just like this: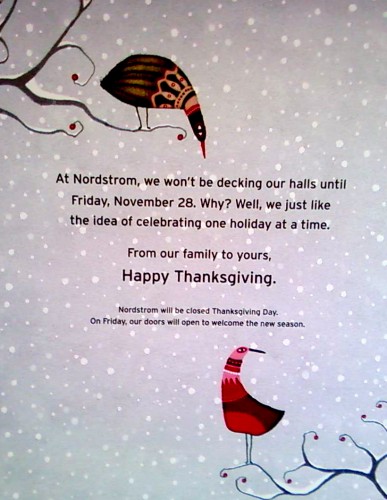 I don't know about you, but all around me I hear people complaining that retailers continue to skip Thanksgiving and going straight to Christmas, yet that sentiment doesn't seem to be taking hold.  It looks like we are headlong into the Christmas retail season no matter what.
Are you Team Turkey or Team Santa?
So here at QuestionPro we want to know how you feel.  What's the impact on you and your shopping behavior when retailers encourage the early holiday shopping season?  Are you Team Turkey — and want to wait until Black Friday, or are you Team Santa — and you're ready for Christmas shopping the day after Halloween.
We've put together are little survey for you to take and we'll report on the results later this week.