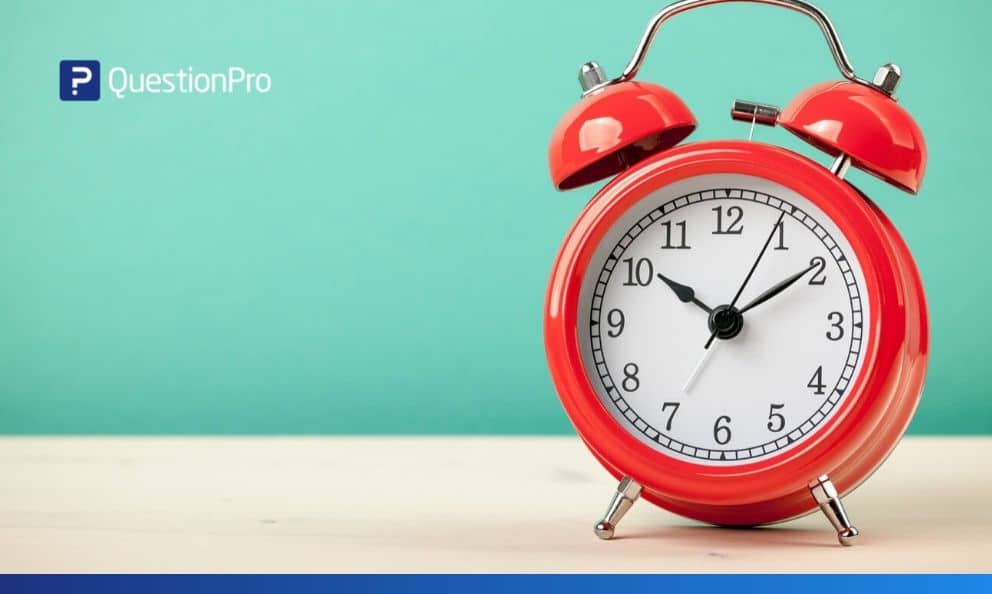 When it comes to surveys, the more information you gather from the respondents, the better it is. While a lot of data is gathered by asking questions, some of it can be gathered without asking questions. Respondent behavior is one such factor that can mean a lot to the market researchers. The time respondents spend on a question speaks volumes about how easy or difficult they find in taking decisions. It could mean that the choices are close enough and might be equally good or bad.
So, wouldn't it be great if you could log the time each respondent spend on each page of the survey?
What's new in QuestionPro surveys?
You can now add a timer question to track the time spent by respondents on each page. It can be used in online tests, quizzes or surveys where you want participants to spend a specific amount of time.
Timer question should be added as the last question on the page. Once you add this question type, an automatic page break is applied.
You can use a timer to track the time spent by respondents on watching a video-based question. For online tests, you can set the maximum time limit so that respondents can't refer to other resources for answers.
How to add a page timer?
To add page timer question to your survey:
Login

Surveys

. Go to

Workspace

under the

Edit

tab.

Click on the

Add Question

button.

Select the

Timer

question under

Basic

question types.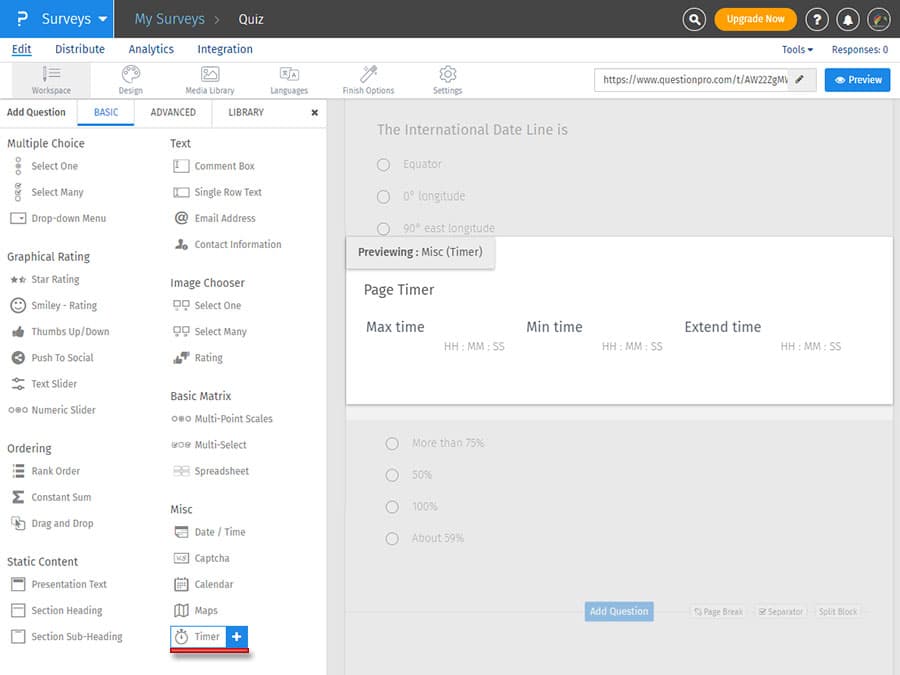 For the page timer question, you can set the maximum, minimum and extended time.
Max Time:

The maximum time allowed to answer questions on the page.

Min Time (optional):

The minimum time respondents should spend on the page. Till this time, the submit button will remain disabled and respondents will not be able to submit their responses for the page.

Extend Time (optional):

Allow users to add/extend time.
Timer question settings:
Display Timer:

By default, the page timer will be displayed. To hide it, switch it off.

Timeout Action:

By default, once the timer is up, the response will be submitted for the page and respondents will move to the next page. You can set it to terminate the survey.
How to view the time spent by respondents on the page in the survey reports
Once you add the timer question, the time spent on the page is logged for each response. You can view the number of seconds spent by each respondent in the response viewer.
Go to

Analytics

Under the

Dashboard

tab, select the

responses

.

You will be able to see the time on page in seconds. This information is also included in all raw data downloads.

Learn more: How does page timer work while answering the survey?
If you need any help with surveys or market research, get in touch with us. We'd be happy to help.