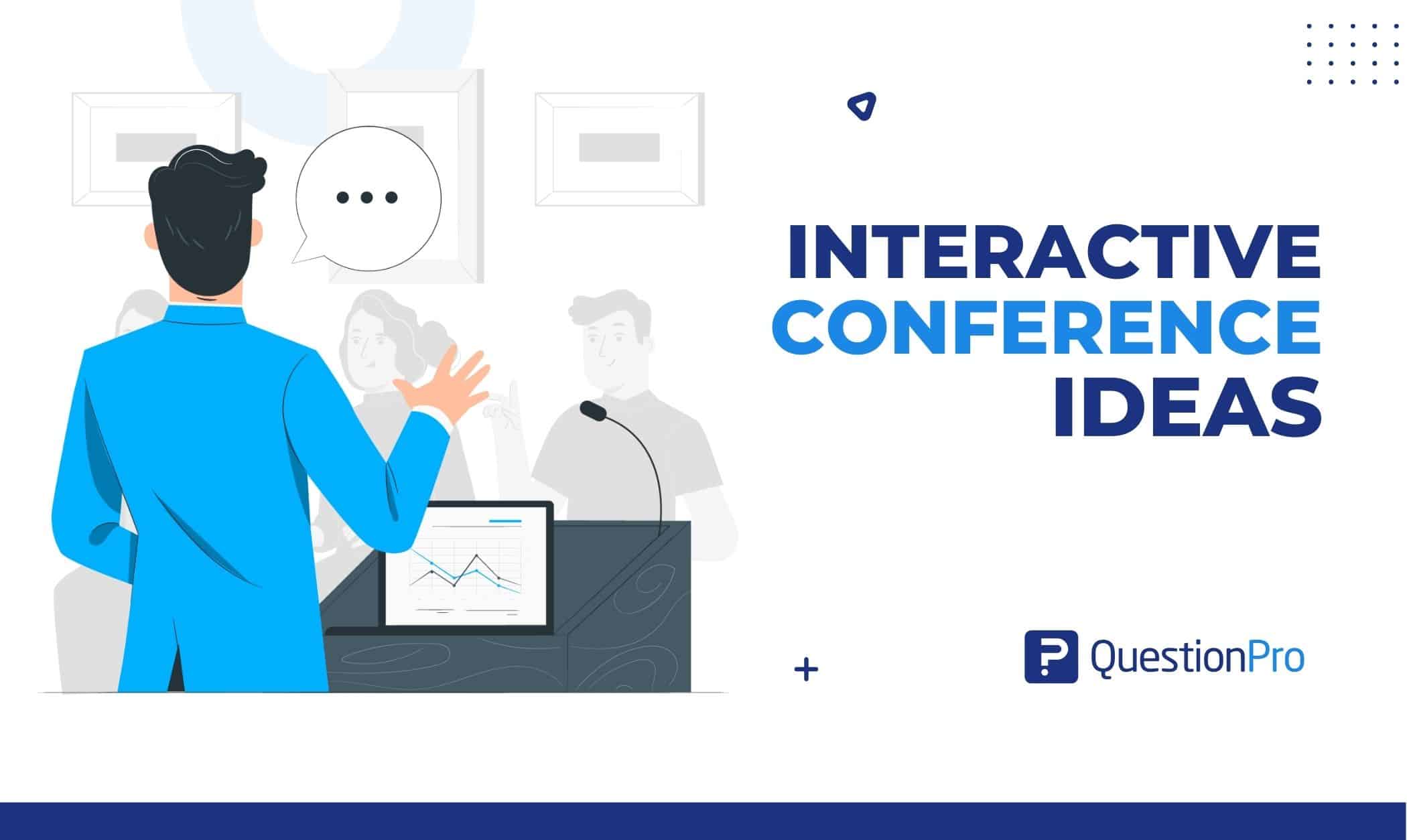 The success of any conference, virtual or in-person, depends on audience engagement, allowing attendees to interact with one another and connect with your brand. And for this, you need to implement interactive conference ideas. After all, events or conferences aim to foster networking, questions, and learning.
The first step in making conferences more interactive is starting with a robust online event platform that connects attendees and speakers with fun and useful features.
LEARN ABOUT: Audience Engagement Tools
We have created 10 engaging conference ideas to help you engage your audience from anywhere.
What are interactive conference ideas?
Interactive conference ideas refer to a variety of strategies and activities that can be used to engage and involve participants in a conference or event.
These ideas can make the conference more interactive, lively, and memorable for attendees and enable networking, learning, and collaboration. The key to successful interactive conference ideas is providing opportunities for attendees to interact with one another and with the content in interesting and memorable ways to generate audience engagement.
10 Interactive conference ideas to boost audience engagement
Continuous engagement should be your main priority while conducting an online conference. The goal is to give attendees a unique, interactive brand experience that gets their attention and gets them involved throughout.
Here, we will discuss 10 interactive ideas to boost your audience engagement:
Use icebreaker idea
Engaging the audience from the beginning of your conference meeting is one of the most interactive conference ideas. To do this, you can use a few of the icebreakers. To make each new attendee to the meeting feel welcome, you can provide a question, employ a puzzle, or administer a quiz. To improve team bonding, you can also ask some personal questions.
QuestionPro has an excellent live opinion poll feature that can help you to engage your audience at conferences. Additionally, You can use quizzes at the end of conferences.
Offer a virtual tour
You can add a virtual tour to your conference with the best virtual conference platform. You can bring in a lot of people with virtual tours. Also, you can get the attention of the attendees or learners in a big way.
It uses the most up-to-date virtual technology to give people real-time, in-person experiences. As a result, 360-degree and 3D effects will give attendees the impression that they are physically present at the location.
Hold attention with quizzes
Quizzes, puzzles, and other similar activities always sound interesting and appealing. The attendees will never refuse to participate in such games. As a result, you can include a variety of questions in the form of a quiz.
You can also award a score to the user who completes the quizzes quickly. As a result, quizzes can be a fun way to manage and engage participants during virtual conferences.
If you are thinking of conducting a quiz game to make your audience interactive, you can surely go for the QuestionPro Quiz feature. You can easily create your Questions online and get your audience's response in real-time. Utilizing QuestionPro is one of the best interactive conference ideas for business.
Interactive sessions
Attendees may find listening to and watching a speaker boring. To make it interesting, allow your audience to ask questions and respond to the speaker's presentations. It would help if you had interactive tools.
You can look for the following features to make your conference interesting:
Keeping the users busy and interested in your session can be helpful. They can vote for the options they like best, and you can show them the results right away.
QuestionPro Live poll can be the best option to make your conference interactive. It is a free, user-friendly online engagement and polling tool that allows you to perform fast online polls, quizzes, and trivia, gather feedback and display results in real time. Also, during a conference, you can immediately get open-ended feedback with QuestionPro live polls.
Live Q&A is a real-time web application for your website that allows you to promote your brand in a highly engaging, interactive, and effective manner through live Q&A events. You can create audience polls by selecting engaging questions from the session.
You can use QuestionPro live polls to engage your audience with a live Q&A. You can create your trivia in seconds by adding all of the questions you need! Trivia allows you to create the questions, and the audience plays for points.
Opinion polls are similar to surveys or inquiries in that they are intended to measure public opinion on a specific issue or a series of issues in a scientific and unbiased manner. The most common type of opinion poll question is one that requires respondents to respond in either a yes or a no format. For example,
Do you think opinion polls are an interactive method for engaging an audience?
QuestionPro opinion polls offer you to collect the opinion of your audience easily. They also assure the accuracy of your opinion polls. The best thing is you can use QuestionPro opinion polls for free.
Real-time push notifications
You must keep the participants informed of all activities during the virtual conference events. Engaging interested users in various activities, such as games or the conference's updated leaderboard score, will be beneficial. Furthermore, they will arrive and attend every session on time. You can also inform people about all of the gamification and leaderboard opportunities.
Add games and leaderboard
Gamification is another technique for keeping your audience engaged during virtual conference events. Additionally, attendees can give themselves a chance to improve their scores by visiting every location that will be featured on the virtual online conference leaderboard.
You can assign several points to each attendee for completing a portion of the event. It has been the most popular method of efficiently engaging audiences.
You can try out QuestionPro gamification features, which can help you engage your audience simply. They have a gamification point and reward system to encourage and engage the audience.
Rewards and gift vouchers
Rewards and gift vouchers are another one of the best interactive conference ideas that you should know. Nobody in the world dislikes freebies. With rewards and gift cards, you can tempt attendees. Offer some enticing incentives in exchange for referral registrations, logins, and leaderboard winners. As a result, you can hold a light competition to keep your audience engaged in your virtual online conference.
QuestionPro has an all-in-one rewards system. QuestionPro allows community members to respond to incentives, whether you want them to receive gift cards, badges, or have a gamification experience.
Include some entertainment sources
Live performances can increase engagement. It could be a dance show, a comedy show, a music show, or any other type of entertaining program. Furthermore, you can keep these conference activities in between sessions to break up the monotony.
You can also make the attendees participate in fun and unique activities to reveal their hidden talents. You can include dancing, singing, or other conference activities as hidden talents.
Include interactive features
You can improve communication by using live chat, audio, and video calls. These built-in communication tools will allow attendees, sponsors, hosts, and speakers to interact with one another. You can also provide them with external plugins such as WhatsApp, Zoom meetings, BlueJeans, and so on. As a result, they can use these integrations to connect with whomever they want.
Maintain frequent conference breaks
It's important to give the attendees some time and space. It is considered one of the best interactive conference ideas. Allow them time to recover from the first session and prepare their minds for the next one. You can schedule frequent breaks between each session. Furthermore, you can use gamification or other methods to engage users on your platform.
Conclusion
So, these are a variety of interactive conference ideas for boosting audience engagement. You can use these conference engagement ideas to achieve the highest success. The audience will be unable to resist an event with such features.
We hope that this blog's 10 interactive conference ideas will help you. And you can get help from QuestionPro if you need it.
QuestionPro is a survey software with many excellent features, including live polls. Live polls can engage your audiences in interactive meetings and conferences. Sign up for free to utilize the best value of QuestionPro live polls for boosting audience engagement.