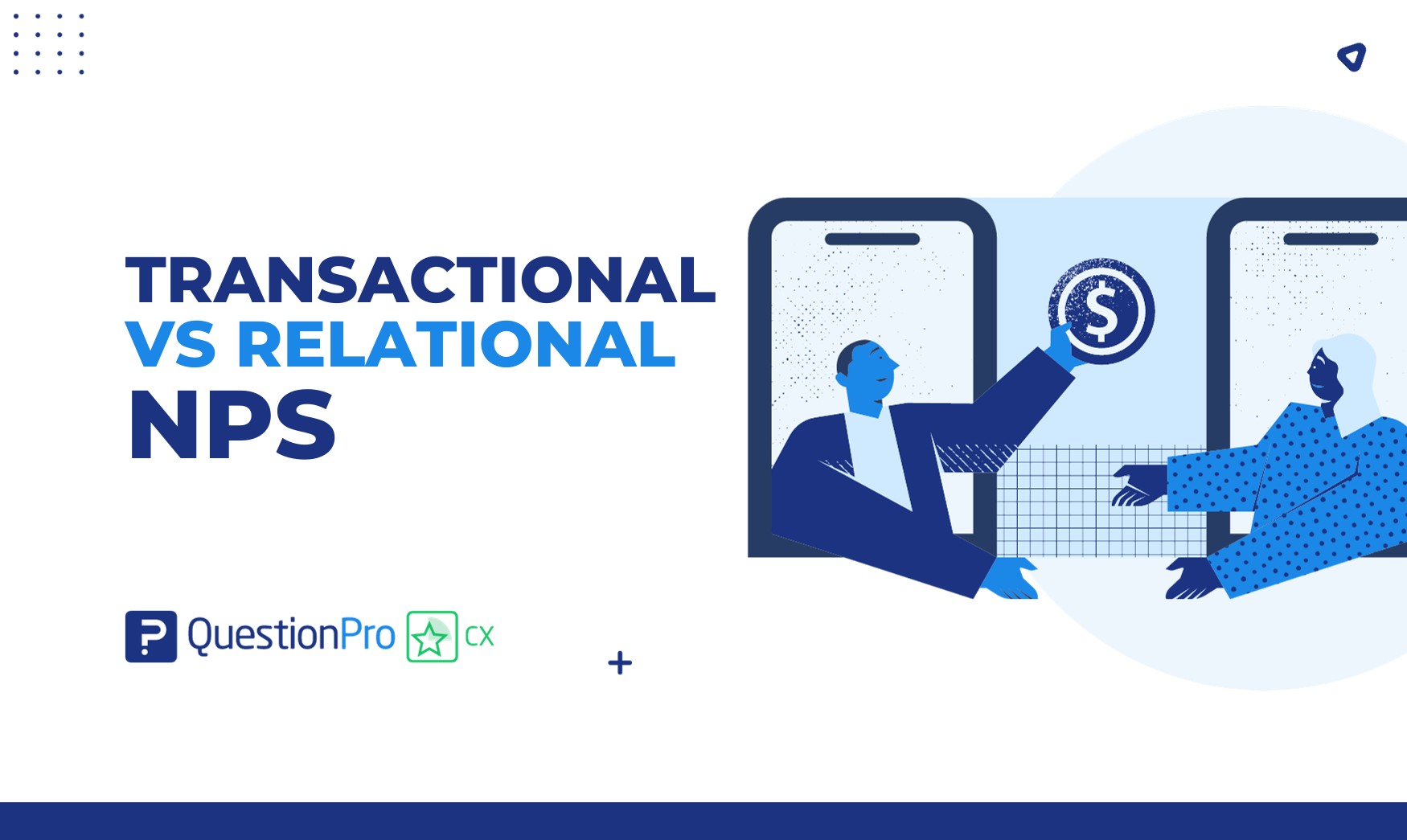 The Net Promoter Score (NPS) is important for understanding customer satisfaction. Regarding transactional vs relational NPS, businesses often highlight that transactional NPS is useful for tactical decisions, while relational NPS is valuable for strategic decisions.

Transactional NPS helps with day-to-day choices, while relational NPS guides bigger-picture strategies.
In this blog, we'll explore different types of NPS, sharing details about what makes each one special, when they work best, and the important things to consider when trying to make your customers more loyal.
What is NPS (Net Promoter Score)?
The Net Promoter Score (NPS) is a way to measure how likely your customers will recommend your products and services to others. It's a metric for customer experience and helps measure customer loyalty.
An NPS survey is a survey that helps determine if customers are likely to recommend your business to others. It uses a scale from 0 to 10, and there are three kinds of responses based on the scores:
Promoters (Happy Customers): These are customers who really like your services and rate them 9 or 10. They're super loyal and might even tell their friends or colleagues about your company.
Passives (Satisfied Customers): Customers who give an NPS score of 7 or 8 are okay with your services. They're not overly excited, and they could consider trying out your competitors. They won't say bad things about you, but they won't actively recommend you either.
Detractors (Unhappy Customers): These customers rate your product or service below 6 and are not happy. They might tell others about their bad experiences, which can harm your company's reputation. They're unlikely to buy from you again and may discourage others from doing so, too.
Calculating the Net Promoter Score involves using a simple formula. This formula helps you determine the difference between the people who support your business (promoters) and those who are unsatisfied (detractors).
To find the NPS, you just need to subtract the percentage of detractors from the percentage of promoters. The NPS number goes from -100 to 100 and shows customer satisfaction with your brand or organization.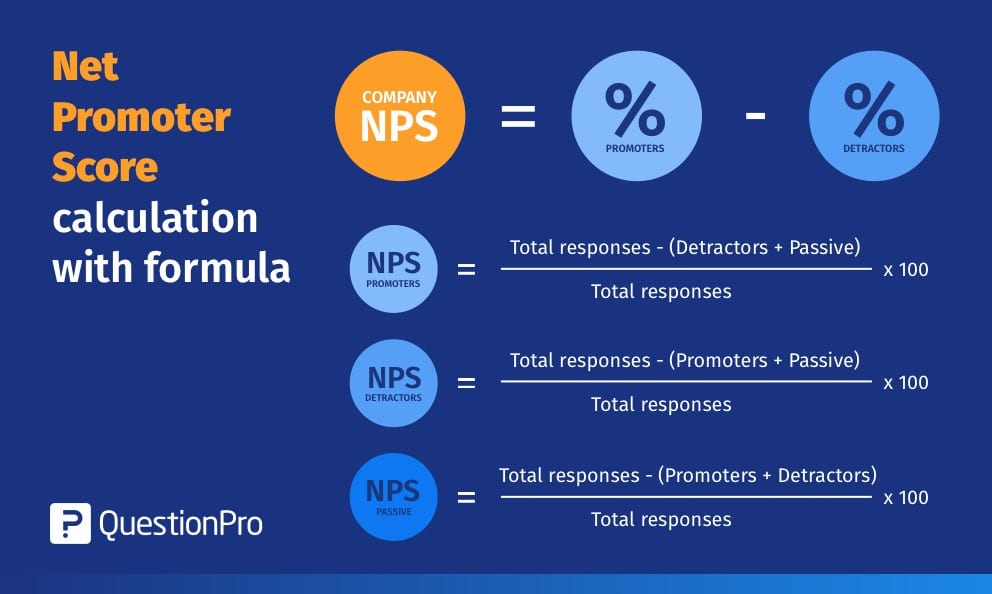 Types
Many customer-focused businesses use two main types of NPS surveys to hear from their customers and find improvement areas. These surveys provide valuable data for businesses to enhance their products and services.
Let's take a closer look at these surveys to figure out what might be most relevant and important for your brand or organization.
1. Transactional NPS
Transactional NPS surveys are a straightforward way of getting customer feedback. It's all about collecting opinions right after customers use your product service or talk to a specific department. This method is precise and helps improve different parts of the customer journey.
For example, imagine a quick survey after chatting with customer support. The survey would ask about how the call went, whether the issue got sorted out, and if the customer was happy with the service. This type of NPS feedback helps enhance the customer experience at each step.
2. Relational NPS
Relational NPS feedback is a way of figuring out how much your customers like your brand or organization in general. It helps you understand how loyal and satisfied your customers are overall. This measurement is useful for checking the overall health of your brand and seeing if any improvements or changes are happening over time. A relationship survey is a handy tool for assessing overall customer loyalty.
For example, when you conduct yearly customer surveys to identify their experiences and satisfaction, you can use relational net promoter score surveys. These NPS surveys don't depend on specific customer transactions but reflect customers' overall feelings and opinions toward your brand.
The Key Differences between Transactional vs Relational NPS
Knowing the differences between transactional and relational NPS is important to create a good customer experience plan. Let's see what differentiates transactional NPS from relational NPS and what makes these two approaches different.
The Goal of the Survey
Transactional NPS is all about looking closely at how your customers feel after specific interactions. Its main goal is to measure customer satisfaction and loyalty based on individual transactions. It explains how businesses can use this method to understand their customer experiences at different interaction points.
On the other hand, relational NPS has a wider goal in surveys that look at the overall connection between customers and businesses. This explains how relationship NPS surveys try to understand what your customers think about a brand over time. It gives insights into your complete customer experience.
Different Types of Feedback
Transactional surveys are immediate and transaction-specific. It emphasizes the real-time nature of your responses and the importance of identifying areas for improvement based on specific interactions. Here are a couple of simple examples of transactional NPS survey questions:
After your recent shopping, how likely are you to recommend us to your friends or colleagues?
On a scale of 0 to 10, how was your experience getting a refund from us?
Relational NPS has a broader objective in surveys. It examines the overall connection between your customers and businesses. It clarifies what your customers think about a brand over time. It provides insights into your complete customer experience. Here are some simple examples of questions you can ask in a relationship NPS survey:
How would you rate your overall experience with us on a scale of 0 to 10?
On a scale of 0 to 10, how likely are you to recommend our products and services to your friends and families?
The Journey of the Customer
Transactional NPS surveys are flexible and get sent to customers using various channels, often through the same one where the interaction happened.
On the other hand, Relationship surveys are less flexible. They're planned in advance, scheduled to be sent to customers at specific times, and delivered through the easiest channels for customers to reach.
Timing of the Survey
Sending the survey at the right time is important to understand what customers expect. There are many points of contact with customers that together create their overall experience.
It's easy to see how capturing and analyzing feedback right after an interaction can be very helpful. Transactional NPS Surveys focus on specific transactions and can show the advantages of getting feedback when the customer's experience is still recent in their memory.
For new customers: Quickly ask them, using a survey, for their thoughts on how well your onboarding process went.
For customer support: Right after customers talk to your support team, find out what they think about the service by asking a simple survey question.
After a purchase: About a week or two after someone buys from you, use a survey to see how satisfied they are with your product, how the delivery went, and if any installation services were provided.
Relational NPS involves surveys conducted at regular intervals, irrespective of specific transactions. Giving customers much time to fill out the survey lets them share well-thought-out feedback about their experience with the business. The survey also looks into what your customers think about the organization, including its products, services, and how it communicates.
Choosing Between Transactional vs Relational NPS
Choosing between transactional vs relational NPS methods depends on what you're looking to achieve. It boils down to whether you want feedback on specific transactions or a broader view of your overall customer relationships.
What to Consider
When deciding between transactional and relational NPS, several key factors come into play. Here, we can break down the key factors that will influence your choice:
Type of Customer Interactions: Consider whether your business deals more with individual transactions or long-term relationships. If you have frequent, distinct interactions, a transactional survey works well. For an overall view of customer loyalty, go with Relational NPS.
Your Big Goals: Think about your overall business goals. If you want to improve specific points in the customer journey, Transactional NPS is your friend. If you're looking at the bigger picture of customer satisfaction, then Relational NPS is often the better choice.
Resources Available: Look at the resources you have for surveys. Transactional NPS needs more immediate attention and resources due to frequent data collection. Relational NPS, being less frequent, requires a different resource plan.
Strategic Implications for Decision-Making
It's important to know why you choose a strategy. Let's see how deciding between Transactional or Relational NPS relates to your overall business plans:
Quick Changes vs. Long-Term Plans: Transactional NPS lets you make quick changes based on immediate feedback, which is great for businesses needing speedy responses. Relational NPS, with its focus on the long term, provides insights into how satisfied customers are over time.
Customer-Centric Decision-Making: Think about how each approach helps with customer-focused decision-making. Transactional NPS gives real-time insights into specific customer experiences. Relational NPS helps you make decisions that improve the overall customer journey.
Calculating Net Promoter Score with QuestionPro
The NPS calculation looks at how opinions change over time, and it's important to represent this data graphically. The NPS survey helps gather insights, considering time as a factor.
The QuestionPro NPS Survey Dashboard is a high-tech tool for measuring NPS. It gives real-time charts and graphs, showing how NPS values change over time.
QuestionPro's Customer Experience (CX) platform is designed to collect and analyze responses efficiently. Using QuestionPro CX, you can quickly create, send, and analyze NPS surveys. Just log in, choose a survey, and customize it with your logo and details.
The platform generates charts and reports to help you understand NPS results. The dashboard includes an NPS meter, displaying real-time feedback on a scale from -100 to +100.
QuestionPro CX has features like Promoter Amplification, allowing promoters to share their responses on social media, and Detractor Recovery, which helps address negative feedback with customizable actions. This ensures your organization continuously strives to excel in the business.
Conclusion
Transactional NPS data offers specific insights into a particular customer experience, making it easier to respond effectively. For instance, if a customer gives a low NPS score after a purchase, you can follow up with them to understand the issue.
Additionally, checking the NPS scores of other customers who bought the same item around the same time can help identify broader issues that may need attention.
On the other hand, relational NPS data provides an overall view of how customers perceive your brand. Since it's based on a single question, you'll need more details to understand specific aspects of the customer experience and take necessary actions.
Combining relational NPS data with other metrics like CSAT, CES, sales figures, and website conversions is beneficial to comprehensively understanding your customer experience performance.
Compare how data is collected in transactional vs relational NPS. Look at the practical side of gathering and analyzing data in each method, including things like how often data is collected, how thoroughly it's examined, and the technology used.
QuestionPro provides powerful tools for understanding your customers better. Use QuestionPro CX software to access valuable insights into your customers' thoughts and feelings. Start benefiting from advanced customer experience tools today.