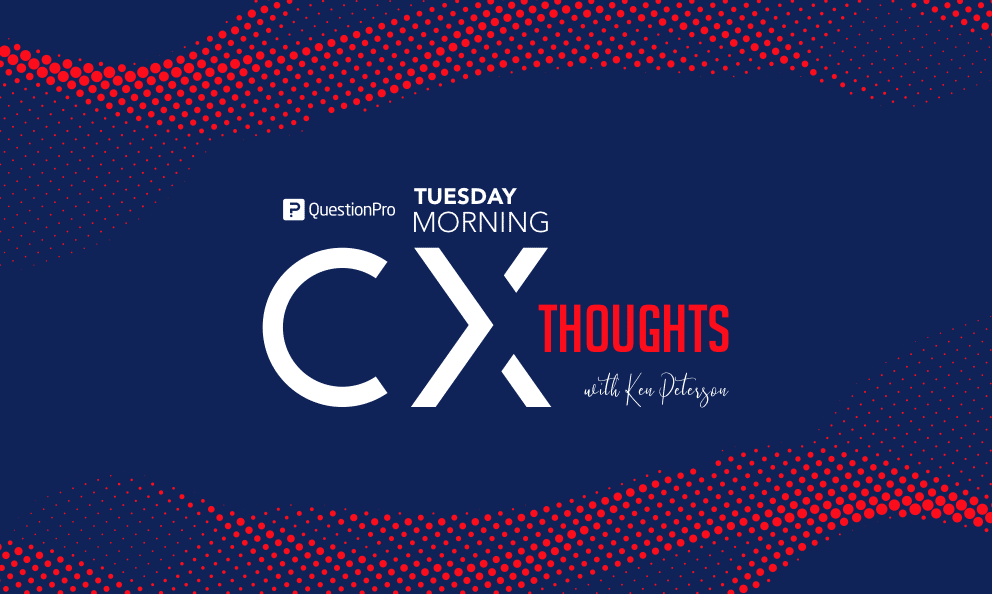 The worst way to book a trip 
Travel has always been an interesting set of trade-offs for me. Leaving home, breaking routine are some of the downsides. Yet I have enjoyed the opportunity to see so many new places and meet great clients, prospects, and partners. Probably the biggest downside however is getting there. Travel can be a cumbersome process even when things go well, and much worse when delays hit.    
Last weekend, I had one of those bad travel scenarios. I can usually fly direct, but due to my schedule, I had to take a late afternoon flight which required a connection. Take it from a seasoned traveler, "late afternoon" and "connection" is not a favorable scenario in travel.  Especially since my trip home now consists of a minimum five-hour flight, a missed connection can really impact my schedule for the remainder of the week.
LEARN ABOUT: Free Travel Surveys: Questions & Templates
As can happen, the first leg of my trip was delayed – significantly. As it was due to circumstances outside of the airline's control, I knew there was a chance that I was either spending the night in the airport or paying for a hotel out-of-pocket if I didn't make my connecting flight. That was nothing compared to the impact of my work schedule. By the time the first leg of my flight took off, we were now scheduled to land 10 minutes after the second leg of my flight was scheduled to take off.  
"Wow!" for ONE person
As I landed and turned on the signal to my mobile phone, there was the expected SMS letting me know that I've been re-booked for the next day and that they have some discounted accommodations that I can consider. It is one of those soul-crushing moments in airline travel. I looked at the flight status and the plane was still at the gate, but I didn't hold out much hope that I would make the run from one end of the airport terminal to the other end before my flight took off.
Despite the fact that I was already seated towards the front of the airplane, I felt there was even little hope that I could deplane before my connection left. I was still going to try, however, until the plane left the gate. Passengers let those of us with tight connections get off the plane first and I almost felt guilty in doing so since I had little chance of catching my flight – but I ended up being first off the plane.
To my surprise, I was immediately greeted by an agent asking for me by name. When I identified myself, she stated that we had to hurry, because my plane was not going to wait much longer. She let me know that she was there to get me to my plane and at the same time pre-clear me for Hawaii (for those that don't know, pre-clearance is necessary to avoid a long wait upon arrival in Hawaii for COVID protocols – a wait that can be hours at times). 
While we were practically jogging across the entire terminal, I was producing identification, vaccination cards, and my clearance paperwork. At the same time, she's getting a succession of phone calls where she is informing them of our progress in getting to the gate. As I arrive at the gate, I see the pilot at the gate and the two gate agents that had been tracking my status. 
As I arrive, they give me my clearance paperwork and the pilot greets me stating that he was not going to let someone with my loyalty status miss my flight home. "Wow!" – that was all I could think. I had four people dedicating their efforts to make certain that I got home. As I slowed my walk down the jet bridge, the pilot mentioned that the airport operations team was trying to close the aircraft door, so he left the aircraft – because they clearly can't leave without the pilot – and waited in the gate area as an administrative stall. "Wow!" again.
I sit down, the flight attendant helps me get settled and recognizes that I've made one of the most physically grueling runs one can make in an airport and brings me water before takeoff.  "Wow!" once more. To top it all off, I get a phone call moments before the door closes from the agent that met me coming off my first flight wanting to make certain I got settled in and if there was anything I needed before she let them close the doors. "WOW!!" Even with the slight delay waiting for just me, we arrived on time back at home. 
Don't forget to ask
How did this all happen? A sports team can practice for hours every week and still not succeed, yet this team of people, some who may not even know each other or just passed by each other in the hallways created a theatrical score that got me home on time. These things don't just happen because a company measures NPS+ on a top customer experience software like QuestionPro. Even when looking at results on a CX manager dashboard or closing cases in the closed-loop customer feedback will not produce these types of results. The performance I witnessed didn't come about from a debate on measuring with NPS vs CSAT or understanding how NPS is calculated. 
Ultimately, this performance was years in the making. It started with a CX Strategy that created a customer-centric culture. A team working together with a common goal and a comment set of guidelines also allowed them the flexibility to make things work. Why would they do this all for one person? Granted my airline status with the airline based on my spending with them had some influence, but the costs incurred on getting me home on time may have even outweighed the cost of putting me on a flight the next day. So what was in it for them? Well, today they made a long-time customer very happy for the right reasons, which is simply it was just the right thing to do. Operationally I understand the opportunity-cost for both scenarios from a financial perspective, but delivering on a great Customer Experience should be more than just the economics. It's about delivering a positive Wow Experience to the customer.
LEARN ABOUT: Perfect Customer-First Strategy
In my weekly Tuesday Morning CX Thoughts, I tend to avoid naming the brands and companies I discuss. In this case, I'll make an exception and give a big thank you to United Airlines, Margaret, and the gate agents that helped me make the connection, and the great pilot that got me home.  
QuestionPro offers some of the most advanced customer experience tools available. Gain valuable insights into your customers' thoughts and feelings using QuestionPro CX software today.