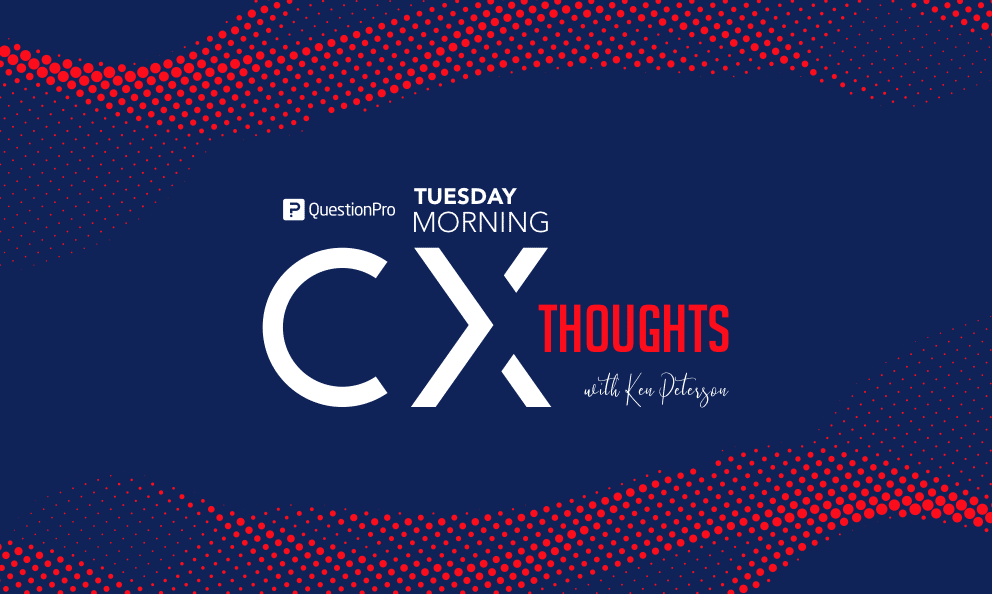 Automatic renewal and CX
Some people go to work every morning, I'm one of the fortunate ones who gets to have adventures every day. I get to hear stories from some great minds and get to share those stories with others. Twice in the last week, while working with different clients, I heard similar stories from each of them. They were on the hook to transition all their surveys onto the QuestionPro CX  customer experience management platform very quickly. In both cases, they had to provide a 60-day notice that they would not be renewing their agreement or be on the hook for another year, yet upon notification, they only had 30 days to retrieve all their data from that survey platform.  
Imagine having a license for 12 months, but really only getting to use it for 11 months because you decided not to renew.  Think of the same scenario with a vehicle. Imagine if I financed a car over five years, but had to let them know after year three if I was going to purchase another one from the same dealer. And if I wasn't that I'd have to pay for all five years but only get to use it for four years.  Would any of us take on that deal?  Would that make you a loyal customer or a trapped customer?  Hard to believe this kind of behavior would come from a CX provider.
LEARN ABOUT: Dealership Marketing Strategies & Tips
Parting is such sweet sorrow
This is not Romeo and Juliet, but for many clients, parting is such sweet sorrow.  My clients usually have quite a bit of work to make a transition to a new provider, at the same time there is some excitement about getting a new system up and running. In my long career, I've certainly seen both ends of this spectrum from a provider point-of-view. When you lose that client, it is mostly just a bitter pill.  
Despite the sour taste, I've always worked closely with my clients to make the transition easier. I've heard stories of the opposite. In fact with the same survey provider, I know of another scenario where they mentioned they were going to use a trial version of another software, and the provider harshly informed the client that if they hear of any use of a competing software that they will immediately shut off all current licenses, the data will be retained and they will never work with the client again.  I didn't have the opportunity to read the terms & conditions of their contract, but even if they could take such a stance, should they?
Hearing stories like these really have me thinking about how we can trap customers. It can be as simple as auto-billing for a monthly subscription (I could talk about the hours it took to cancel my free AOL account) all the way up to minimum subscription terms (I remember a time when I had to commit to three years for a mobile plan).  
Differentiate with customer experience
I would counter that there is a better way to "trap" clients and customers, and that is with a good Customer Experience.  I don't think a cancelled subscription or project will ever have a very positive customer effort score, but certainly there is still a tradeoff between the effort in helping a client de-platform and the broader impact of negative word-of-mouth.  Sometimes a change is made out of necessity. For example, I didn't change cable providers when I moved because I was unhappy with anything, rather the company was not available where I was heading.  The result was a positive customer experience with that organization which would convince me to re-establish business with them should they entire this market.  
This would hold true in the consumer space and the business-to-business arena – if you are meeting the customers' needs, that contract clause that creates a hostage customer would not be necessary. Instead, your customer experience strategy should always include communication through a customer feedback loop and an approach to understanding the root cause of any defection (QuestionPro CX has an exclusive tool called NPS+ that can support you with this – it works great with B2B scenarios).  
Just like the phrase "you get more flies with honey than with vinegar", the best way to trap your customers is with your customer experience. 
QuestionPro offers some of the most advanced customer experience tools available. Gain valuable insights into your customers' thoughts and feelings using QuestionPro CX software today.