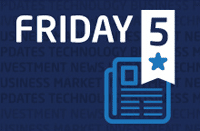 This week, we look at a fresh perspective on the notion that research quality is dropping quickly; how subscription business models can also mean instant market research information; market research tips for your business plan; the near future of tweets in Google search results; and a case study on how two surveys asking similar questions can produce very different results. That's the #FridayFive for February 6, 2015!
Has Research Quality Really Gone Downhill? — GreenBook blog
There has been a lot of rumble in the market research world as of late, it seems, about research quality going downhill. This article puts a bit of a fresh perspective on the question, basically looking at the fact that research quality can always be improved. It's a great reminder about how we tend to measure things based on our experience, however long or short that experience may be.
The Surprising Way Companies Like Netflix and Amazon Do Market Research – Inc.com
Subscription models can create all sorts of awesome returns, including insights into customer experience and preferences that can feed your next offerings. Read a snippet about how subscription models can provide customer insights.
The Best Ways to Do Market Research for Your Business Plan — Entrepreneur
Get a quick overview of primary and secondary research and how they can be used for getting information to help you with your business plan. Remember that you can use QuestionPro to create and field your surveys!
Tweets Will Soon Appear Almost Real Time in Google Results — Small Business Trends
Two things: tweets will likely evolve to include far more multimedia content, and you'll really want to be on top of your brand management strategy as negative tweets related to your brand will be coming up in search results. (Check out our webinar about instant feedback and online reputations for some tips on brand management!)
Micromax overtakes Samsung in India smartphone market — Reuters UK
Not only is the content of this article interesting, so is the fact that two different studies are cited with two different results: one saying Micromax has sold more smartphones in India than Samsung, and another saying exactly the opposite. If anything, this is a great reminder that what you ask can have quite the impact on the results of your study!