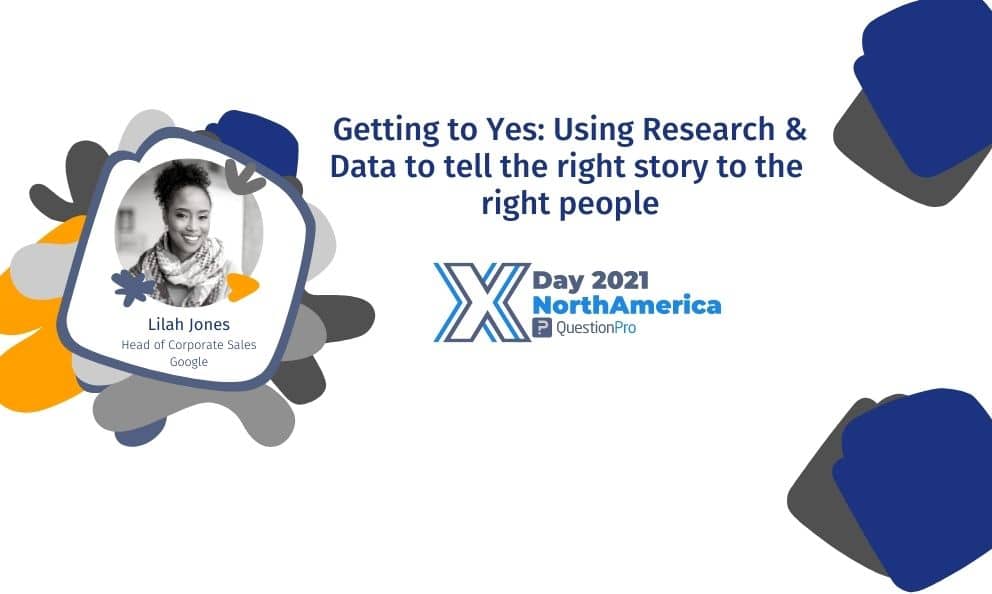 We invited Lilah Jones, Head of Sales North Central US, Google to XDay and share her thoughts on how she gets people to say yes in a field that is so persuasive.
In case you missed the session, here's a quick recap. You can watch the video here.
Lilah started off with a quick little introduction of herself and why she is known as a Moon Girl! She loves data, so much that she likes to track her health, fitness and sleep patterns daily and check dashboards.
She believes data matters because it changes our behavior. One should keep in mind while using various data points that they should trigger change in behavior. To collect data, you might have spent a lot of time finding the right population mix, designing the survey and sending it. Another crucial aspect in a research project is identifying the trends and understanding the pulse of the audience.
One of the most important steps in research is sharing the data and insights with the right stakeholders. However, they might find it difficult to understand and accept the insights the same way the market researchers or analysts do. Most companies try to build a data driven culture, but they find it very challenging to turn data into decisions. As opposed to common misconception about the tools and processes, people form a major barrier in adopting a data driven approach. Even CEOs find it difficult to get people buying into a vision.
Facts tell –  Stories sell
Raw data is boring and doesn't push anyone to act! Stories inspire people to change. As a culture, we are designed to enjoy stories. For example, take movies, Netflix shows or bedtime stories. Even your data, data-driven projects and proposals must tell a story. Make sure your story resonates with the stakeholders and inspires them. The story is as important as the data. Presenting your proposals and data points without a good story to support it, is like going from one destination to another with a map, without gas in your car.
Stories are remembered 22x more than facts alone.
We tend to remember and act on data that is anchored around a story. Many times people make emotional decisions and often emotions are evoked by stories. Stories engage the person to be persuaded.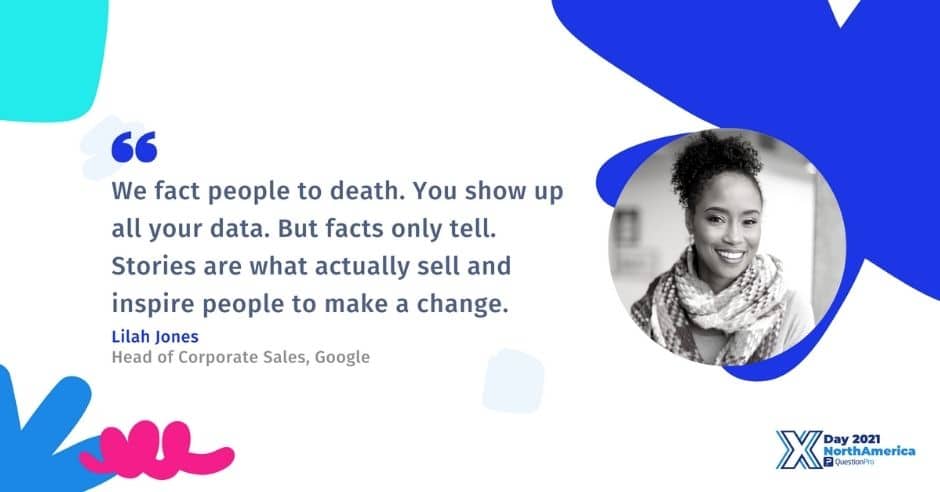 What is data storytelling?
Lilah thinks we must have heard  stories at some point in time. If we can listen to a story, we can tell a story. It's a skill one can build with practice. A good data story has a context, narrative, data and visual design. Diving deeper, she explained how to write a good story centered around data.
6 Steps to a killer data story
Listen: Know your audience and understand the context. Who are they? What do they care about? How are they goaled? Your audience must care about the data you present.

Refine: Pinpoint the data that matters and is relevant. List down top points that are interesting and actionable.

Storyline – Arc: Explore the data and look for a natural timeline.

Draft design: Think of a design and visualization that looks compelling.

Get feedback: Question your assumptions and find blind spots from the project sponsor. Get feedback from various line of business executives and work on it. This will get you support from various teams and their bit of the story that matters to them. Use your social capital and build bridges with people to get consensus.

Share: Add images, make edits and share. Make sure to present the wow factor of your story well.
Lilah reiterated the importance of alignment of data and story with the stakeholders with a quote,
"If you wish to persuade me you must think my thoughts, feel my feelings and speak my words."
– Cicero, Roman Statesman
One needs to win the hearts with empathy, minds with care and hands of the stakeholders with a role in change
She concluded with a 30-day challenge with the below tasks.
Isolate one data project that you can apply today's concepts towards.

Tell a data story to your boss, peer or stakeholder for practice.

Find an accountability partner to help you with this task.
Well, this challenge surely does sound interesting. Do try it and let us know if you need any help. You can always reach out to us at [email protected].
Watch the complete session here.