The U.S. midterm elections on November 6th are only weeks away, and there has been much debate and discussion over the highly anticipated outcomes. Republicans currently hold two-thirds of the governor positions across the country, but this year, 26 of those seats are on the ballot. In the Senate, there will be at least 10 states that are predicted to be extremely close in votes.  
Voter turnout is of great interest to both the Republican and Democratic parties in this election. A recent study found that Democrats are more politically active than Republicans ahead of the midterm elections. More than half of registered Democratic voters surveyed have attended a political rally, protest or campaign-related event in the past year, compared to 40% of Republican voters.
Need to gain insight into voter behavior? Look no further. Your campaign's voter file is the foundation of your outreach and will shape your strategy. Why trust anyone but the best?
QuestionPro Audience's Registered Voter panel provides academic researchers, pollsters and campaign managers, among others, with access to the first nationwide panel of likely voters to conduct online polling, ad testing, focus groups and in-depth interviewing among registered voters across the United States. Our voter panel consists of authentic, well-screened and profiled respondents. The panel members are all fully incentivized by our reward structure, which results in highly active survey participants and optimum data quality for your project.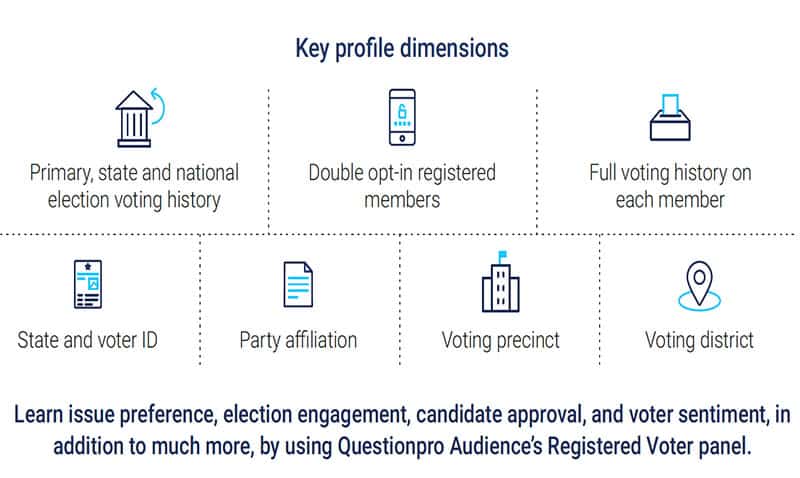 This dedicated panel harnesses the power of web, social media and mobile technology to address key industry challenges where traditional phone-based data collection has failed—speed, accuracy, feasibility and cost-effective research.
With industry knowledge and innovative tools, QuestionPro Audience always meets the rigorous demands of our clients.
Contact us for your next research project: sample-projects@questionpro.com.