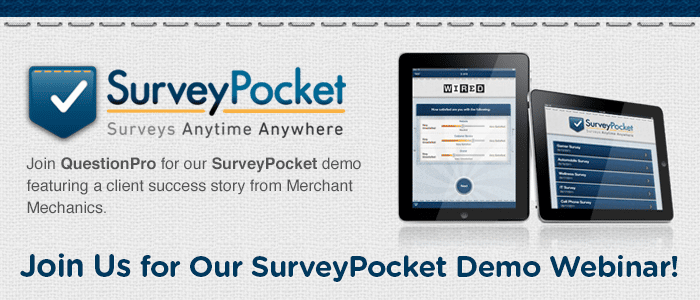 Have you been considering doing mobile online surveys and just weren't sure about how to get started?
Join our SurveyPocket webinar and learn how to collect respondent data, both online and offline, using iPads or Android tablets. We will also feature a real success story from one of our clients, Dr. Cyrus H. McCandless of Merchant Mechanics. Dr. McCandless will discuss his experience with SurveyPocket and the results they have been able to achieve.
We will also cover SurveyPocket's features, including 1-click sync, geolocation, mobile ethnography, video questions, audio questions, photo questions and signature questions.
Webinar takes place Tuesday, December 18th at 2 PM Eastern.
To register, click here.