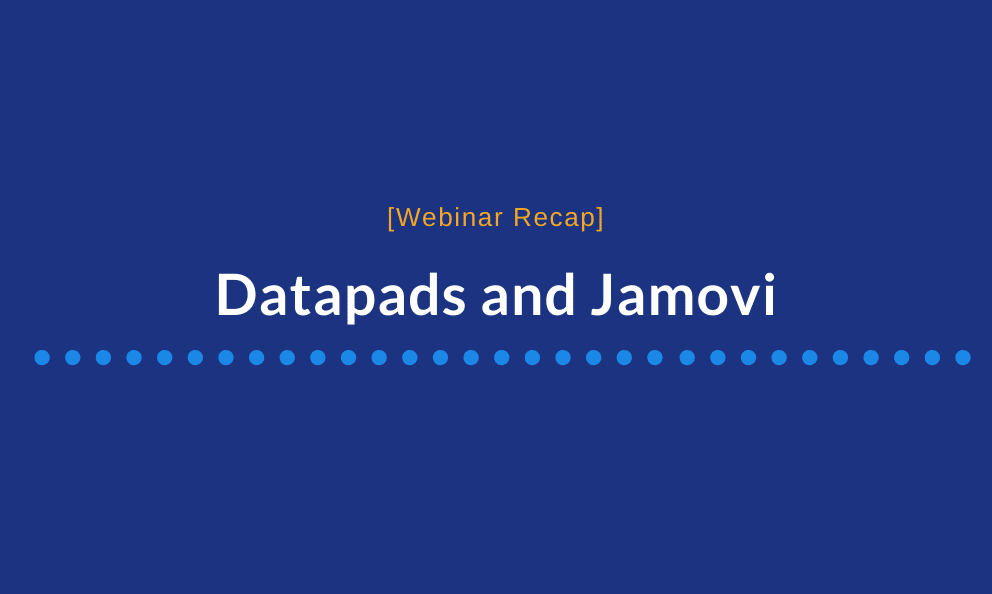 We hope you were able to join our Datapad Beta Sneak Peek webinar, but if not, we are here for you! Continue reading for the webinar overview and some of the questions that came across from attendees in this exclusive sneak peek.
Watch the full webinar: click here
View the webinar slide deck: click here
Working with Datapad API's: click here
Speakers
Vivek Bashakaran, Founder and CEO QuestionPro
Bob Muenchen, Statistician at UT Knoxville
Jonathon Love, Founder of Jamovi 
What are datapads and why are they useful
At it's most simplistic level a Datapad is a snapshot of data at a certain point in time. 
Where we see it used the most with QuestionPro is with physicians who use QuestionPro as they collect the data but then when they want a snapshot of the data and instead of having a URL or dashboard they end up downloading the data with SPSS, or any other stats platform in order to create the snapshot they are looking for. With Datapad, they will be able to build that snapshot inside the QuestionPro platform.
Each Datapad has its unique URL and if the survey itself is deleted the Datapad will still exist. Dynamic reports are great in certain cases where you need the data to be constantly updated but Datapads are built to capture a single point of the data, without having to download and then share a CSV's or Excel spreadsheets.
Setting up a Datapad inside QuestionPro
To find the Datapad option you want to go Surveys →  Analytics → Dashboard → Datapad. You can then add a custom name/title to your Datapad and an Abstract/Description will be auto-generated. 
'The [SurveyName] survey was fielded on [Date]. An invitation to take the survey was mailed out to approximately [Enter Number Here] people, and about [Enter Number Here] took the survey. The survey was administered using QuestionPro. This allowed users to submit their responses securely online. Listed below are the key findings.'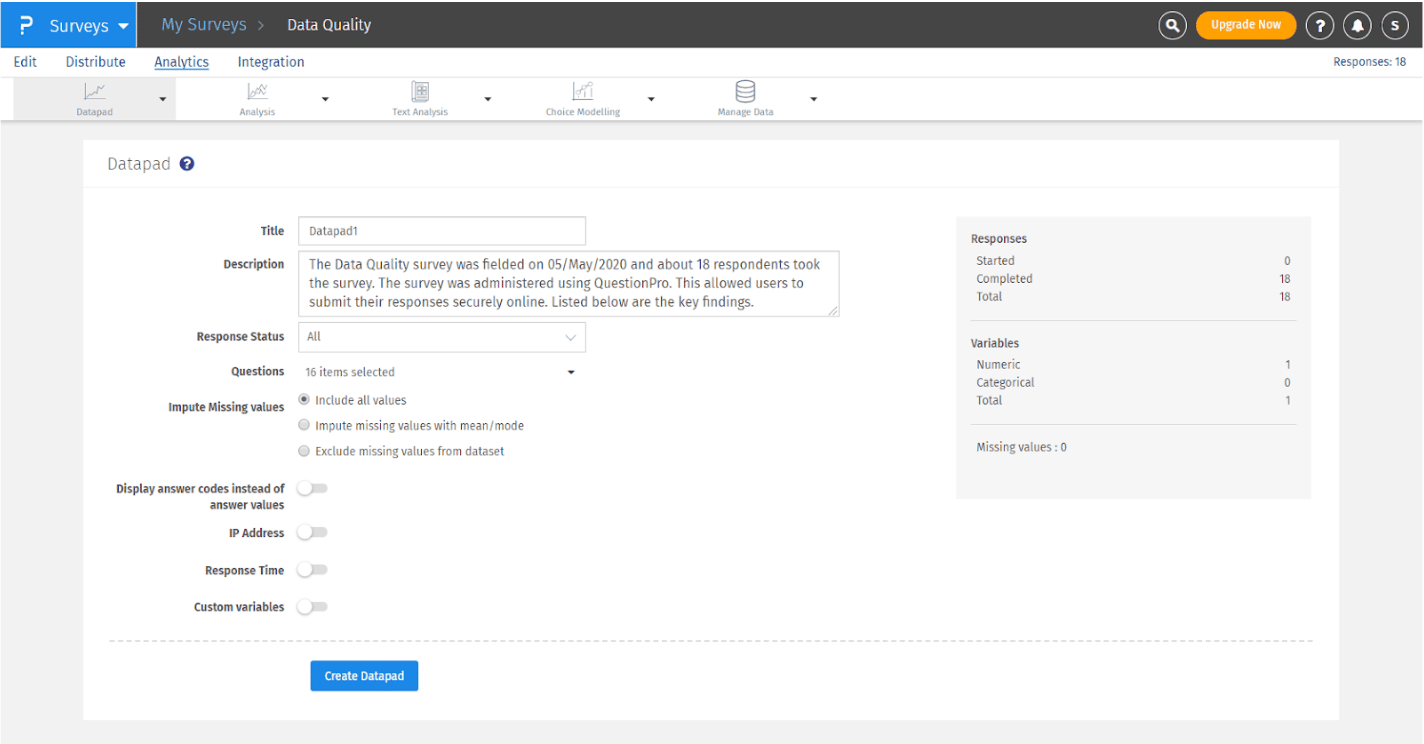 Finding the URL
Surveys > Analytics > Dashboard > Dataset
Click on the copy button to use the dataset created in R studio and other stats tools. URL of the created dataset gets copied.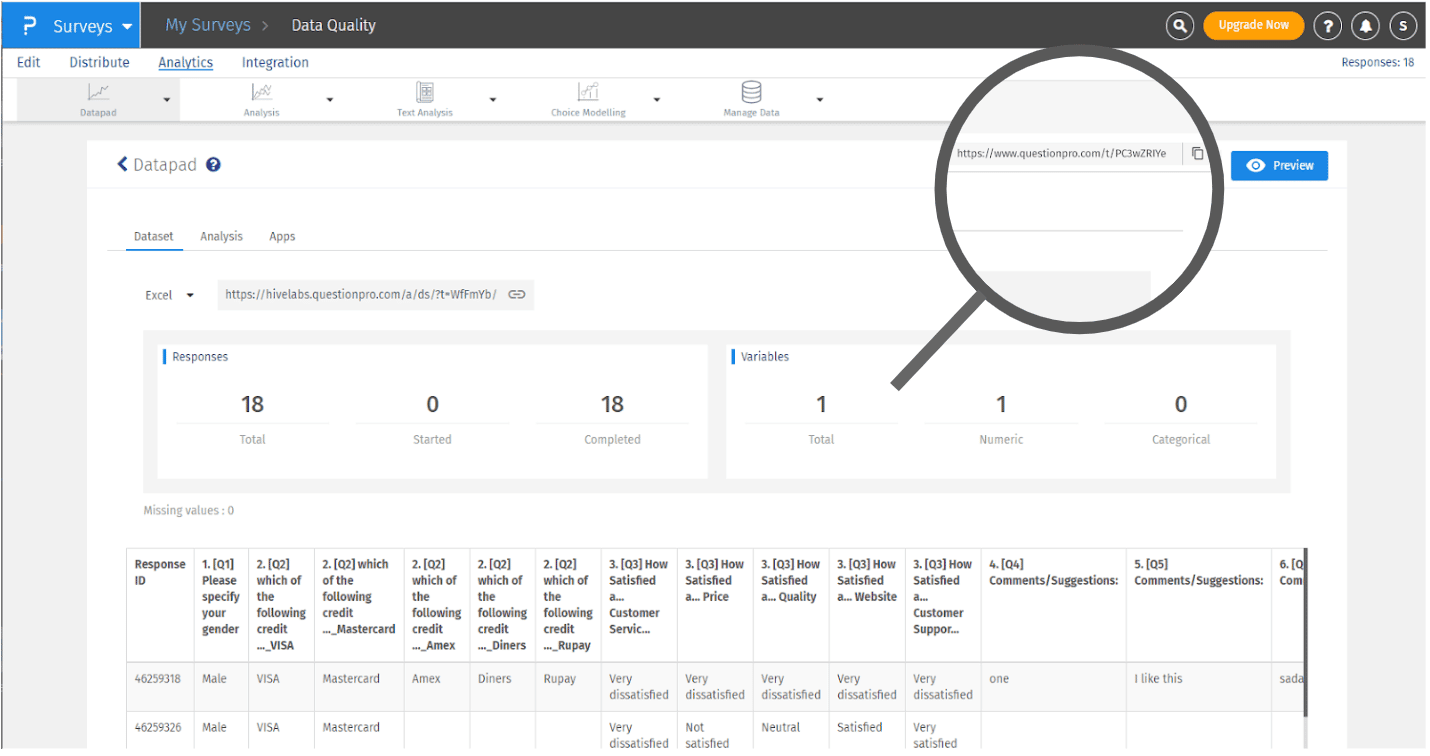 Datapad Dashboard
Q&A
Q: Is there an API for DataPad?
A: Yes – Here is a deck with links that explains the API and how to use it. Click here.
Q: Is Jamovi free? Do I need QuestionPro License for Jamovi? Cloud vs. Desktop?
A: Jamovi is a FREE Open-Source platform build on top of R. It's FREE – Download it from jamovi.org. There is a cloud-based version coming out in the future. The cloud solution won't be free. Jamovi has clients for Windows, Mac, Chrome OS et al. 
Q: DataPad Sync/Refresh – Whats the plan there?
A: At this point, we are not providing a mechanism to "AutoUpdate" or "Refresh" the data. This is in the roadmap and will be released after the first version of DataPad gets released. 
Q: Airpods! Do you plan on giving away airpods on all these webinars?
A: Sure 😉 Why not? With COVID19 – I know everyone is on zoom calls all day and you'll probably burn through an Airpod in 3 months! Although – I will say that Andrew traded the Airpods for a bottle of 4 Roses! Swaps are permitted too! As long as we can ship it via Amazon.