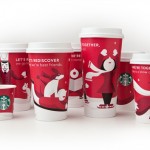 Happy November to everyone! I heard through the grapevine this morning that Starbucks rolled our their holiday cups this morning, and we all know that can only mean one thing: it's the official start of the holiday season.
However, before we jump headfirst into the holidays, I want to give y'all a little recap of the great stuff we've had going on during the past month or so here at QuestionPro. Some of our new and exciting news has already been covered on this little blog, but for those of you who missed it, here goes…
Burn Your Comment Cards Facebook Contest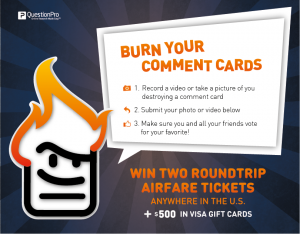 The era of paper feedback is dead. We believe in paper feedback, anytime, anywhere. To help us prove our point, we're asking you, our community, to send in a photo or video of you destroying a comment card from your local hotel, restaurant or bar for the chance to win roundtrip airfare for two + $500 in Visa gift cards! Visit the contest page to enter now! Contest ends November 16th, so be sure to get them in soon!
Infographic Survey Tool
Which would you rather read, a 2,000 page report or an infographic that beautifully summarizes the information into a creative visual representation of the exact same data? Our infographic includes overall participant statistics, distribution segmented by countries, and data for multiple select type questions. It's appealing, easy to use, and easy to share. Learn how to use it here.

QuestionPro Polls
We officially launched our new polling product, just six weeks after acquiring PollBob! Polls are an awesome way to instantly gather public opinion on a topic and are a really fun way to engage users on your website, blog, and social media outlets. Not sure when to use polls and when to use surveys? Check out our earlier blog post to learn the difference.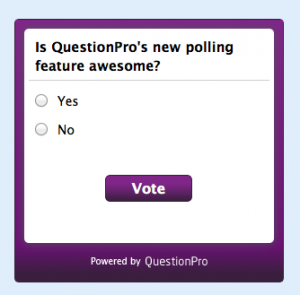 Star Rating


We have an exciting new question type for all you visually creative people: the star rating as a question type! Star rating allows respondents to rate answer choices using gold stars, and is great for breaking up all that text in your surveys and making them look a little more exciting. Read the help file to learn more.
Drag and Drop Feature
More big news on the question type front – we've launched a super slick drag and drop feature as a question type, which gives respondents the option to rank their answers by dragging and dropping them into place. We love this feature because it's going to increase your response rate, eliminate errors, and reduce respondent fatigue and frustration. All these elements together are going to give you (our favorite) more accurate data. Learn how to use it now.