How do you like the new look of the blog?  It's a little different, but we think that it's going to be much easier for you to read and to find articles and information that you might find interesting and helpful.
Yesterday, I spoke with QuestionPro's marketing manager, James Wirth about the new design.  Here's a little snipped of our conversation:
James: So, have you seen the new blog design?

Ivana: What?  You got a new blog design?!  (I suppose I should know this since I write for the blog!)

James: Here's the link – check it out: https://www.questionpro.com/blog/

Ivana:  Nice!  It looks like it matches the site much better now.  I especially like the larger print — makes it easier to read for sure.  So why did you redesign it and how will it be better for our readers?

James:  It was time to re-design the blog.  The old design didn't match our brand as well as this one — and it was too cluttered with information.  To fix that, we cleaned up the sidebars, so that they aren't so overwhelming.  Now you see just the top posts and the top Twitter feeds.  Another great feature is the search box.  I know it's simple – but the blog is filled with all kinds of useful tutorial information and now our readers will be able to find what they are looking for much more quickly and easily.
How do you know it's time for a new blog design
After we talked about the new blog design and why you should love it — we got into a broader conversation about when it's time to redesign your blog.   There are a wide variety of opinions on that — I'm going to share mine with you and I'd love to hear yours.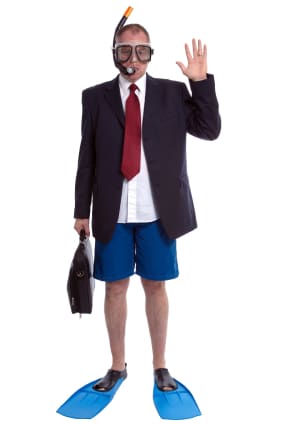 Your business cards, marketing literature, website and blog all look slightly different: Your blog, website, social media channels and overall brand should work together.  For companies and businesses that don't spend as much of their lives online — these things sort of get out of sync.  You might get a new design for your business cards, then still have piles of old literature with an old design but have a brand spankin' new web site.  Maybe your customers don't notice, but that's like showing up at a job interview or big sales pitch wearing a suit and swimming flippers — it just doesn't work.
Your website looks like it's 1999.  You know who you are! If your web site looks like it was designed by a teenager (and maybe it was), you seriously need to consider a change.  If you're overwhelmed by which platform to choose to design your web site — just choose WordPress.  It's the standard and there are probably (no kidding) millions of pre-designed, plug and play templates to choose from that will appeal to any taste.  It's like Garanimals for web sites and blogs.  Since WordPress was originally a blog platform – it's super easy to use and now it's become a strong player in web site designs as well – so you will kill two birds with one stone.
Your customers can't find information.  You're really not going to know this unless they specifically tell you.  This would be the ideal circumstance to run a quick survey and ask your customers if they've visited your site recently, if not why.  You can find out why they go to your site, what they'd like to do there and what would make it easier to use.  Before you put out an online survey — hit up a few customers either face to face or call several of them and get some insight about their experience with your site and blog.  This will go a long way toward helping you create something that is very useful to your cusotmers.
QuestionPro has been going through a slow, but steady branding process.  So keep an eye out for more changes.  We're doing our work — now it's time for you to do yours.  Take a fresh look at your brand — both online and offline and start taking steps to refresh and update the look.  You'll feel better about your brand and you'll give your customers another reason to choose you.