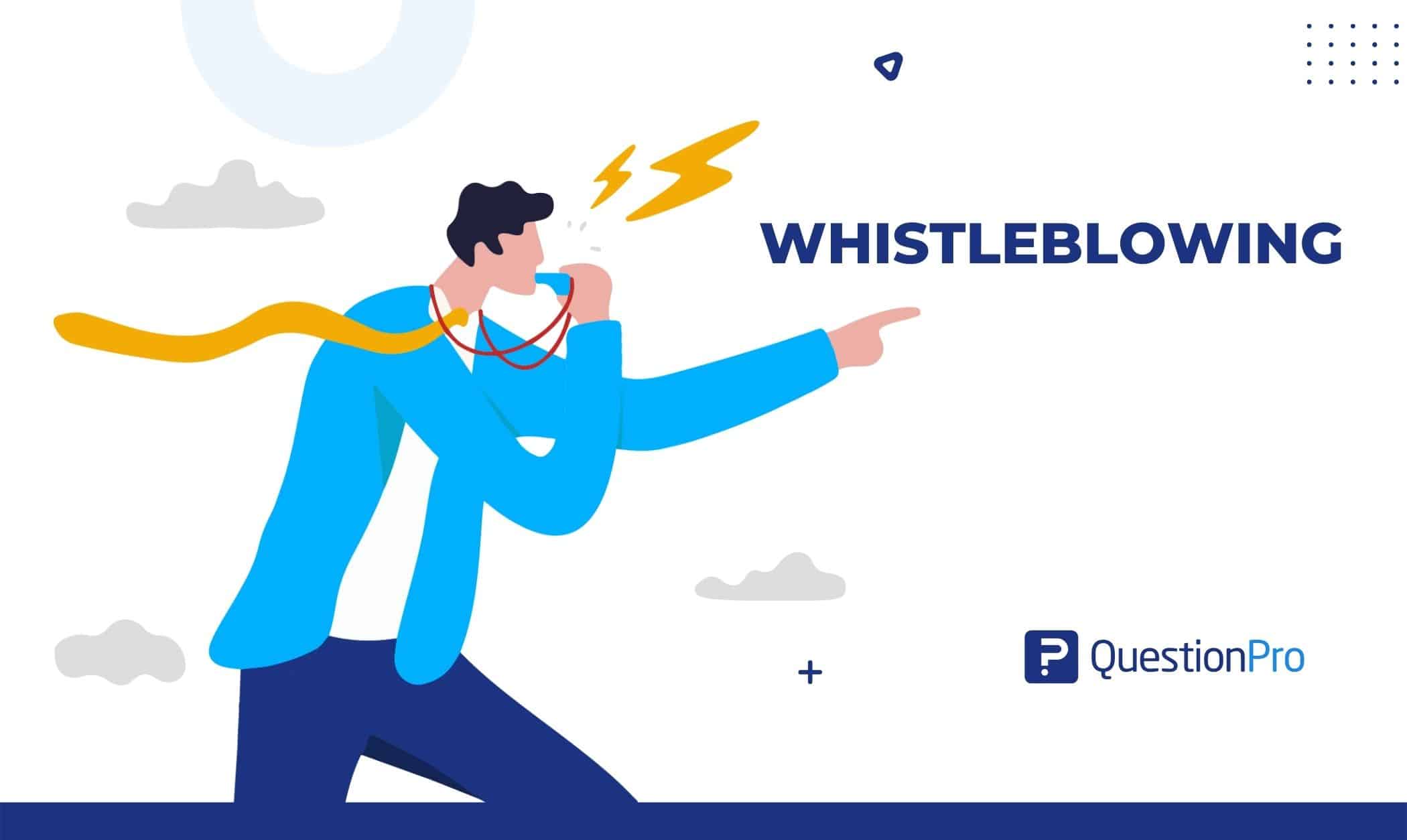 It can be challenging for managers and supervisors in a high-volume workplace to keep an eye on everyone at all times. This can increase the likelihood that inappropriate behavior will go unchecked, or the executive team may be engaged in inappropriate behavior.
Employees' sense of safety and comfort in the workplace might be compromised when this occurs, and they may require encouragement to feel safe enough to report it.
Whistleblowing in the workplace happens when an employee reveals illegal or unethical behavior by their employer, most often related to finances or discrimination. Whistleblowing systems should be user-friendly and cost-effective for most businesses.
In this guidance, we will learn about whistleblowing in the workplace, its types, and example.
What is whistleblowing in the Workplace?
Whistleblowing is when an employee of a business, group, or division of authority alerts management to wrongdoing in the workplace. And a whistleblower is a person who discloses knowledge about the action; they are frequently employees.
To alert management to serious workplace misconduct is the goal of this. Using a whistleblowing channel where whistleblowers can report wrongdoing anonymously is the simplest way to accomplish this.
Whistleblowers can share information or accusations through various internal or external channels.
Whistleblower reports can be about many different things, but they are often about the following:
Corruption

Workplace discrimination and harassment

Violations of the law and crimes

Violations of human rights

Frauds

Mismanagement or poor governance

Trading by insiders

Data mishandling
Types of whistleblowing
Two types of whistleblowing exist:
Internal whistleblowing:

It occurs when an employee alerts another individual inside the company about workplace wrongdoing. Usually, this is a senior official or a professional.
Whistleblowers can inform management about company wrongdoing through an internal reporting channel. This can be done by emailing the employee or meeting in person.
External whistleblowing:

The act of informing a third party, such as the police, a law office, or the media, about wrongdoing or corruption in a company is known as external whistleblowing.
It differs from an internal one because it goes straight to the proper authorities, which the government chooses. Misconduct in certain areas will be reported to an outside channel, which will follow up and give feedback.
The purpose of using the whistleblowing channels is to get reports of wrongdoing, get in touch with whistleblowers, follow up on reports, and let whistleblowers know how their reports are going.
How does whistleblowing help?
Whistleblowers offer a crucial whistleblowing service to their workplace and the larger community. Organizations can prevent reputational damage and penalties that may prove significant if issues can be resolved internally before becoming public in the media or on leaking platforms.
A whistleblowing system is one way to report wrongdoing without giving your name. It is also beneficial to the company's bottom line.
According to research, as much as 7 percent of a company's or organization's annual revenue can be lost due to wrongdoing. Some of these incidents can be uncovered with internal reports, which can also help limit any monetary loss.
Good practices of whistleblowing
The following are some of the honest whistleblowing practices:
A comprehensive understanding of the company's policies is required to determine whether or not a law has been broken.

Performing comprehensive investigation into what is thought to be the problem.

Refraining from adding to or participating in business rumors or gossip.

Going through the regular escalation routes, which includes reporting concerns to higher-ups within the organization before contacting outside authorities.
Conclusion
Whistleblowing is an important service to have available in any business since it can cause significant problems if workers feel they are unable to speak up about issues.
Employees should not be concerned about incurring consequences for reporting activity they think to be dangerous as a whistleblower. When someone blows the whistle and is proven to have been mistreated or lost their job, as a result, the law can protect them and intervene to bring about justice.
If your organization has a positive culture of feedback, it will be more enjoyable, fulfilling, and effective. Complex tasks, such as creating the systems and addressing the inescapable issues that arise along the road, go into making an extraordinary workplace.
Before whistleblowing occurs, you may use QuestionPro Workforce to collect employee feedback on satisfying employee expectations and begin taking steps to affect your workplace positively.
Try QuestionPro for free today, or schedule a demonstration.