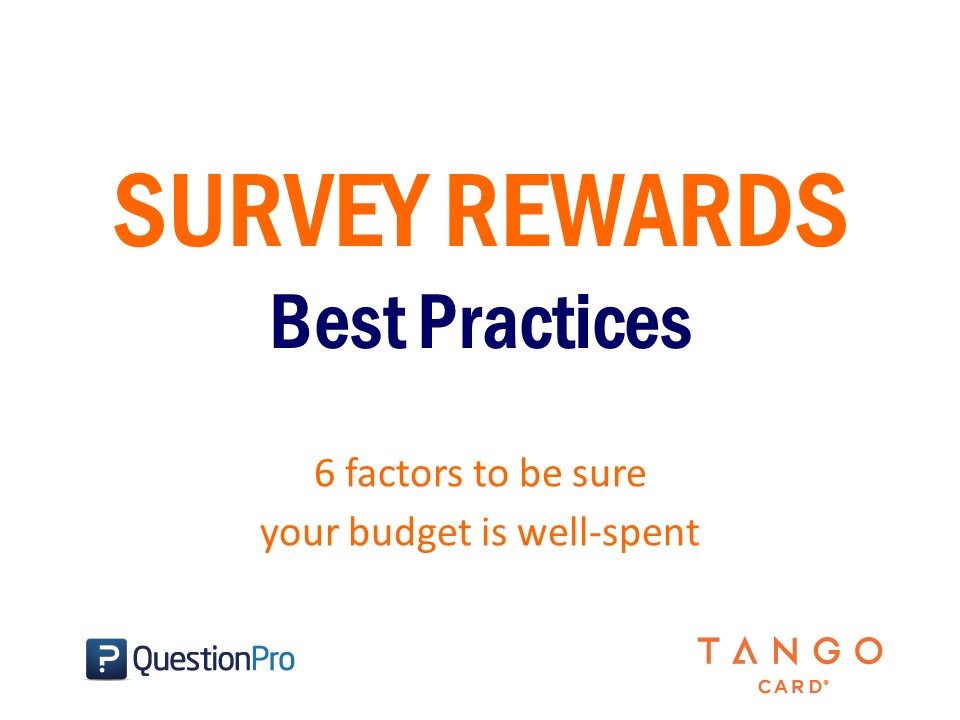 Survey Rewards
It seems simple enough: offer a survey incentive and you'll RAKE IN THE RESPONSES!
And while offering a reward certainly can increase your response rate, there are still a number of pitfalls to avoid in order to ensure your rewards budget is well-spent.
Earlier this year, QuestionPro teamed up with Tango Card on a Webinar to help take the guess-work out of an effective rewards program. There's some great insight in the program and it's worth watching. The webinar also contains a demonstration of QuestionPro's Rewards Automation feature so you can see how we help facilitate the process with automated rewards management and fulfillment.
To take things a step further, we decided to focus in on effective uses of survey rewards.The result was a one-page 'emerging best practices' document, featuring 6 tips to help you more effectively use rewards and incentives with your surveys.
This slideshare provides a high-level overview of each of the best practices identified.
The slideshare is just a high-level overview, so if you'd like the full 1-page best practices guide, it's available here as a PDF (this is same link as the one referenced in the slideshare).
For more information on QuestionPro's Rewards Automation feature, check out our "How to set up the rewards feature" blog post.