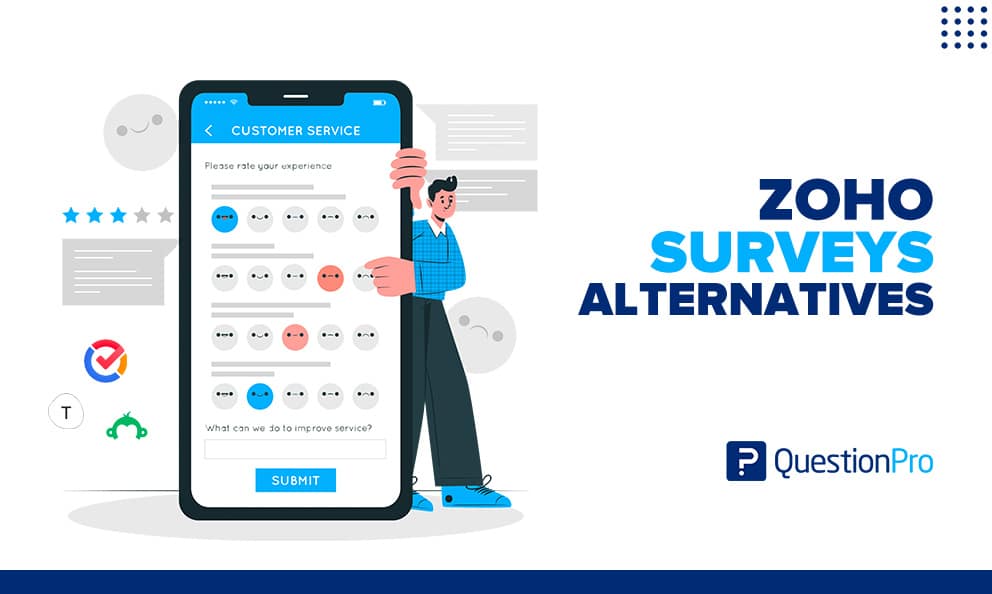 Looking for Zoho survey alternative with great performance at a great price? Well, your search ends here. We'll walk you through the top 5 Zoho alternatives and our best choice.
No doubt, Zoho is a good survey software, but who wants a "good" software if you can get a "great" software. This article is for those users who are not happy with the Zoho surveys and are looking for better choices.
Before that, let's start with a quick introduction to Zoho Surveys and how it stands as compared to QuestionPro and other survey software.
What is a Zoho Survey Alternative?
Zoho Surveys is an online tool to create surveys and collect data. Hence, any alternative to Zoho Surveys must also offer basic features such as creating a questionnaire, distributing surveys, and generating reports.
We analyzed some of the reviews left by Zoho users on Capterra and found that while they were happy with the basic functionalities, they looked for more advanced features with an easy learning curve. The users looked for a more robust tool and have more control over how their surveys behaved. 
For instance, here's a positive review left by a customer, "I liked that the software already calculates the NPS score and gives awesome reports."
Another user wrote, "Free overview of your results and the quality is good".
But, there were also some users who grudged about their bad experiences, such as
"Difficult to navigate at first as far as building the survey."

"After submitting a survey, the user is automatically redirect to a spam advertisement for ZOHO survey."

"Also the survey does not accept responses when the admin is updating while the survey is online. There is no warning given."
We analyzed various tools to find the best Zoho survey alternative, but before that let's see how Zoho compares with QuestionPro.
Zoho Survey vs QuestionPro
Like Zoho, QuestionPro Surveys offers a free version called Essentials account. It is free for a lifetime and does not require a credit card! 
QuestionPro offers rich, interactive UI with free training and webinars throughout the year. You can also connect with their support team 24*7 on chat, email or phone.
The enterprise customers have specific questions about security and compliance with the local government regulations. QuestionPro is ISO 27001:2013 certified and complies with GDPR, CCPA, HIPAA, SOC 2 and various other regulations.
Let's see what QuestionPro users have to say about us on Capterra.
"The ability to learn how to use on my own, but still has great help sections and live chat option if I was in a bind. The free trial is great and offers the meat of what you get with a basic plan."

"Pretty good multi-language support. It allows you to make sure that the respondent does not exit the survey without completing it."
We also found a user who thought, "No real cons really, but implementing some features take a bit more time than I expected."
We compared both the tools on G2 and found QuestionPro to be winning the game!
Don't believe us? Here's what the G2 comparison showed,

"When assessing the two solutions, reviewers found Zoho Survey easier to use. However, QuestionPro is easier to set up and administer. Reviewers also preferred doing business with QuestionPro overall."
Top 5 Zoho Survey Alternatives
We performed a detailed analysis of various online tools and compared the performance of Zoho Survey competitors based on the below parameters.
Number of features

Robustness

Customization 

Integration capabilities

Support

Pricing
Top Alternative #5  – TypeForm
TypeForm has an intuitive user interface that is easy to use and navigate. It is one of the most popular survey tools that offers many features, well-packed with robust software. However, their pricing structure is not flexible and so, not highly recommended for small and medium businesses. It fails to meet expectations when it comes to user segmentation, automated email reminders and customer support.
Learn more about the TypeForm alternative.
Top Alternative #4 – Qualtrics
Qualtrics is a great tool meant for advanced market research and so, often apt for large organizations who want to conduct advanced studies like pricing research. It offers a stable application with great performance, packed with many features. However, if you are a small business or non-profit organization, it might not be best suited for you. It offers limited integration capabilities and is on the pricier side. 
Learn more about the Qualtrics alternative.
Top Alternative #3 – JotForm
Jotform is an ideal choice for those looking for Zoho Survey alternative as it offers easy to learn tool to collect data. It is ideal for users with a non-technical background with cost-effective plans. However, it occasionally suffers from technical issues and crashes while sending surveys or analyzing data. It can get a bit frustrating at times as you might need to start all over again.
Top Alternative #2 – SurveyMonkey
SurveyMonkey offers many features and integrates well with third-party apps. You can go for this tool if you are looking for a stable tool that offers premade templates and customization options. On the downside, it is more costly than Zoho and takes a while to learn the tool.
Top Alternative #1 – QuestionPro
With QuestionPro, you get 80+ features for free including survey creation, distribution and data analytics. They offer 40+ question types which can be dragged and dropped to create a questionnaire. You can also create a library of user-generated questions so as to reuse them in different surveys. If you don't want to create a questionnaire, select from 350+ ready-to-use survey templates created by experienced market research professionals.
You can customize the flow of your surveys with 10+ logic types and generate more than 30 types of reports. You can collaborate with your team with a multi-user account and work on the same surveys. QuestionPro lets you distribute your surveys through email, offline mobile app, QR code, website, social media and more. 
There is a reason we put QuestionPro above SurveyMonkey. Learn why QuestionPro is the best SurveyMonkey alternative with a detailed featurewise and price comparison.
What particularly differentiates QuestionPro from Zoho and many other alternatives is their database of 22M+ respondents with varied demographic backgrounds. You can choose your sample audience as per your geography, language, age, etc requirements.
QuestionPro is pricier than Zoho's paid plans. However, if you compare the QuestionPro features available in its paid licenses with that of Zoho, the former offers a lot more at a similar price. Hence, if you want to conduct a quality survey project, go for QuestionPro.
With these features, QuestionPro makes the #1 Zoho Survey alternative and the best choice for SMEs, universities and market research organizations.
Conclusion
While there are many SaaS survey software, we found these were the top 5 in the market based on our analysis and user reviews.
The best way to find an option for any software is to create a free account. Explore various features and evaluate their performance. You can also create a free trial account for using paid features. Take online training, watch videos, learn how to use the tool, and find out if it suits your requirements. 
QuestionPro is trusted by the world's leading brands like the American Cancer Society, Thales, Energizer, BMW, and many more. Sign up today and let us know if you would like us to discuss your survey and research needs.