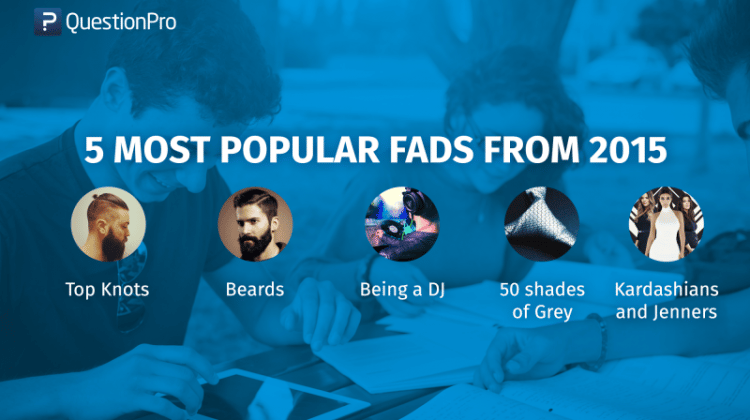 Most Popular Fads
A fad, as described by dictionary.com, is a temporary fashion, notion or manner of conduct enthusiastically followed by a group. They are inevitable. People tend to latch onto most popular fads – things they consider cool at the time and try to be on the cutting edge of what's in.
As soon as something becomes a fad, it's often no longer considered cool, therefore, anyone who followed the specific temporary fashion, notion or manner of conduct can ditch it just as quickly. Unless it was the fad of the calligraphy chest tattoos in '14. That's stuck with you for life.
Here we've gathered the 5 most popular fads from 2015.
1. Top Knots
The top knot, a cultural phenomenon, has finally met its match and is no longer in. Ironically enough, the top knot was the top trend for quite some time. The top-knot, or small man bun, was popularised by athletes and sportsmen as well as movie stars Leonardo DiCaprio, Colin Farrell, Harry Styles and Jared Leto. However, recent studies have revealed that the hipster 'man buns' can lead to permanent hair loss…Guess it is a good thing, that we are leaving this fad in 2015 for good.
2. Beards
Another fad that men have been obsessing about. Beards. However, this year there has been a slow demise of the hipster tribe, with millennials now flocking toward more sophisticated shores. The men's grooming world is experiencing a renaissance and there is a huge spike and increase of interest in taking care of one's skin. I am not entirely convinced that men will be saying bye to their treasures in 2016, but yes, we might be seeing considerably less of them.
3. Being a DJ
With the electronic music scene larger now than ever before, most fans of the scene want to be the one on stage mixing music in front of an 80,000 person festival. Now, thanks to sync buttons and visual wave forms, go ahead – you can be it! However, do you really want to be part of this outdated fad? Because true colors show instantly and do you really have all that it takes?
4. 50 Shades of Grey
The book was published a few years ago and in the beginning of 2015, it transformed into a movie. Like it or not, but 50 Shades of Grey is a fad because women's idea of romance will change. First it was Edward in Twilight and now it's Christian in 50 Shades… It's only a matter of time before we will obsess with another Mr Perfect, and let's be frank, are we already not over Christian?
5. Kardashians and Jenners
With a show surrounding their lives as a family, several other shows focusing on some family members in particular, and now a massive attention drawn to Kendall and Kylie, the Kardashians and the Jenners are easily one of the largest fads lately. Maybe some talent would help to stay relevant and popular?
Also, check out 5 Actually Useful Tech Gadgets from 2015 and The Most Talked About New Startups in 2015.