When it comes to creating a survey on QuestionPro, there are many attractive additional features or trimmings within our design tools that you may not be aware of or just aren't sure how to implement. I picked up some great tips and tricks for fine-tuning our surveys to produce a polished look while also returning responses that are easy to analyze.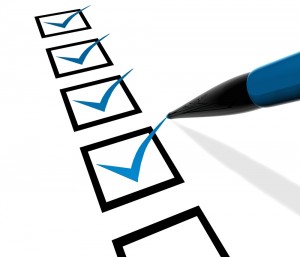 I use a 7-point checklist at the start of each survey to assess what I want to include in the survey and how it will affect the data. This post introduces the checklist, and in the coming weeks, I will focus on each item in list and provide additional ideas for how to make your survey a success.
Introduction content – Include relevant contact details, intent of survey, privacy notification and instructions.
Colors and logo – Brand the survey design to your company's look and feel.
Survey content – Create question types based on what you want the data to look like or do. Make sure your questions get to the point and avoid the use of jargon, slang or acronyms.
Use closed ended questions whenever possible – Closed ended survey questions give respondents specific choices (e.g. Yes or No), making it easier to analyze results. Closed ended questions can take the form of yes/no, multiple choice or rating scale.
Polish the design – Apply the Required Answer feature, use Text Validation (e.g. edit the error messages accordingly), adjust the question placement and spacing for a clean look (more/less white space) so it's easy for your respondents to complete your survey.
Survey finish option – Decide how do you want the survey to end. Do you want respondents to return to your site? Do you want the window to close? Include final information and thank the respondent.
Pre–test your survey – Make sure you pre–test your survey with a few members of your target audience and/or co–workers to find glitches and unexpected question interpretations.
Stay tuned upcoming posts where I will dive into more advanced survey features along with innovative ways to incorporate online surveys into your overall business strategy. Happy Surveying!
Are you currently using online surveys for your business? Did you find these tips to be helpful? Please join the conversation in the comment section below.