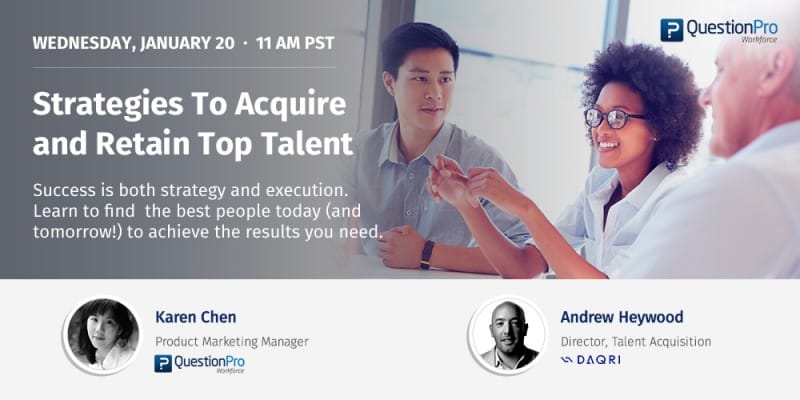 Today we hosted the first webinar of the year, and what a great topic it was to kick-off our webinar series for 2016. Thank you, everyone, who attended and thank you, for the thoughtful questions. Below you can read a recap of what you might have missed from the webcast.
On the panel joining Karen Chen, Product Marketing Manager at QuestionPro, we were very pleased to have Andrew Heywood, Director of Talent Acquisition at DAQRI. Andrew has a vast amount of experience in recruitment strategy, process consulting, career coaching expertise, employee relations and retention. Karen and Andrew discussed strategies and shared some great tips for finding your unicorn employees, and how to make sure they stick with you.
Here are the slides that were shared during the webinar.
Currently, we can witness an overarching problem across all industries as companies are becoming more global, products more sophisticated, business obstacles a lot more nuanced and we continuously want to speed up the processes and customer expect as to respond immediately. The employee turnover rate is 15% across all industries, which is considered high. That directly impacts the bottom line and costs your business on average 20% of employee's salary to replace them. In addition, not investing time and resources to engage with your employees will result in 37% higher absenteeism, 49% more accidents, and 60% more errors and defects. This is often the case with companies who have strategies to grab customers that have the longer review, and an excellent example of that is Yahoo. One-third of their workforce has been leaving the company. Studies show that – companies, who track and report low job satisfaction over the period of time, also experience a 65% lower share price.
To address this problem, your company and your competitors included need the top talent. When hiring – you need to clearly define the skill set that you are looking for in your new employee. Yes, you need employees who are agile, can adopt quickly, can collaborate with an ever-increasing diverse set of teams and individuals, and are loyal and passionate about both product and customer service. But define it more in detail, collaborate across your teams to create out a potential DNA which you are looking for to make it easier for yourselves and the applicants.
To make hiring process simpler, start by answering these questions. Time is money, therefore, create a clear hiring plan to not waste time on the wrong people.
What are our needs? – Create specific skill set you are looking for to address your challenges
Is this going to be a new team? A new role? Have we hired people like this before? Do we want to involve rest of the team?
Do we have brand recognition? Do we need to evangelize more? How can we market our company as a desirable place to work?
What tools/places are we going to use to find the talent? How many interview rounds? Will it be over the phone or in person?What interview techniques will be used? Who will do the interviews? How will we handle onboarding?
Typically what you see is that a recruiter does the initial pre-screening. Then one or two phone/video calls take place, followed by either an on-site interview or sometimes companies like to do final/sell interview when one might need to do a sell or a product demo.
There is not one silver bullet on how to find the best talent, there will always be a variety of ways. 40-50% of hiring happens through referrals, rest comes from sourced avenues – events, reach out on social media, agencies. The source where you should look for your talent will also highly depend on the role you are looking to fill. But try and be unique in your outreach, because platforms, such as LinkedIn are certainly getting saturated. Employ your creative brain side to find the best talent first. If you have set your eyes on a specific candidate, it is often worth considering – who would be the most attractive person from your company to approach the candidate? Compare it to dating – who from your company can charm them most and leave the biggest impact? Once you bring them in for an interview, show them around the office, try and demonstrate the culture, let them use your product and connect with them on a personal level. We are all only humans after all.
Once you have secured your top talent, there are certain things you need to do to retain your employees and for job satisfaction to be high. Engage with your employees and keep checking in with them. Gather feedback to find areas that you need to address. A big factor for low job satisfaction can be insecurity, so consider these questions first.
– Whar are the reasons behind their insecurity?
– Insecure about their role?
– Insecure about their team/manager?
– Insecure about the company's future?
Bear in mind – compensation does not solve everything, therefore, you need to continuously be engaged with your workforce. QuestionPro has recently been expanding its offering and now has a Human Resource Platform – Workforce launched. Workforce is a feedback platform that facilitates a consistent and valuable dialogue between managers and employees, and certainly is a valuable tool to retain your talent, address the problem of high employee turnover rate and save monetary resources.