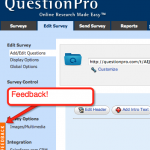 You may have noticed a new section under Send Survey called Website Intercept.  In the past, this has been limited to a snippet of code for adding a popup survey to your website.  Popup surveys still have their place on the web, but we believe there are better ways to create a two way interaction with your visitors.  We've introduced a snippet of code that allows you to add a feedback tab to your site.
The concept of a tab is basically an image that displays on all pages on the right, left or bottom border of the browser window.  This allows you to embed any survey unobtrusively on your website.  It leaves the door open for visitors to leave feedback anytime without interrupting their experience with annoying popups.
The survey experience is seamless for the end user.  Clicking on the Feedback tab will bring the survey up in a Lightbox style Ajax window.  After completing the survey, the Lightbox closes and returns the visitor to focus on the same page where they left off…a simple seamless experience for collecting feedback.
You can easily embed the Feedback tab on your pages by cutting and pasting the code into your website header or footer pages.
For more information, login to your account, then click Send Survey -> Website Intercept.