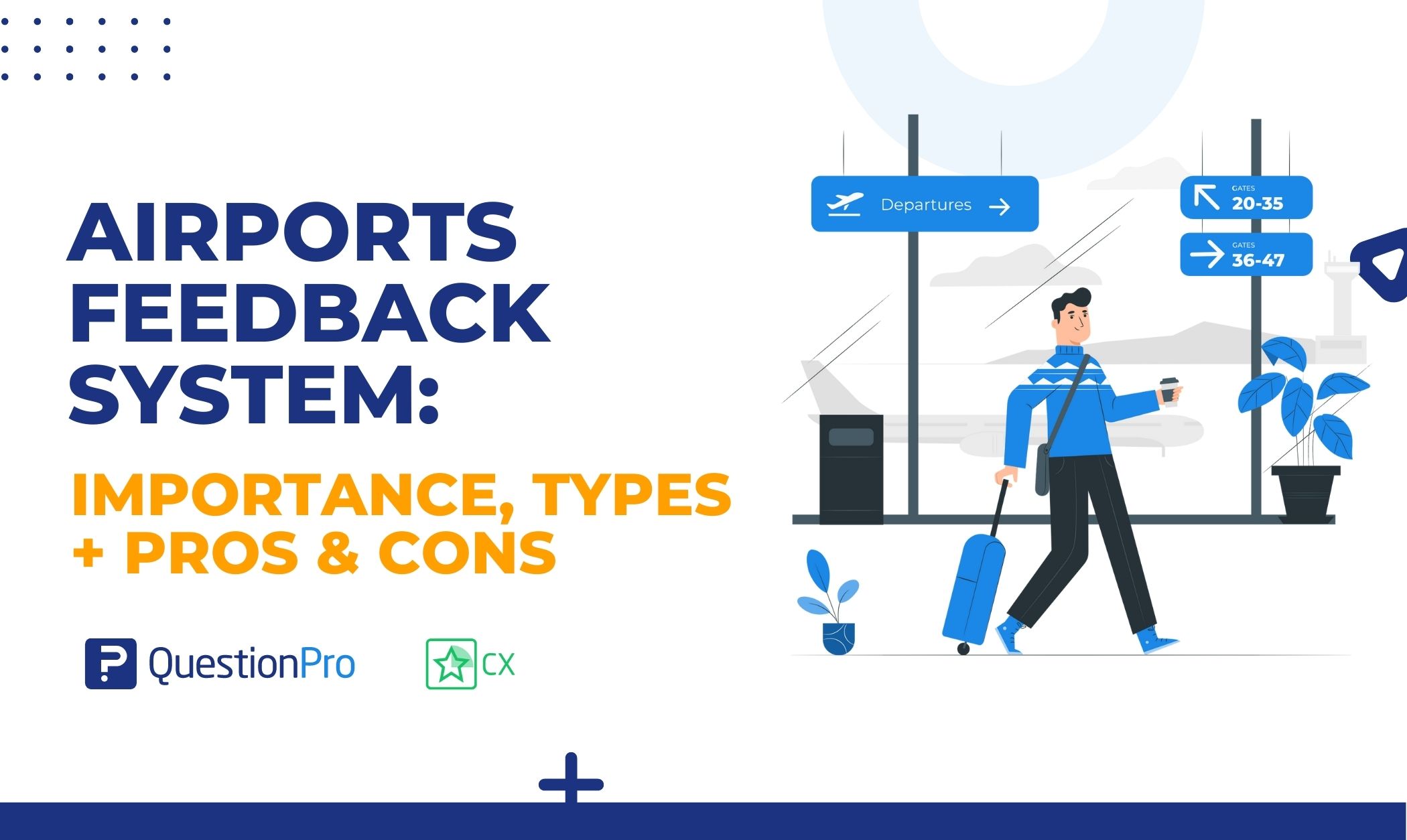 As the world becomes more diverse and culturally rich, airports and airlines must step up their game to ensure travelers are happy with their services. Customer feedback is becoming increasingly important to reach this goal, and automation gives us new ways to collect and organize data.
If airports and airlines want to stay ahead of the competition, they need to spend money on technology to meet passengers' growing expectations. Surveys compare what passengers want, what airports have to offer, and how airlines make money.
With the Airports Feedback System tool, marketers can learn more and get the most out of their data.
Read on to learn about the Airports Feedback System, why it matters, and the pros & cons of utilizing it.
What is Airports Feedback System?
The Airport Feedback System is a survey tool that enables users to share feedback or comments regarding their experiences at an airport.
It collects real-time feedback from passengers at different airport touchpoints, such as check-in, luggage documentation, information modules, access, aircraft quality, security of passengers, experience during and after travel, washrooms, and other essential areas.
This tool can help you choose which strengths should be retained and which areas should be modified to improve the user experience.
LEARN ABOUT: User Experience Research
The Importance of Airports Feedback System
The Airport Feedback System assists airport professionals in doing all possible to make the journey less stressful. The real-time feedback system lets customers rank staff, immigration officers, and businesses in addition to facility cleanliness.
The organizations and institutions that oversee their operations can determine which areas require development to raise user happiness, visitation rates, and recognition from other national and international agencies by employing the airport feedback system for tourists.
Since airports account for a sizable percentage of the total number of tourists that visit a city, they play a crucial role in the economy. Airline companies also need to consider how their website, advertising, customer service, food, and other elements might help them stand out in a crowded industry.
If airports and airlines implement and use surveys effectively, they can collect valuable data that can be used to tweak their operations and provide a better service to their customers.
Learn more about why understanding your Customer Journey transforms your CX program.
Types of The Airports Feedback System
The Airports Feedback System offers different types of surveys for airports and airlines to provide feedback:
Surveys to qualify for the service
These kinds of surveys are utilized so that users can express their opinions on the level of service provided at the airport or on airplanes, as well as on flight schedules, wait times, etc.
This type of survey can be conducted using the kiosk mode, a feature of the QuestionPro platform that enables surveys to be used using mobile devices placed at strategic locations.
Surveys to qualify the areas of the airport
This survey provides for the qualification of issues connected to the safety of travelers when flying, such as when documenting their luggage or in different sections of the airport, and so on.
With QuestionPro, you may use the software to conduct offline surveys and gather data, such as on a plane, without internet connectivity. Once on land, the responses will be reflected on the dashboard by Wi-Fi synchronization.
Surveys of aircraft quality rating
Airlines can utilize these surveys to gather feedback from passengers on the quality of service provided on the aircraft, the treatment of flight attendants, the comfort of the seats, and so on.
You may also check out this guide to learn how to build your own Customer Journey Map.
The Pros & Cons of Airports Feedback System
The Airports Feedback System has a number of both pros and cons aspects, which can be referred to as advantages and disadvantages.
The Pros
It raises the standard of services provided.
It receives praise from several organizations and private businesses for the experience it provides its customers.
It helps in increasing the number of tourist visits and an increase in economic revenue.
It contributes to giving tourists a better experience and demonstrating to them that the business values their opinions.
The Cons
Due to time restrictions, people don't always have the opportunity to stop and complete a survey.
When leaving the airport, most travelers neglect to complete the survey.
The institution in charge of airport management and service does not consider the results while making improvements.
Airports Feedback System with QuestionPro CX
The QuestionPro CX platform makes it feasible to conduct surveys whenever you want. The survey can be printed on the boarding pass or sent through email.
Real-time report generation is possible with QuestionPro. With QuestionPro CX, you can set up alerts when a customer provides unfavorable feedback to take immediate action to address the issue.
In addition, you can send a survey reminder to encourage later participation. You can distribute your surveys using many channels like kiosk surveys, in-flight surveys, QR Codes and online surveys (email feedback, sms and social media)
Study Case: Thales Airlines + QuestionPro
Conclusion
The Airports Feedback System is meant to help airport management learn more about what passengers want and need and improve the airport experience. It includes passengers' opinions about how clean the airport is, how well the security checks work, how easy it is to get food and shop, and many other things.
By collecting and looking at this feedback, airports can make changes that will make travel better for their customers as a whole.
QuestionPro CX is an excellent way for the Airports Feedback System to get feedback from travelers because it lets airport management ask specific questions and get detailed responses. Surveys can be customized to focus on aspects of the airport experience, such as customer service, amenities, or transportation, and can be completed online, offline, or by phone. The best part of all? Your team gets to close the loop with our closed-loop feedback system.
To grow your business, be aware of your customer's needs and implement the necessary modifications. Start now by creating your first online survey!