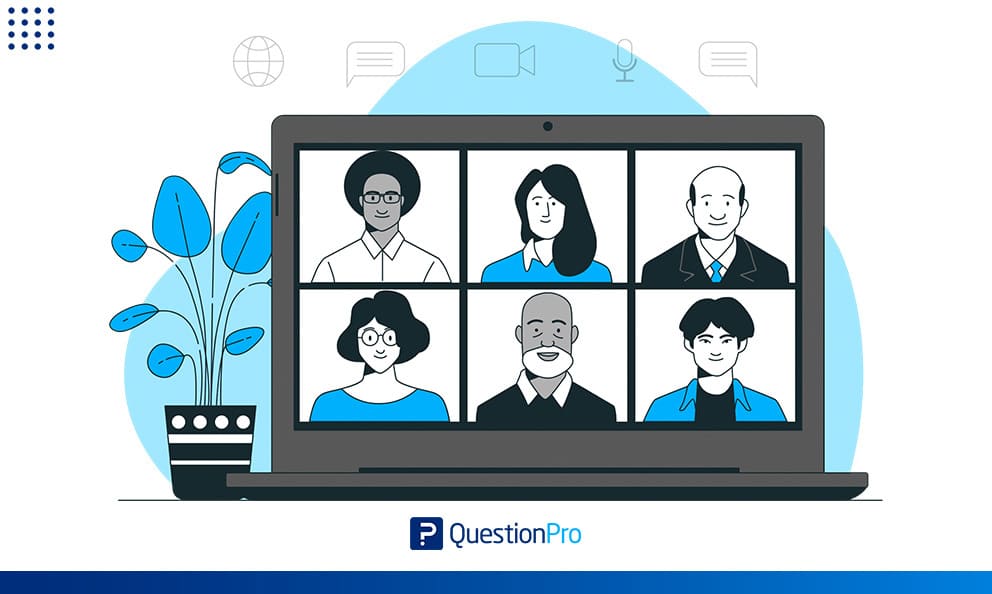 The first sight of online community benefits appeared in the market research landscape as early as the late 2000s. Still, the great added value that these technology platforms offer was not recognized or even questioned for a long time.
There were – and there is no doubt – "proven methods" and the factor that, for example, being able to look "straight in the eyes" through observation mirrors in the test studio were initially the dominant arguments against using an online community.
What are the benefits of Online Community?
A technologically highly developed online community is a powerful tool for market research and Customer Experience Management. You can generate qualitative and quantitative insights with a high impact efficiently and cost-effectively.
Ultimately, the success of online communities could not be stopped – certainly reinforced by the changed way of working and communication during the COVID-19 pandemic.
Today, the online community is one of the most widespread methods for gaining real "real-life" customer insights for market research, marketing and Customer Experience Management, and the development and optimization of algorithms. Such customer insights enable companies to understand their customers and non-customers thoroughly.
As a company, you can use customer-centricity as a buzzword and genuinely sharpen customer understanding among all employees, incorporate it into all processes and levels in the company, and turn customers into advocates of the company, the brand (s) and the products. But why is that so? – Read below the top benefits that an online community offers you and why they are also factors in your company's success.
No limits! Overcome the limitations of what is feasible with an online community
Top benefits of an online community
These are the top benefits of an online community for market research and Customer Experience Management.
1. "Real World Evidence Data" – regardless of time and place
Immerse yourself in real life of your community members' real life and gain profound insights into the "moment of truth" for all your customers. Members of an online community can, for example, have "live" discussions with you via the community app in the supermarket while they are shopping.
You can record videos at home while using a product with the app. Mobile diaries enable you to understand the daily routine and different emotions better. Even "classic" surveys can have a straightforward answer when the participants are present and have time.
Nobody has to be invited to a fixed location for a specific date so that you can achieve an overall composition of the participants in your online community effortlessly according to region, age, family situation or occupation.
The aim of marketing is to understand the customer and his needs so well that products fit exactly and therefore sell themselves. -Peter F. Drucker
2. An online community offers true agility
The needs in the company are becoming more and more agile and dynamic. An online community helps you to meet these requirements in gaining insight. Due to the existing portfolio of all market research methods and a wide range of participants, you can be flexibly adapted at any time and deliver quick results, e.g. T. in real-time.
LEARN ABOUT: Agile Market Research
In addition, with the proper online community management, you are continuously integrated into the customers' worlds. This supports you in asking better, more targeted questions, identifying the pertinent topics, and answering many internal company requirements per se.
This basis enables you to make quick, well-founded, data-based and, above all, realistic decisions. The customer's needs and habits are always sitting right at the decision-making table in your company.
In addition, processes within a high-tech online community can be fully automated and flexibly designed. You can react flexibly to new challenges or changing circumstances at any time. In addition, they create the highest level of agility by using third-party systems such as B. CRM or external panels that can connect to an online community.
3. Diversity of methods
Thanks to modern technology platforms and highly developed mobile devices, an online community no longer has to decide between qualitative and quantitative approaches. Both can easily be combined or qualitative constructs can also be quantified through reaction time or emotion measurements.
Topics can be discussed, the analysis of which by means of semantic analysis enables key words to be extracted, which are then presented to the customer for approval in "Quick Polls". The participants can continue to discuss these results independently or in a moderated manner.
Complex ways of life, contexts of justification can be explored qualitatively, supported by z. B. Mobile diaries, observation via the smartphone camera, etc. Unique hypotheses can be formed from these insights, which can be directly validated, objectified and ( can be analyzed partially) automatically.
4. Diversity of participants (external/internal, open, closed)
An online community's application areas are also unlimited concerning the group of participants: You can operate a market research community, customer community, sales, employee, innovation, B2B, B2C or partner community. Or think of a support community where members help each other, give valuable tips and report bugs.
LEARN ABOUT: B2B Online Panels
Or an executive community in which executives understand and discuss the strategic direction of the company and exchange ideas across departments – thereby reducing silo thinking.
You can also define whether you run an open or closed community, i.e. whether everyone can register, or you can determine who has access to the community.
5. An online community enables intuitive, emotional and logical feedback
Nobel laureate and psychologist Daniel Kahnemann established the distinction between human thinking in two systems: fast, automatic and intuitive thinking (system 1) and the slower, analytical mode of our brain (system 2). Online community platforms allow you to address and research both systems in parallel and to use them to answer your questions.
For example, you can use AI-based text analysis to determine affective states, emotions, tonality, interest, self-communication, and personality traits from forum posts or chats. Response time measurements, IAT and A / B tests, which tend to address "quick thinking", can also be carried out efficiently.
At the same time, you can use system 2 for market research purposes with classic methods to ultimately ensure a holistic, optimal approach and understand the customers comprehensively.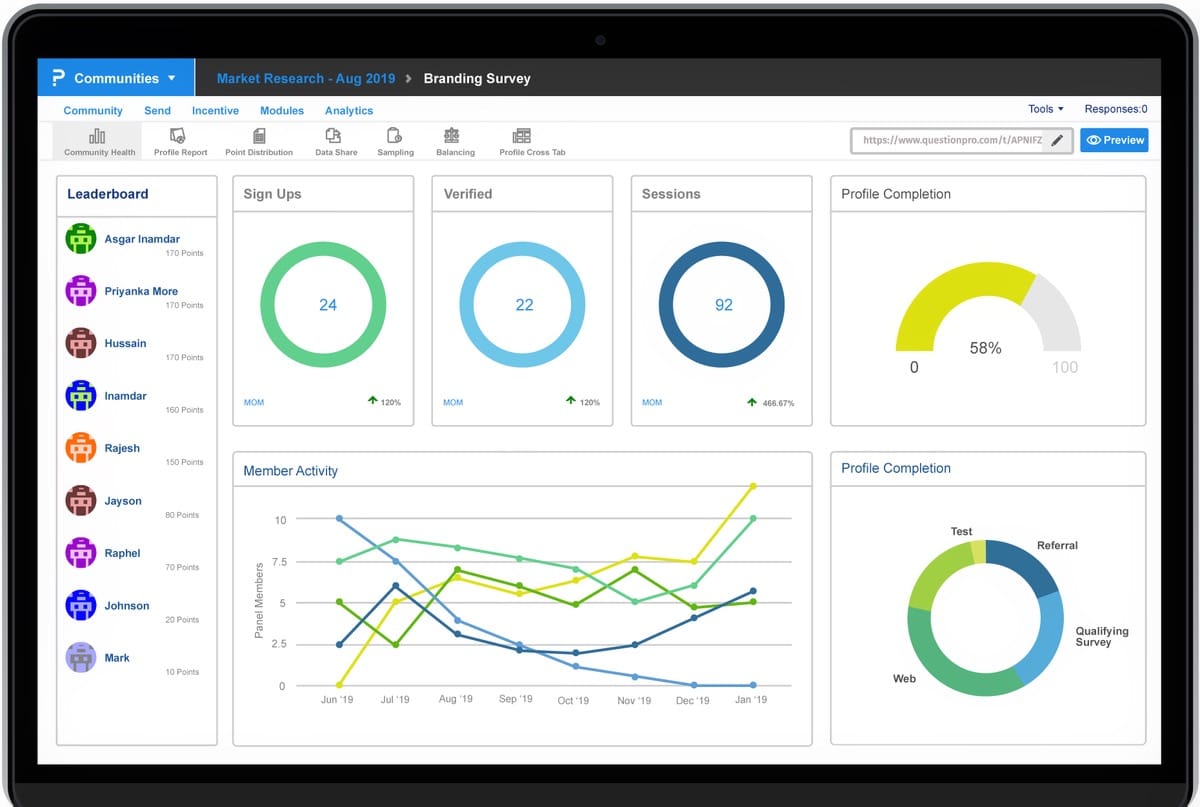 6. Commitment
An outstanding online community offers engagement tools such as incentives or gamification. Incentivization means that exceptionally committed community members are rewarded with gift cards or other valuable benefits.
Gamification means that particularly active members receive awards that are made public, depending on their level of activity. Benefits include, for example, special customer events, participation in ideas competitions, and receiving product samples. A committed community generates significantly more insights.
7. Online community and customer loyalty
The use of an online community enables profound insights into your customers' purchasing and decision-making process. This will help you develop a model to increase your customers' loyalty to your brands and products.
For example, after introducing an online community, the battery manufacturer Energizer managed to significantly increase the number of repeat purchases in a crowded market.
The role of marketeers is to guide customers throughout their journey from awareness and ultimately to advocacy –Philip Kotler
8. Continuous feedback and dialogue
An online community is the best breeding ground for continuously gaining customer and non-customer feedback. Members of the community are in a constant exchange, which can be moderated or rather ethnographically unmoderated.
A professional online community offers members all the communication channels they know from their lives: writing, photos or videos and other members can interact with these contributions. You can effortlessly evaluate and use all of this communication with the help of intelligent text, image and video analysis tools according to your objectives.
9. Own online panel
If, while recruiting members for your online community, you make sure that they provide information on sociodemographic data as well as personality traits, attitudes and motives, then you can use a filter to select random samples and thus select participants for surveys and studies.
You no longer have to engage external service providers to commission studies and act yourself if you need fast results. However, outer panels can also be linked to a technologically mature online community. The community participants become an actual online panel.
10. Short-term, medium-term or long-term operation
A short-term online community is suitable for answering specific questions or solving short-term problems. The participants or experts are invited for a short period of a few days or a few weeks and help you to develop a better understanding or to find solutions.
Long-term communities are operated, for example, to generate in-depth insights and are usually created without an end date. They offer you the advantage of building up and maintaining a relationship with the members. The members also maintain relationships with one another, discuss them, support one another and provide valuable impulses on a wide variety of topics.
That creates a wealth of data! Medium-term communities are in between, and the participants usually communicate an end time of the community. They are primarily suitable for developing or researching topics to be investigated over a long but finite period.
In general, the longer the duration of an online community, the better you can use it to identify trends and changes.
11. "Real" customer-centricity
Involve your customers in the development and improvement of your products and services right from the start and use the methods of design thinking or scrum sprints. Let the thoughts and emotions of your customers flow continuously into product development with targeted surveys, product tests and concept tests.
Drive ideas with the power of community and engaged customers, use collective intelligence to create outstanding products and innovations. The QuestionPro online community offers you all of this.
12. Innovation driver
One example of this is NASA, which relies on using an online community when it comes to developing innovations. The more people jointly generate, develop and drive ideas, the higher the probability of turning them into authentic creations.
Communities have so-called idea boards in which one can write ideas according to a given structure, which other community members then evaluate to comment and develop further.
Get closer than ever to your customers. So close, in fact, that you tell them what they need well before they realize it themselves. – Steve Jobs
Benefits of online community technology
Not every online community available on the market is technologically mature, so it can meet almost all requirements of companies, market researchers, customer experience and community managers. There is either a lack of possibilities to connect external tools, systems or panels.
Or there is a lack of valuable features, such as tools for idea management or the option of sending surveys to a small-scale selection of community members. In addition, it is not uncommon for online community technologies not to offer a native mobile app that allows you to send notifications, upload videos or collect data for geolocation.
Therefore, before introducing an online community, it is essential to find out what possibilities a community technology offers so that you don't have to limit your actions and do unlimited research!
Do you have questions about the online community and how you can set up your virtual community quickly, efficiently and cost-effectively, which you can use to gain qualitative and quantitative insights across all methods? Test the QuestionPro online community for ten days free of charge and without risk in peace and depth! Contact us via contact form.
We look forward to speaking with you!