We at QuestionPro are excited to take you through our newest experience at the Annual College Event of BITS Pilani, Goa, who are one of our registered Universities under the University Sponsorship Programme.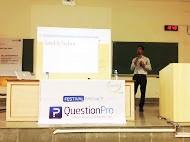 The Academic Team of QuestionPro Pvt. Ltd. were invited to be the proud Feedback Partners for the event named Coalescence 2015, providing hands-on experience of our online and offline software through demonstrations and motivating future leaders through an interactive session. The buzzing mood of the event with future engineers, managers and entrepreneurs from various institutions of the country was just the right place for our team to showcase the ease of creating surveys/questionnaires, distribution through various online and offline mediums and later analysing the data through our ever simple software modules.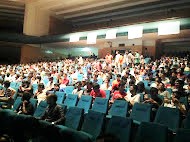 A whooping 3500 students participated and learnt how to set up survey from start to finish, how to download your survey data, view survey statistics, monitor response rates and more useful tips. The session not only helped the students gather the best practices under the scope of research and survey but also gave an active insight of how and why is a Market Research tool of utmost importance in the startup ecosystem and entrepreneurship.
Great show Team. And a big Thank you to all the inquisitive participants for making it a huge success.