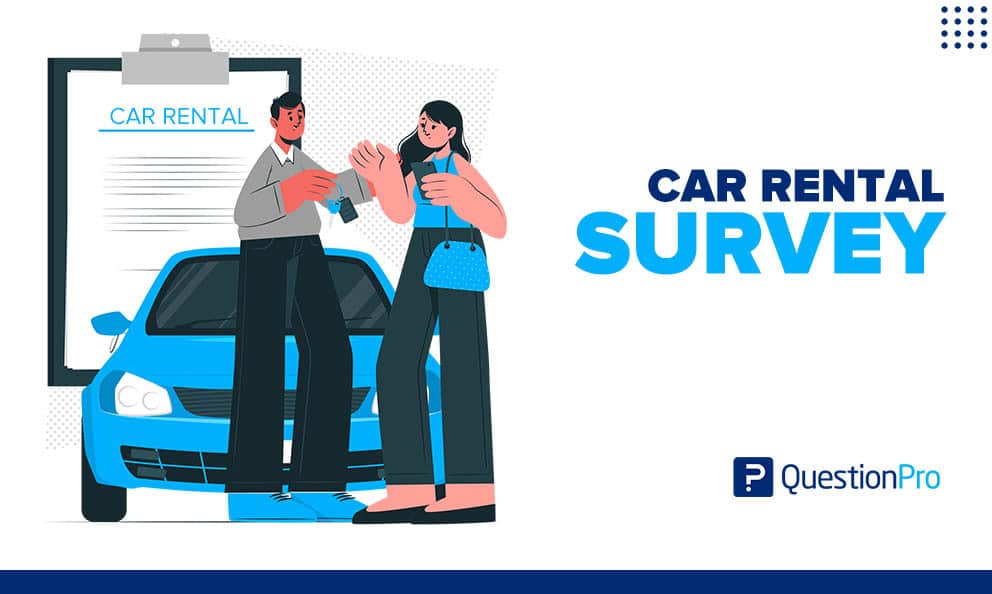 All service providers have as a priority to guarantee the satisfaction of their consumers. They achieve this by constantly implementing improvements to their processes. All these improvements must always have a solid starting point: Data. Car rental companies are no exception as they are continually looking for areas of opportunity to improve their offer. For these practices, they use various methodologies and systems. Today we want to talk about the Car Rental Survey, one of the most effective methods to obtain valuable data and promote improvements that impact the organization's goals.
What is a Car Rental Survey?
A Car Rental Survey is a data collection tool. The method is created up of a series of questions whose purpose is to know users' perception about various aspects related to the solution offered.
This questionnaire assesses the highest number of touchpoints in the customer journey. The most common use is to obtain a post-service opinion, find out the level of satisfaction, and identify customers' pain points when interacting with our brand.
The questionnaire used is usually composed of a series of simple and particular questions. Currently, thanks to digital platforms, email surveys are generally one of the most effective collection channels. However, surveys via QR codes, paper surveys, SMS surveys, consumer survey or more straightforward methods such as forms and drop boxes are also often used.
Benefits of using a Car Rental Survey in your business
Understanding the level of satisfaction of our customers will always allow us to identify the successes and mistakes that we are making. An evaluation of this type brings benefits for both clients and your company; below, we mention some of them.
Real Feedback: Customers want to be heard, so offering them the appropriate channels to express themselves will allow them to share their opinion in a controlled and effective environment. This also provides a great opportunity for service providers to mitigate any misunderstandings or learn from positive experiences.
Improves morale at work: One of the great rewards of offering good service is a congratulation; receiving words of recognition from clients is an excellent motivator for any organizer. It also provides important signals of the actions that cause this type of reaction by customers to try to replicate them.
Data-Driven Decisions: Many customer experience management platforms take this type of methodology a little further, offering their users the possibility of analyzing data in CX dashboards to identify opportunities and take action based on them quickly.
Promoters and Detractors: A customer satisfaction management system allows users to be classified into detractors and advocates, usually based on a scale known as Net Promoter Score. With this, it is possible to encourage promoters to share their positive experiences with more people and become brand ambassadors. Similarly, it is possible to contact the detractors directly to find out the causes of their bad experience and take action to improve their experience.
These are just some of the reasons why implementing this methodology should be seriously considered in your Car Rental service, at QuestionPro we offer the necessary services to evaluate any aspect related to automotive and mobility satisfaction.
You can learn more about our services here: QuestionPro AutoX
Examples of a Car Rental Survey
Here are some real examples of companies within the industry that carry out this type of survey to constantly improve their service.
Hertz car rental experience survey
Hertz is one of the largest car rental companies in the market, here we share the survey they use to evaluate their services.
What do they do well? They include a validation question at the beginning, this allows them to eliminate some important research bias by making sure that the respondents are real users of their services. Another great success is the use of a Scale Rating Question, this allows them to offer a better experience to their users and obtain data in an orderly and efficient manner for later analysis.
LEARN ABOUT: System Usability Scale
Europcar Car Rental survey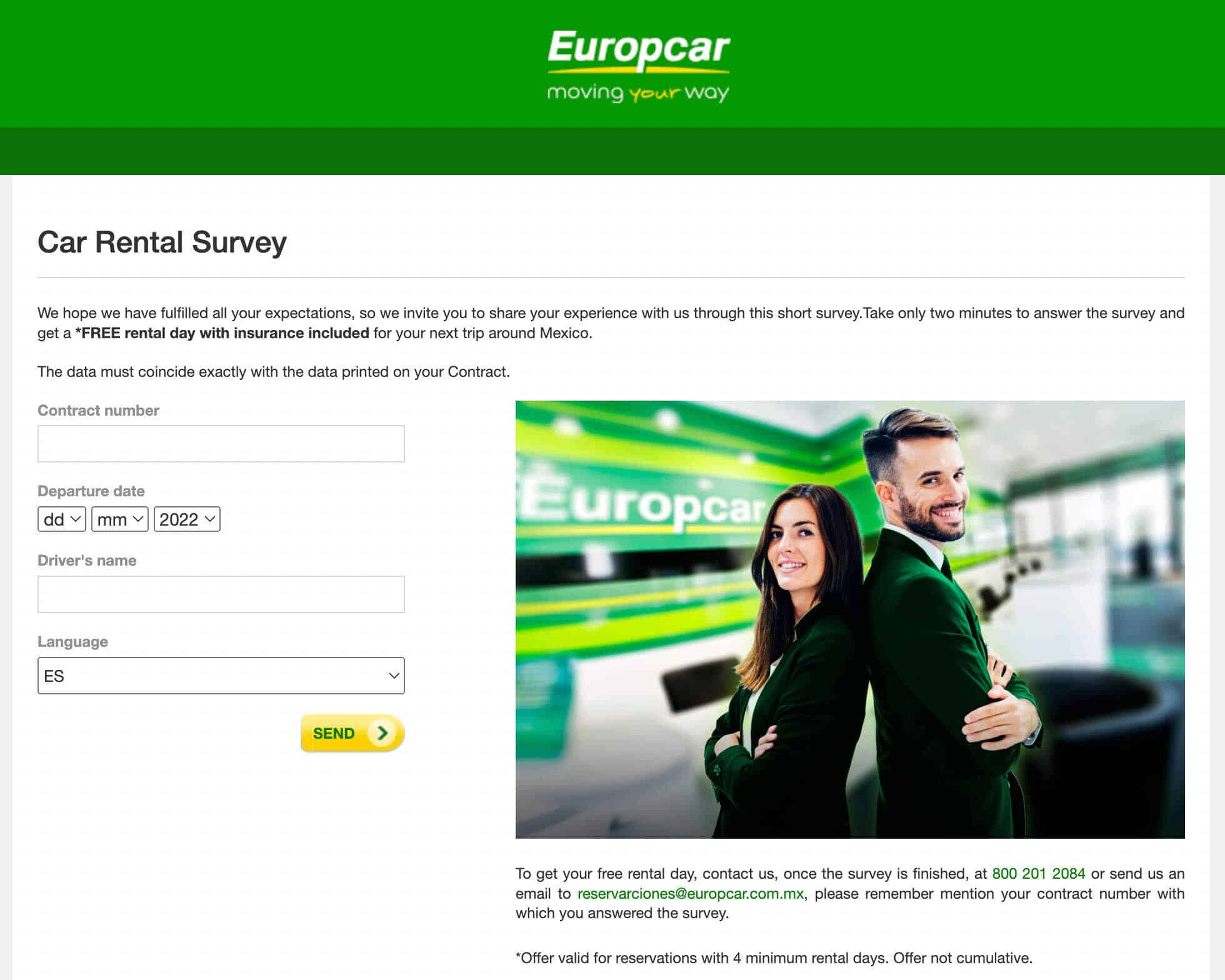 What do they do well? Like the previous example, in this one we can see that a clear intro survey and validation questions are also used. Another great success of this car rental survey is the offer of a reward in exchange for your opinion, this undoubtedly encourages participation among its users.
Satisfaction Survey – Car Rental | Vamos Rent – A – Car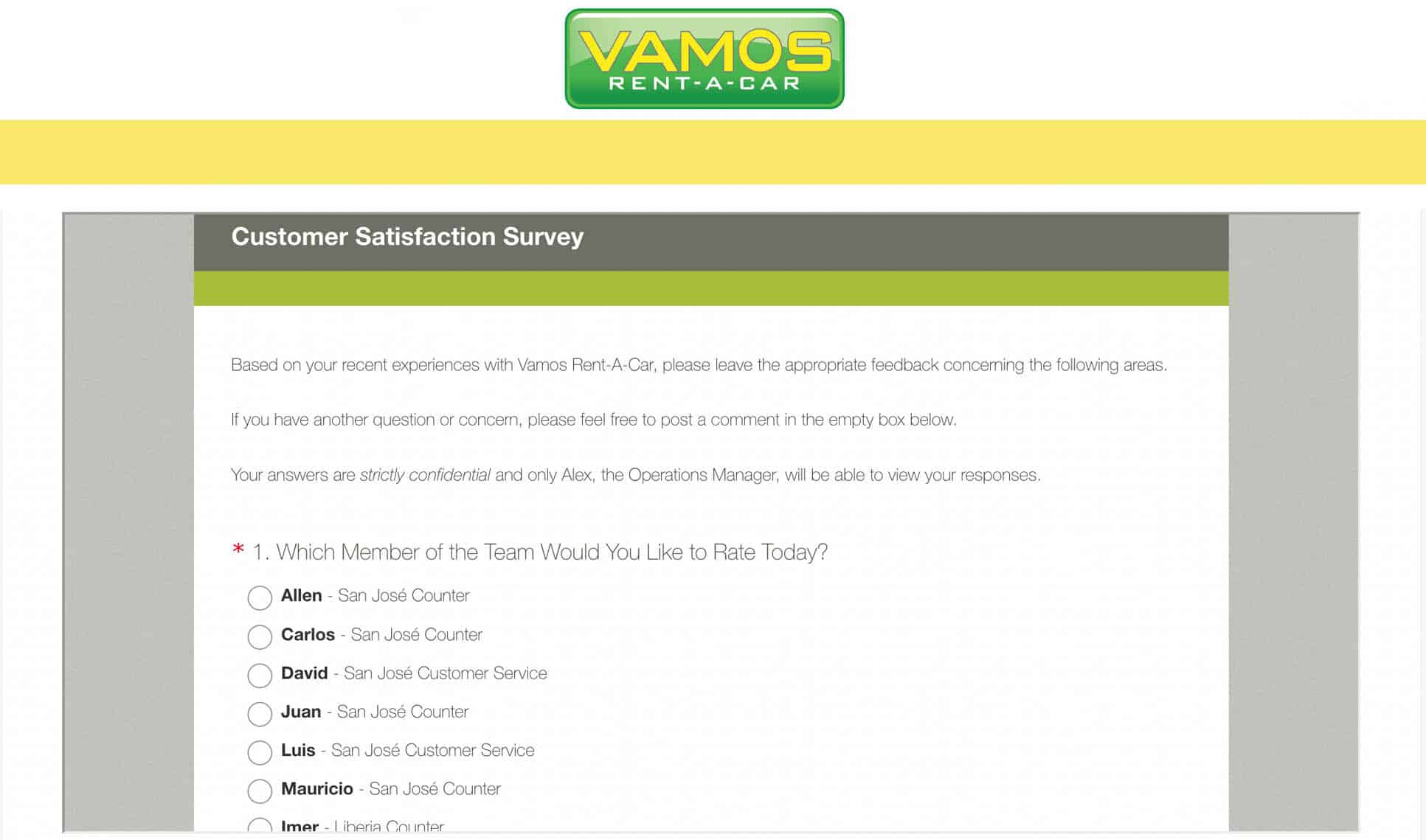 What works from this survey? We find this other example, in which we can see a satisfaction survey that allows them basic data on the perception of their users, however, they have many areas of opportunity. Including a validation, a question is a great option.
It is also important to choose the correct type of information important for the type of information we want to collect, there are questions such as drop downs, open-ended text, and contact information that would allow us to offer a better experience when responding.
In this example we note that the Momentive platform has been used, however, there are many alternatives to SurveyMonkey that you can take into account to choose the survey tool that best suits your needs.
Car Rental Survey Questions
Here are some questions that you can include in your Car Rental Survey to achieve effective information collection.
General data questions:
Contract number:
Yam:
Last Name:
Email:
Service Satisfaction Questions:
Please rate how satisfied you are with the following aspects of your experience with [YOUR COMPANY NAME]
Very Satisfactory – Satisfactory – Neutral – Dissatisfactory – Very Dissatisfactory
Very Satisfactory – Satisfactory – Neutral – Dissatisfactory – Very Dissatisfactory
Clarity in the terms and conditions
Very Satisfactory – Satisfactory – Neutral – Dissatisfactory – Very Dissatisfactory
Very Satisfactory – Satisfactory – Neutral – Dissatisfactory – Very Dissatisfactory
Very Satisfactory – Satisfactory – Neutral – Dissatisfactory – Very Dissatisfactory
Question Net Promoter Score
On a scale from 0 to 10, how likely are you to recommend [YOUR COMPANY NAME] to a friend or colleague?
0 – 1 – 2 – 3 – 4 – 5 – 6 – 7 – 8 – 9 – 10
Open Text Question
Suggestions/Comments:
Improving renter satisfaction with QuestionPro AutoX
At QuestionPro Autox we offer all the tools you need to evaluate and improve the level of satisfaction of your consumers. Each of our features has been designed focusing on the Automotive & Mobility Industry.
We invite you to learn more about this solution and schedule a demonstration without obligation with one of our experts, we know that we will find a way to collaborate and help you achieve your goals.