As we have all experienced, surveys have changed a lot over the years. What for decades existed primarily as agency-based paper surveys conducted by telephone, later migrated to the web; with app usage outpacing mobile web usage we now have tablet and smartphone apps for administering surveys, and more.
Here at QuestionPro, we like to think this evolution looks something like this. :)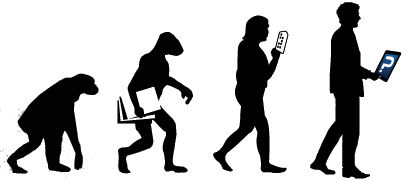 And now, location-based technology is making waves – spread spectrum, frequency hopping, full-duplex, 1600 hops/sec, 2.4 GHz ISM waves to be more precise. Otherwise known as Bluetooth.
This is exactly what hyperlocal technology provides: the precise location of a shopper while they're in a store. It also knows when the customer walks out the door.
While bluetooth-powered, location-based technology has been around for some time, with Apple recently adopting the technology and publishing a set of standards, it's now gaining momentum, yet one of the main barriers is still the level of complexity required to launch a solution.
But that is all about to change!

Introducing: QuestionPro + iBeacon
QuestionPro has integrated with iBeacon to make conducting hyperlocal research – you guessed it – easy.
Join us on November 12th, 2014 at 11am Pacific/2pm Eastern as QuestionPro's CEO Erik Koto is joined by industry experts Jeffrey Henning and Chandika Bhandari, and we debut this new solution.