Did you know that your QuestionPro account actually comes standard with a FREE iPad feature?
First, let me show you where it is — then I'll show you how it works.
If you don't have a QuestionPro account – you'd better grab your FREE trial now so you can check this out.   The first thing you'll want to do is log in and then click on the "Mobile Tab".

You'll notice that there is already an iPad sitting in that space.  This is your free license for a single iPad.
Install the SurveyPocket App
While you can absolutely do your online surveys on an iPad – the interface can be a little clumsy — this is where you SurveyPocket App comes in.  Go to the App Store and download SurveyPocket.   You'll notice that the app is designed for BOTH the iPhone and the iPad.
Once you've downloaded the app, you'll want to go to the settings and enter the device key that is listed in your account to your iPad.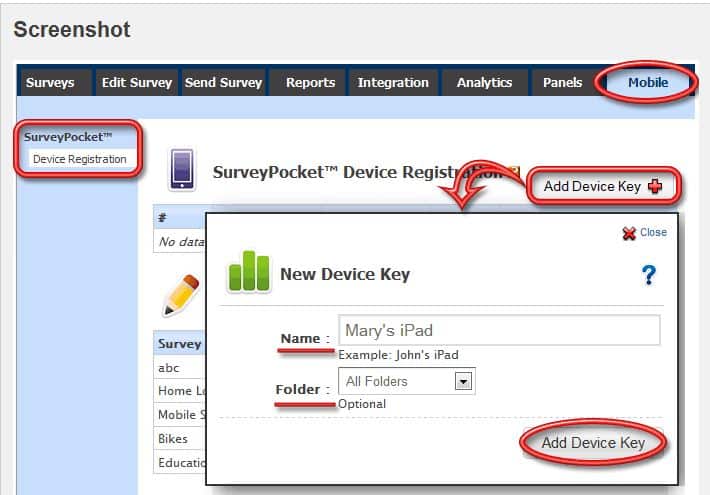 Some creative ways to use mobile surveys.
Trade Shows.  The most obvious way is to take your iPad to your next trade show and use it as a lead collection and qualifying tool.  Instead of using and paying for the trade shows card swiper, bring a laser focus to your lead collection and use the iPad and Survey Pocket instead.  Yes.  It will take longer to go through the qualification process, but you will be attracting and talking to only people who are truly interested in your product or service and not just passing through for your free give-a-way.
Product demo feedback. Survey Pocket was originally developed to digitize intercept surveys.  You know where people approach you outside a mall or store and ask you questions.  Take this approach one step further and demo your product or service and then ask for customer feedback on the spot.
Lead generation.  If you have a retail location, you can place your iPads loaded with SurveyPocket close to a product stand.  You can ask customers questions and based on their answers, they can view a specific video or product demonstration tailored to their needs.
The SurveyPocket app runs your surveys offline or online– that means you don't need an internet connection.  You'll also have the geo-location feature which provides the location of where the survey was taken.  Anything you can do with your QuestionPro online surveys — you can do with SurveyPocket on the iPad.
Why use SurveyPocket on the iPad or iPhone?

It's all about user-interface.  Lots of applications will tell you that they can run on mobile devices — and they can.  But the way those surveys look or function on your laptop isn't remotely the same as how they would function on your mobile device.  A mobile device needs a simpler interface so that you can see the questions and answer the questions with easy keystrokes.
So if you haven't checked out the QuestionPro iPad license yet – what are you waiting for.  Download the app, create some offline surveys, and start going mobile with your feedback.