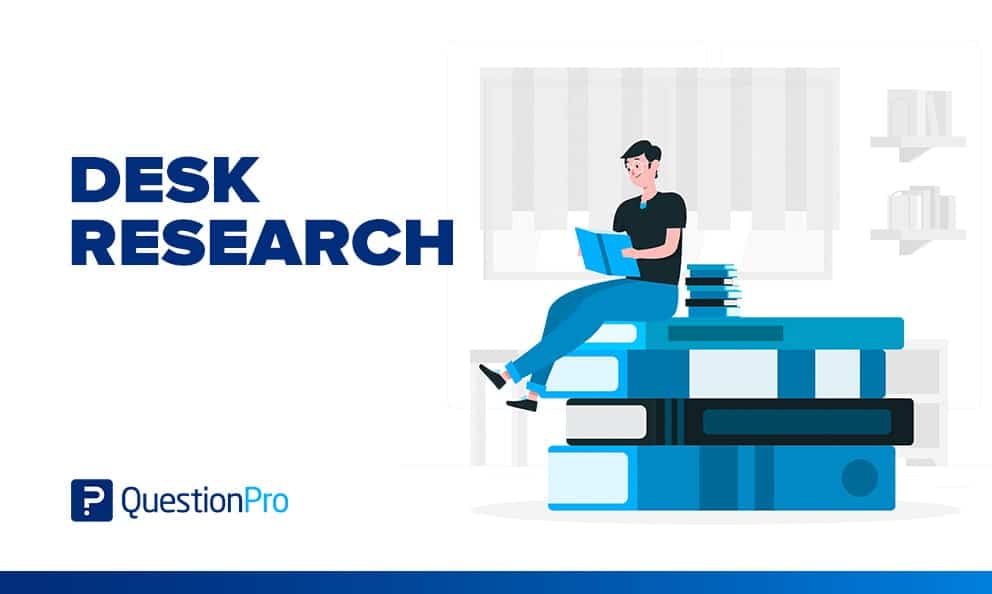 What is desk research?
Desk research is a type of research that is based on the material published in reports and similar documents that are available in public libraries, websites, data obtained from surveys already carried out, etc. Some organizations also store data that can be used for research purposes.
It is a research method that involves the use of existing data. These are collected and summarized to increase the overall effectiveness of the investigation.
Secondary research is much more cost-effective than primary research, as it uses existing data, unlike primary research, in which data is collected first-hand by organizations, companies, or may employ a third party to obtain the data in your name.
LEARN ABOUT: Data Management Framework
Desk research examples
Being a cost-effective method, desk research is a popular choice for businesses and organizations as not everyone can pay large sums of money to conduct research and collect data. That is why it's also called "documentary research".
Here are some more common secondary research methods and examples:
1. Data available on the Internet: One of the most popular ways to collect data for desk research is through the Internet. The information is available and can be downloaded with just one click.
This data is practically free or you may have to pay a negligible amount for it. Websites have a lot of information that companies or organizations can use to meet their research needs. However, you need to consider a reliable website to collect information.
2. Government and non-government agencies: Data for secondary research can also be collected from some government and non-government agencies. There will always be valuable and relevant data that companies or organizations can use.
3. Public libraries: Public libraries are another good source to search for data by doing desk research. They have copies of important research that has been done before. They are a store of documents from which relevant information can be extracted.
The services offered at these public libraries vary. Most often, they have a huge collection of government publications with market statistics, a large collection of business directories, and newsletters.
4. Educational Institutions: The importance of collecting data from educational institutions for secondary research is often overlooked. However, more research is done in colleges and universities than in any other business sector.
The data collected by universities is mainly used for primary research. However, companies or organizations can go to educational institutions and request data.
5. Sources of business information: Newspapers, magazines, radio and television stations are a great source of data for desk research. These sources have first-hand information on economic developments, the political agenda, the market, demographic segmentation and similar topics.
Companies or organizations can request to obtain the most relevant data for their study. Not only do they have the opportunity to identify your potential customers, but they can also learn the ways to promote their products or services through these sources, as they have a broader scope.
Differences between primary research and Desk Research
How to do a desk research
These are the steps to follow to conduct a desk investigation: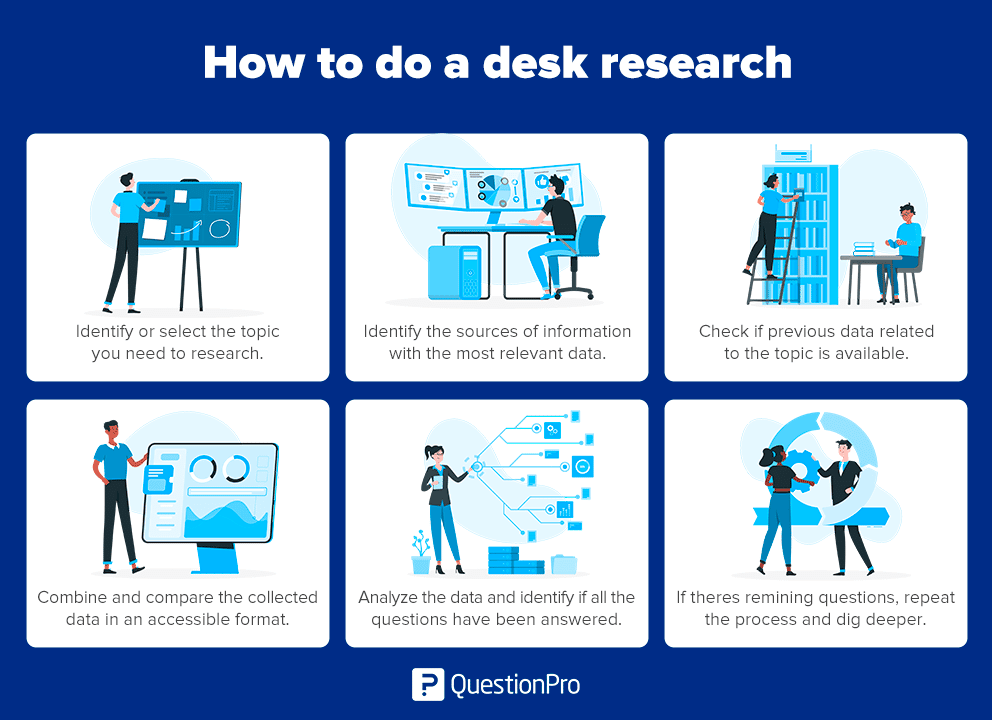 Identify the research topic: Before you begin, identify the topic you need to research. Once done, make a list of the attributes of the research and its purpose.
Identify research sources: Subsequently, explain the sources of information that will provide you with the most relevant data applicable to your research.
Collect existing data: Once the sources of information collection have been narrowed, check to see if previous data is available that is closely related to the topic. They can be obtained from various sources, such as newspapers, public libraries, government and non-government agencies, etc.
Combine and compare: Once the data is collected, combine and compare it so that the information is not duplicated and put it together in an accessible format. Make sure to collect data from authentic sources so you don't get in the way of your investigation.
Analyze data: Analyze the data that is collected and identify if all the questions have been answered. If not, repeat the process to dig deeper into practical ideas.
Advantages
Most of the information is secondary research and readily available. There are many sources from which the data you need can be collected and used, as opposed to primary research, where data must be collected from scratch.
It is a less expensive and time-consuming process, as the required data is readily available and does not cost much if it is extracted from authentic sources.
The data that is collected through secondary or desktop research gives organizations or companies an idea about the effectiveness of primary research. Thus, a hypothesis can be formed and the cost of conducting the primary research can be evaluated.
Doing desk research is faster due to the availability of data. It can be completed in a few weeks, depending on the objective of the companies or the scale of the data required.
Disadvantages
Although the data is readily available, the credibility and authenticity of the available information must be assessed.
Not all secondary data resources offer the latest reports and statistics. Even when they are accurate, they may not be up to date.
Desk research is a very popular research method, because it uses existing and reliable data that can be easily obtained. This is a great benefit for businesses and organizations as it increases the effectiveness of the investigation.
QuestionPro provides the best market research platform to uncover complex insights that can propel your business to the forefront of your industry.