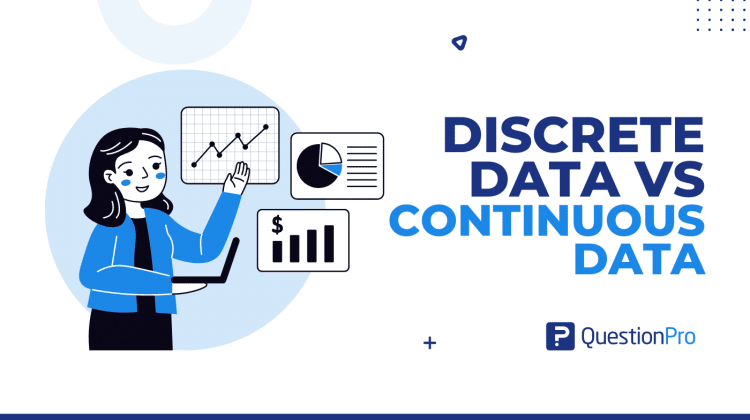 Quantitative data, or data that can be measured, is information that many businesses look at to judge how well their products or departments are doing.
Companies can measure discrete and continuous data, both types of quantitative data. Knowing the differences between these data types and how they are used, you can collect and analyze information more accurately to help businesses make decisions.
This blog explains discrete and continuous data, gives some examples, and discusses their differences.
What is discrete data?
Data that can only take certain values is called discrete data or discrete values. This is data that can be counted and has a limited number of values. It usually comes in the form of whole numbers or integers. These values must fit into certain categories and can't be broken into smaller parts.
Discrete data examples include the following:
The size of your department's workforce.
How many new clients you brought on board in the previous quarter?
How many items are currently kept in stock?

However, your daily total is a distinct, single amount. The relationship between the number of push-ups you can do each day and your fitness level is yet unknown. The more data you collect over time, the more conclusions you can draw.
What is continuous data?
Continuous data are those that can be measured. It is conceivable for this data to take on an unlimited number of different values because its values are not fixed. There are smaller, individual components that make up these metrics as well.
Continuous data examples would include the following:
An individual's stature or weight
The temperature daily in your city
How much time is required to finish an activity or project
The correctness of continuous data is everything. These data sets frequently contain variables with decimal points, with the rightmost number being as long as possible.
This level of information is required, for example, by scientists, physicians, and manufacturers.
Difference between discrete data vs continuous data
Both discrete data and continuous data forms are crucial for statistical analysis plan. However, before making any inferences or assumptions about the specific data type, it is important to comprehend some significant differences between the two. So let's find out the differences between discrete data vs continuous data:
| | |
| --- | --- |
| Discrete Data | Continuous Data |
| Takes particular countable values. | Takes any measured value within a given range. |
| Discrete data is information that has noticeable gaps between values. | Continuous data is information that occurs in a continuous series. |
| Discrete data is made up of discrete or distinct values. | Directly in opposition, continuous data includes any value that falls inside a range. |
| Discrete data can be counted. | Continuous data is quantifiable. |
| Bar graphs are a visual representation of discrete data. | Continuous data are graphically represented using a histogram. |
| Ungrouped frequency distribution refers to the tabulation of discrete data against a single value. | The tabulation of continuous data performed against a set of values is called grouped frequency distribution. |
| For discrete data, a classification like 10-19, 20-29,…, etc., are non-overlapping or mutually inclusive. | For continuous data, classifications such as 10-20, 20-30, etc., overlap or are mutually exclusive. |
| The discrete function graph exhibits a distinct point that is nonetheless disconnected. | A broken line connects the points on a continuous function graph. |
| Examples of frequent discrete data include the number of students, children, shoe size, and so forth. | Some common continuous data types are height, weight, time, temperature, age, etc. |
Conclusion
Both discrete data and continuous data are very important when it comes to exploring and analyzing data. Even though it's easy to look at definitions and simple examples, data is often a mix of different types. Making it even more important to be able to tell what kind of data something is.
Therefore, it would be rather obvious that the two forms of data are different after the previous explanation and example.
A specific number of isolated values are anticipated in discrete data, unlike continuous data, which is tied to physical measurement and expects any value from a particular range (without gaps).
QuestionPro is a survey software that lets users get information from their customers, employees, or other stakeholders and analyze it. In the context of QuestionPro, discrete and continuous data refer to the types of data collected through surveys.
QuestionPro survey software can collect continuous and discrete data, depending on the questions asked. Try QuestionPro now!