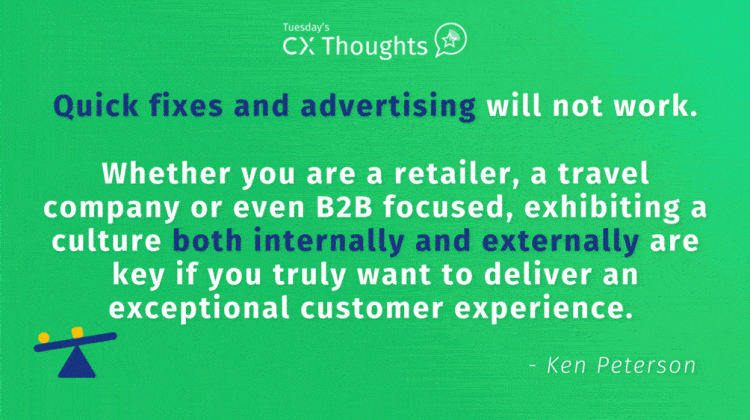 There are ways that businesses can alleviate most symptoms of a bad customer experience. We frequently discuss many ideas across the entire customer journey that can demonstrate to your customers the many ways you care about them.  
However, there are times when these actions may have the opposite effect or may not impact your customers' views the way you thought you would. These can be especially true if your plans are not executed properly. Here are some examples:
1. Too many visible employees
This may seem contrary to most thinking in customer experience strategy all along the service-profit chain by placing more employees at the various customer experience touchpoints and even enhancing the employee experience.
However, it was a recent experience that provides a good example of how this can go wrong.  While waiting in a self-checkout line, every machine was occupied and nearly half had the ominous blinking light indicating that the customer needed the support of some kind. 
As one employee struggled to help a customer with a presumably difficult situation, I observed that there were four other employees nearby in pairs having conversations with each other instead of observing the unfolding situation or offering to support.  Having many years of retail experience, I can recognize that perhaps the employees in the area are not trained to support issues with self-checkout, and even noticed that one set of employees was fulfilling an online shopping request. 
Regardless of their roles, duties, and training, the "look" of having several employees standing around having conversations in an area where customers were visibly agitated about the wait time with no other fully-staffed registers open creates animosity between the customers and employees that actually harm experience across the board – both customers and employees. 
2. Advertising Your Focus on Customer Experience
Across many cultures and religions, there is the idea that "charity should be done in silence".  While a business is not necessarily a charity, the idea that one should not be bragging about good deeds holds true. Some of the reasoning is that it places into question the true motives and it can increase scrutiny. A recent example of an airline that has always advertised its 'love for the customer' was put to the test under some of the most strenuous of circumstances. 
Due to its history, despite a few days that could be labeled "catastrophic" for them, many customers were looking for a response before passing judgment. Then they publicly announced for the world to hear that they would award accounts affected with a number of airline miles to be used for future flights with the airline.  Done in silence, this may have been fine. 
However, due to the public nature of this event and the reach of social media, it actually backfired with many of its best customers. 
A brief social media analysis using a tool like QuestionPro's own CX Reputation (available as a complementary add-on with our CX Enterprise Software if you mention this article) would quickly show that the sentiment of a "one-size-fits-all" apology package was probably not the correct response – especially if a brand is going to publicize it. 
Some customers were impacted more than others (I heard a story of a bride missing her destination wedding) and the brand's more loyal customers openly complained online to frequent flier communities that their loyalty was not being recognized. 
While an announcement stating that things were back to normal and the investment in rebuilding the processes that failed was probably appropriate, the announcement of compensation to passengers did not really improve the image of the company. Alternatively, as discussed by Laurie Burkitt in Forbes, if a brand is known for its good deeds, that reputation will have a lingering effect on the experience and generally provides an aura of goodwill by customers in the event of problems, but it has to be genuine.
3. Creating a Customer Experience KPI
If you run a financial linkage analysis surrounding the data you collect on a customer experience software platform or even just the outcomes from the customer feedback loop for your Voice-of-the-Customer program across the entire customer journey map, you'll see the benefits of improving the customer experience in the most important company KPI's – the top and bottom line.  Often this will align with an overall measurement such as NPS or through an attribute in a driver's analysis.  As tempting as it may be to "drive the score" through the frontline, it may have an alternative impact – and other areas of focus suffer.  It is inevitable that individuals will push on those areas that bring the greatest rewards. 
Instead of using the priority matrix tool to create a KPI, use it to drive change while maintaining all the other metrics. Measuring the experience with QuestionPro exclusive NPS+ question type and then leveraging the Root Cause analytics to inform the Outer Loop process for strategic change would be a better way to focus on improvements.  
Alternatively, not measuring the customer experience would be a mistake as well. As Peter Drucker is often quoted as saying, "If you can't measure it, you can't change it." Ultimately, whether you are a retailer, a travel company, or even B2B focused,  it comes down to exhibiting a culture both internally and externally if you truly want to deliver an exceptional customer experience. Quick fixes and advertising will not work.
Would you like to check what are the trends for this year? Then come along and download our first-ever collaboration with CX and VoC industry specialists sharing their perspectives on the key trends for 2023.
What the guide includes:
The top CX trends (Speed to market/response, doing more with what you have, Proving ROI, AI specialized services, automation)
Bonus trends+
The recession effect in CX
Wrapping up with the key trend takeaways
About the authors
Get the trend guide now and dive into the key CX trends for this year delivered under the lens of six remarkable CX industry experts.