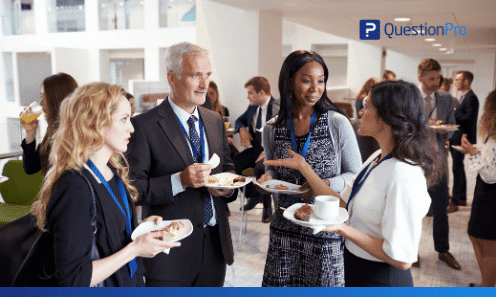 Last week, I wrote briefly about our annual QuestionPro user conference XDay.  Last night and into this morning, I had the privilege to support Sindhu Sreenath and the team at QuestionPro MENA as they put on their event for their customers.  If you did not get the chance to attend, just like our XDay in North America, I would recommend that you take a look at the great information conveyed by our speakers and guests.  
Do You Miss Your Customers?
While I mentioned that my attention to our North America event distracted me from my regular updates, there was a very powerful point brought up during our panel discussion.  As I had the opportunity to lead that discussion, I realized that I miss my customers.  While last week I spoke about customers missing you or your company, this week I am asking it the other way around.  
Someone that is in an "essential business"  – a new term we've adapted to – may not miss their customers as they still see them every day in the check-out lanes of the grocery stores and at the curbside pickup location of our favorites restaurants.  
It certainly will have more relevance in a B2B context, and I can say that – without a doubt – I miss my customers.  Sure we get to have zoom calls and still see each other on video, but as I went through my second virtual customer event, it was staring me in the face.  There is a reality that we'll get to see them again face-to-face, but a lot can be said for that "side conversation" that occurs between sessions or the casual drink after the day.
LEARN ABOUT: B2B Online Panels
Sharing in the Experience (and the Expense) 
One of the things that happens with in-person meetings with my customers is that we have a shared experience.  The same can be true under the format we used in our XDay conferences, but there was something that did not factor into these events.  That is "expense".  I am not saying that an outlay of investment to travel, get on site to hear the same content is necessary to put on a good event, but I will state that the shared investment – in both time and money – puts a little more on the line.  In our case, we had strong participation from our customers and most of them stayed with us on the virtual event the entire time.  I'd like to believe that it was solely due to my presentation and discussion about QuestionPro's new NPS+ feature, there are stronger forces here.  I believe that part of the reason we maintained strong participation is because we have a strong partnership with our clients.  We invest in the relationship.  It shows in the efforts at our XDay Events, in the steps we took to keep that connection even during the pandemic and – more importantly – our daily work with them, putting our customers first.  We have a culture built around the customer.  
Now thinking of that original example, a grocery store.  Will the employees there miss their customers?  My guess would be that most would not.  They probably would not be in a place to know every customer and may be fortunate enough to know the name of one or two of their favorite customers.  Ultimately, they are not invested in their customers.  Not because they are not able to get to know them all – that is not practical – but because they generally do not get the time to invest in their customers.  
Often it is about keeping lines short, using hours most efficiently and cutting hours if the customer count is low.  These are all practical approaches to building a profitable business.  However, an investment in the relationship with your customers can also build profits.  If you think about your business – how much time do you give your employees to think about customers?  For example, you could have each one spending fifteen minute reviewing Closed Loop Feedback and understanding where complaints originate – not just hearing the second-hand summary or analysis.  Once a week, celebrate and recognize a customer that makes all the employees smile with their concern or the dad jokes they tell while speaking with employees.  Having employees invest time in these activities will build a culture that will make them miss their customers – even if they don't know them by name.  
Speaking of Customers
The travel industry has been welcoming me back as a customer recently.  In some places, they go above and beyond to show it, in others they did the minimum to restart.  I hope you'll join me November 12th as I speak with Travel & Tourism expert James Sauter about the bumpy road ahead for this industry. You can register here.  
QuestionPro offers some of the most advanced customer experience tools available. Gain valuable insights into your customers' thoughts and feelings using QuestionPro CX software today.