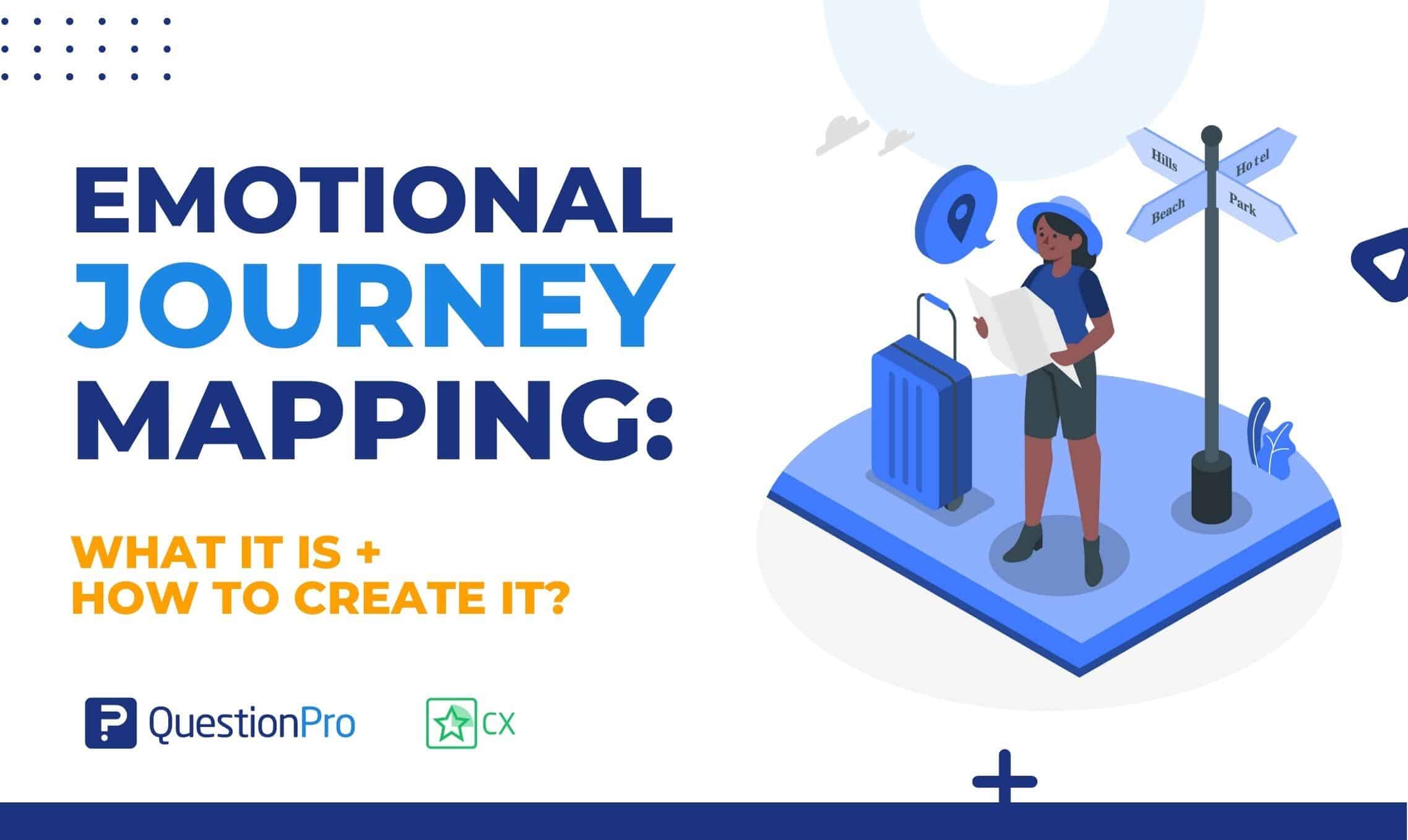 A typical journey map is a visual representation of a person's steps to achieve a goal, but an emotional journey mapping adds a new twist to this age-old technique.
Emotions are an excellent way to determine whether your customer is in a good, bad, or neutral mood while completing a purchase. This game-changer will teach you how to improve a journey map.
In this blog, we will learn what emotional journey mapping is and how to create one for your business. Let's get started.
What is emotional journey mapping?
Emotional journey mapping is a way to understand and track how customers or users feel as they interact with a product, service, or brand.
The process involves finding the key touchpoints or interactions that the customer or user has with the product, service, or brand and figuring out the emotions that the customer or user may feel at each touchpoint.
The data is represented in a timeline or flowchart to discover customer experience regions that may create negative emotions and those that may be modified to increase positive feelings.
It can help businesses determine how to improve their customers' experiences by understanding their emotional needs and want.
You may also check out this guide to learn how to build your own Customer Journey Map.
Importance of emotional journey mapping
Emotional journey mapping helps businesses to understand customers' emotions and experiences throughout their interactions with the company. Some key importance is given below:
Emotional journey mapping helps companies identify customer frustration and uncertainty. This data can then be used to improve the customer experience.
Using emotional journey maps, companies can better understand the unique emotional needs of various customer segments. It can be used to customize experiences for different customer segments.
Companies can develop stronger, more meaningful relationships by understanding customers' emotions and experiences throughout their journey. Here, we will discuss some key importance of the emotional journey map below:
How to create emotional journey mapping?
Emotional journey maps show customer journeys. Here, the focus is on user satisfaction rather than product engagement. Understanding a user's feelings helps create effective improvements. To create an emotional journey map, follow these steps:
Create user persona
Create a user persona to begin creating the map. Consider your users and create a persona for each segment. Not all of your customers will have the same requirements (or ways of meeting those needs).
It is frequently preceded by user research. These personas can be developed using user interviews, focus group discussions, surveys, and prior user feedback.
Create a scenario
We need a scenario that addresses users' expectations and requirements to achieve their goal of creating emotional journey mapping. The scenario could be about interactions with people, events, or objects.
Goals and tasks
The next step is to identify the goals and the tasks. A task is an action that the user needs to do in a certain amount of time or in a certain way. Each journey has a different set of goals and tasks. They provide structure for the rest of the customer journey map.
Example: A customer journey is a series of goals and tasks. Let's say a family wants to go on vacation from place Y to place Z.
Goal: The goal is to prepare for the trip from place Y to place Z.
Solution: supply a customer with a map of the place, hotels, restaurants, stopovers, etc.
Task: The task is to rent transport to travel from place Y to place Z.
Solution: provide a quick and easy way to rent transport.
Surveys or Interviews to gain understanding and real data
In this step, you need to ask questions to better understand your customers' world, background, and experiences with your company. Surveys or interviews are the best options for knowing your customers' thoughts.
You can ask customers about their feelings related to their experience to learn how and why they felt a specific way at each touchpoint, stage, and interaction during their journey with you.
Actively listen and analyze how they communicate and how they convey their experience.
Interpreting data
You can organize all of your customer data, such as conversations, experiences, emotions, thoughts, and actions, based on how similar, important, and relevant they are.
Create a team to identify trends in the data.  
Learn more about why understanding your Customer Journey transforms your CX program. 
Sort conversations by where customers are in their journey and what they are thinking and experiencing. After that, customers' emotions can be identified.
Line up data-based evaluation points
In this step, draw a line graph to show how a customer's feelings changed at each touchpoint and interaction. Do this for each different persona you create. The customer's highs and lows are displayed using emoticons and an emotion graph throughout the entire journey, from start to finish.
Analyze and improve the journey
Look at both the good and bad parts of the journey to learn more and understand it. Highlight points and possibilities to improve the emotional journey mapping.
Implementation
After analyzing your emotional journey map, it's time to implement it into your business. Make sure you implement your journey map properly to get the most advantage.
Review and Monitor emotional journey mapping
It's time to monitor your emotional journey map after the implementation step. You have to monitor how your customers respond to your journey map. Observe all the small or big things on your emotional journey map and take action according to them.
How can QuestionPro Cx enhance emotional journey mapping?
QuestionPro is survey software that allows users to create and distribute surveys to collect data about customer experiences and perceptions. QuestionPro CX can assist with emotional journey mapping by allowing you to create surveys that specifically target the various stages of a customer's emotional journey.
Surveys are used to collect data on a customer's feelings and perceptions at various stages of the journey, such as the awareness, consideration, and post-purchase stages. This data can then be used to map the customer's emotional journey and identify areas for improvement.
QuestionPro CX also offers tools for analyzing and visualizing survey data, which can be used to gain insights and make decisions based on the customer's emotional journey.
Conclusion
The goal of emotional journey mapping is to gain insight into how customers feel at various stages of their journey and identify areas for improvement to improve their overall experience.
It is a valuable method for understanding and improving the customer experience, and it can assist businesses in developing strong customer relationships.
Ow, it's time to create your emotional journey mapping for your business. If you need any help regarding journey mapping, Contact QuestionPro!
QuestionPro is survey software that can be used to map emotional journeys. Users can use the platform to create and distribute surveys that target specific stages of the customer's emotional journey.
QuestionPro can be a valuable tool for businesses looking to map their customers' emotional journeys and improve their customer experience.
Try out QuestionPro today!