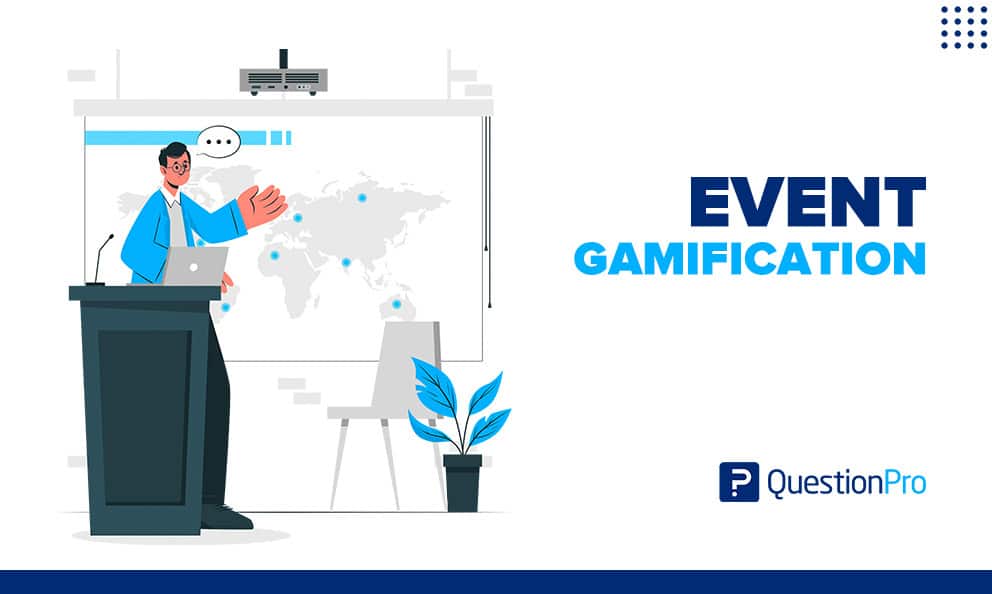 To start with the amazing read about event gamification, we came across this quotation and couldn't resist sharing here- 
"Games are the only force in the known universe that can get people to take actions against their self-interest, predictably without using force – Gabe Zichermann" 
What Is Event Gamification?
Event Gamification is the capability to add competition, games, rewards, and other elements of game-playing, like point-scoring, to encourage engagement with a service or product. Event Gamification isn't limited to technology, but it is easy to use and inexpensive because you can make use of your attendees' smartphones through social media and apps.
Mobile apps are the most effective way to keep your attendees focused on your event.
Event Gamification Advantages
What are the beneficial reasons to opt for the gamification are: 
It helps with increasing attendee engagement and experience. 

with sales.

create a more relaxed atmosphere, 

boost the self-confidence of attendees, 

All of the above helps with generating more revenue

improve events management.

Creates a sense of achievement 
Event Gamification serves a specific purpose that directly relates to the success of the event.
Using game thinking and applying it to non-game systems is much more appealing, interesting, and fun for the stakeholders, no matter if we talk here about customers, actual or potential customers, suppliers, distributors, etc. There are some events where employees, suppliers, and distributors are obliged to take part, like seminars, team building, and conferences.
In these cases, the organizers have to find different ways to make them more useful. The information transmitted in a dull and unexciting way, many times, is not learned and assimilated by the audience, thus, the objective of the meeting is far from being reached. Hence, Gamification is the best approach to involve your audience and get them to hear you. 
Let's study this topic via some Numbers: 
Event Gamification is 75% Psychology and 25% Technology:
The global gamification market is currently valued at $11.94 billion.

70% of global 2000 companies use gamification in some way.

A whopping 95% of employees prefer a gamified work experience.

When gamification is used to incentivize workers, customer satisfaction and employee performance improvement.

Gamification has an overwhelmingly positive effect on user engagement 60% approx. 
Gamification has recently exploded in popularity due to the increased productivity, profitability, and employee engagement associated with a gamified environment. This proves a solid reason for having the products embedded into them with some sort of gamification. 
Gamification Goals and Objectives
Let's look at how to use gamification at events that will help you meet your business goals and objectives.
The goal of your experience should be to make the attendee feel awesome in some way.
If even gamification is correctly implemented, it suits everyone and pushes the attendees to be more active. It allows us to learn new things and watch how they become easier and more understandable, turning event experiences into high-quality activities.
The transition to continuous automatic data collection becomes easy through gamification. Gamification makes it a more natural and comfortable way to network for everyone attending the event.
How to gamify your event? 
It's a great way to educate and immerse your attendees in your event at the same time. Steps to gamify your next event:
Allocate your budget.

Setting up goals and choosing the right solution.

Choose the correct gamification strategy. 

Pick the apps.

Set the rules.

Invite your attendees to indulge in your event in a much better way, creating a memorable event experience for them in the process.
Taking part in gamification should not be mandatory. Always make it clear that participation in the game is voluntary.
Gamification with QuestionPro
We are thrilled to inform you all that in QuestionPro, we use Gamification in all the platforms served by us. Hence, we can proudly say that – "It's a platform with endless potential" 
As mentioned by JJ "Taking small steps is the key to your success when incorporating gamification to your surveys", so, we've taken small steps at QuestionPro too. To list a few.
We provide interactive sliders (with amazing NPS gradients) 

Star Ratings

Thumbs Up/Down

Smileys Ratings

Drag and Drop Ranking

Images with NPS type Questions

Encouraging users on the Thankyou page to promote social media marketing by providing reviews etc

Providing Rewards as an option to the organizations

We provide Cross-platform compatibility

User discussion boards – communities

Member Portals for the endless discussions 
I bet if a person uses an amalgamation of the interactive things present amongst the list, the surveys will no longer be dull but rather interesting and more engaging. Let's choose QuestionPro and create amazing, interactive surveys for our customers.
A Live polling app can help you on your event gamification strategy, not just boosting engagement but also enthusiasm. Be it a substantial corporate affair or a small classroom discussion, live-polling apps will help you conduct online polls painlessly to generate results for the participants in real time.
LEARN ABOUT: Live polls for Classroom Experience
Why don't you just get started right away? Try QuestionPro LivePolls for free; we know you will love it!
Authors: Silvi Kansal & Jeswin Thomas