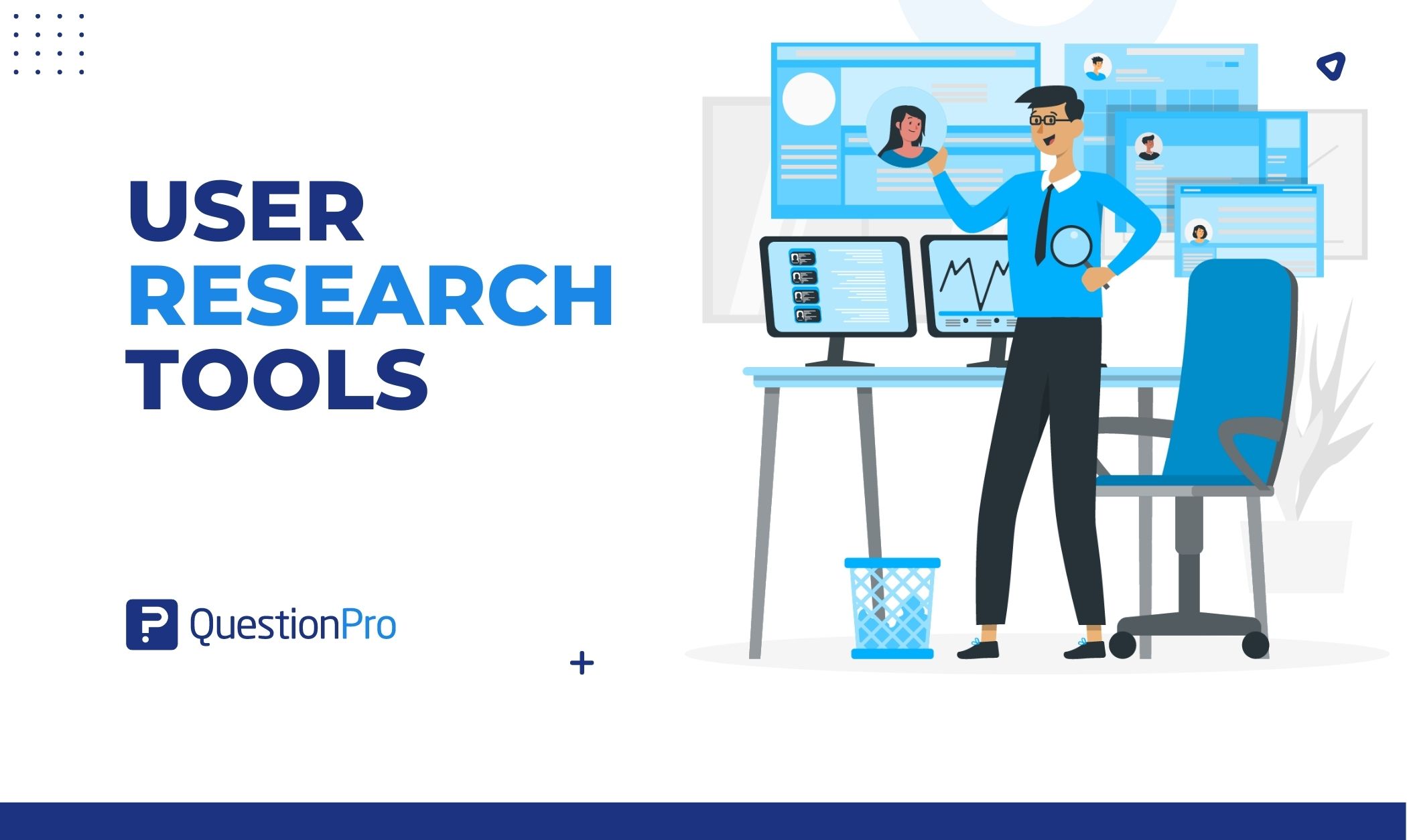 Good user research tools can help you make better products whether you are a user, a product manager, a UX designer, or a marketer. But it is capable of doing much more. You can also reduce development costs and increase conversions by ensuring your product offering matches customers' wants and needs.
The key thing to do today is to find the right tool. There are a lot of user research tools and software on the market, and making a good choice can take a lot of time. But don't worry; we are here to help you.
This blog post gives a full list of the 12 best UX research tools on the market. We've put together a list of each tool's features, pros, and cons so you can choose the one that works best for you.
Top 12 User Research Tools & Software in 2023
User research is a necessary step in the product development process. It helps companies learn more about how users act, what they like, and where they have problems.
It lets companies make products that better meet users' needs. User research tools and software make this process easier and more efficient so that companies can do research more effectively.
As we move into 2023, the market for tools and software for user research has continued to grow, and new and better tools are being made all the time. This blog post will discuss the 12 best tools and software for user research in 2023:
QuestionPro InsightHub
QuestionPro InsightHub is one of the best user research tools and the most powerful tool for sharing, displaying, and analyzing your insights data.
The platform is designed specifically for insights teams to help them organize, be more agile, and conduct better research. InsightsHub is a repository for all of your insights data, research methods, and project lifecycles.
It allows users to create a project and then link a survey to it. When the research is finished, including the most important findings and nuggets in each project, it is easier to find and link to them later.
Best features:
Real-time reporting dashboard
Unified platform to organize, explore, research, and discover research data in one repository.
Democratized insights
Strong integrations with your present research ecosystem and technology.
Pricing
Premium pricing starts at $99 monthly.
QuestionPro Research Suite
QuestionPro Research Suite is a collection of user research tools for researching and changing experiences. It is the best set of enterprise-level research tools for users to help them find insights for their brand.
User can solve their research problems by creating simple surveys that provide complex, real-time data. As a result, it can potentially be one of the best tools for users.
Best features:
Academic research, capturing qualitative and quantitative insights, social media sentiment analysis
Analyze pricing research data to determine market factors, including competition intelligence, purchase behavior, and pricing sensitivity.
A/B testing across questions, segments, and ideas.
Pricing
QuestionPro premium pricing plan begins at $99 per month.
UserTesting
Using user testing, you can gather first-hand data on what customers think of your products. This UX testing tool follows a video-first approach so you can see and hear how participants engage with your processes, concepts, products, apps, and designs. Use UserTesting's network of contributors to find the right people for your research.
Best features:
Offers ready-to-use usability test templates.
Test your website, mobile app, and product for user experience with UX tests.
Add tasks, actions, and questions for participants to follow during the UX test.
Pricing
Contact Usertesting for pricing details.
Dscout
Dscout is one of the most popular qualitative user research tools for conducting remote testing and gathering context-rich data about your products. Multiple operations, such as prototype feedback, in-the-wild product discovery, competitive analysis, and fieldwork supplementation, can be performed efficiently.
The user research software also supports screen-sharing and live interview features to help you visualize the user experience.
Best features:
Supports multimedia screener surveys.
Allows screen capture, video recording, and surveys to capture user feedback.
Auto-transcribe, live-notate, invite observers, embed stim, share screens, and other observing options are available.
Pricing
Contact Dscout for pricing details.
UserZoom
UserZoom, as one of the most widely used user research tools, is ideal for conducting remote usability tests on your prototypes and products. It also has one of the largest participant panels, with over 120 million vetted participants. You can conduct multi-method UX tests in any location worldwide to improve your products.
Best features:
UserZoom provides remote moderated and unmoderated usability testing, card sorting, tree testing, surveys, and more.
UserZoom lets companies personalize branding, participant recruiting, study design, and more for their research.
Pricing
Contact UserZoom for pricing details.
SurveyMonkey
SurveyMonkey is an excellent user research tool that offers a variety of features and capabilities to help businesses quickly and easily gather feedback from customers and stakeholders. It is a low-cost, scalable solution that businesses of all sizes and industries can use.
Best features:
Multiple choice, open-ended, and rating scale questions can be used to construct bespoke surveys on SurveyMonkey.
Tracks responses and provides real-time data.
Offers advanced features such as skip logic, branching, and piping.
Pricing
The standard plan starts at $34 per month
Hotjar
Hotjar is an excellent user research tool with various features and capabilities to assist businesses in improving their websites and apps based on user behavior and feedback. It is a cost-effective and scalable solution for businesses of all sizes and industries.
Best features:
Hotjar creates heatmaps of user behavior on websites and apps.
Hotjar lets enterprises see real-time user behavior on a website or app by recording user sessions.
Pricing
Pricing begins at $39.00 per month
Maze
Maze is a platform for continuous product discovery that enables product teams to collect and consume user insights continuously. The maze helps teams build the habit of continuous product discovery in a platform that enables users to run great research with solutions for participant recruitment, product research, and reporting.
Best features:
Enable usability testing at every stage of your research plan to gain practical ideas in minutes.
Its usability testing includes task analysis, multiple route analysis, heatmaps, A/B testing, guerilla testing, and more.
Maze imports Adobe XD, Figma, InVision, Marvel, and Sketch prototypes.
Pricing
Starting from $75.00 per month
Ethnio
Ethnio is a user research tool that allows researchers to recruit study subjects by placing a customizable intercept on their website. This intercept can be used to encourage website visitors to participate in the research by filling out a survey or agreeing to a remote research session.
Best features:
Ethnio offers a variety of screener filters and also automated scheduling tools to help speed the process of contacting users.
Offer recruitment, central database, incentives, screeners, intercepts, and scheduling choices.
Pricing
Pricing starts from $79.00 monthly
Lookback
Lookback is a user research tool that allows you to conduct remote user testing and participant interviews. Its features include screen recording, participant targeting, and automated insights.
Lookback allows you to conduct moderated or unmoderated research studies. During a moderated study, you can interact with users in real-time and ask follow-up questions. In unmoderated research, you can set up tasks and prompts for users to perform on their own time.
Best features:
Allows you to record your users' screens and interactions with your website or application.
Lookback analyzes your research data using machine learning algorithms to identify patterns and trends.
Users can carry out both moderated and unmoderated research.
Pricing
Pricing starts from $99.00 per month
Userlytics
You can use Userlytics to conduct remote user testing and research studies. It has a number of features, including screen recording, user targeting, and automated insights, as one of the best user research tools.
You can use Userlytics to recruit users for research studies and to test your website or application with real users. You can assign tasks and prompts to users and monitor and analyze their behavior and interactions with your product.
Best features:
Screen recording functionality
Userlytics lets you target users by demographics, behavior, and more.
Pricing
Starting price is $49.00 per month
Optimal Workshop
Optimal Workshop is a comprehensive suite of user research tools that can assist you in gaining insights into various aspects of the user experience of your website or application.
Best features:
Its features, which include card sorting, tree testing, and user surveys, make it a popular choice for researchers and UX professionals.
enables you to share research findings with your team and collaborate on data analysis
Pricing
The price begins at $99.00 monthly
Conclusion
With an increasing demand for accurate and reliable data in 2023, researchers will need access to user research tools that will allow them to collect, analyze, and interpret data effectively. We discussed the top 12 research tools for a better understanding. We hope that these learnings will assist you in selecting the best one for your research needs.
While numerous research tools are available, QuestionPro is the best research tool due to its versatility, ease of use, and advanced features.
QuestionPro provides a comprehensive suite of research tools that enable researchers to create surveys, polls, online focus groups, and even mobile surveys. The platform's simple user interface and advanced customization options allow researchers to tailor their surveys to specific research needs while collecting accurate data.
Furthermore, QuestionPro provides robust data analysis features, such as data visualization and real-time reporting, allowing researchers to interpret and present their findings easily. The platform's automation capabilities also make it simple for researchers to collect and analyze data.
With its comprehensive suite of research tools and advanced features, QuestionPro will be the best research tool for researchers in 2023. To get the most value from your research process, contact QuestionPro now!